Looking For Positive News In Illinois And Iowa? Check Out What's The Good News!
We're mid-summer and the weather is great in the Quad-Cities!
Along with that, we've got plenty of sunny news on the forecast.
Every month, in conjunction with our partners at KWQC-TV6's "Paula Sands Live," we present you with that forecast, our column What's The Good News, highlighting bright skies of cool people, events, and happenings around the area, giving you a clear perspective of some of the awesome things going on in and around the Quad-Cities.
So, what's the good news for this month?
Quad City Strikers Go To Nationals
Quad City Strikers U15 boys soccer team finished sixth out of the final eight teams in the country in their division at the President's Cup Nationals in Wichita, Kansas, earlier this month.
Quad City Strikers Warriors U15 boys advanced to the President's Cup Nationals — featuring the final eight teams in the country left after statewide and regional competitions between state-winning teams — by going undefeated in the Midwest Regional in Cincinnati and making it to the final two in the Midwest region.
The Strikers, representing Iowa, face off in group play against a bracket of Utah, North Carolina, and Connecticut, and the team's tournament got off to an awesome start, as the boys won a hard-fought battle against a tough Utah team 2-0. Unfortunately, 2-1 losses to Connecticut and North Carolina prevented them from moving on to the quarterfinals.
The Strikers are coached by Juan and Christian Nuci, and the roster includes Aiden Nuci, Ben Leinart, Caleb Hythecker, Charlie Blackwell, Cole Brimmer, Colton Schuette, Connor Wehr, Easton Bohnstengel, Fred Callender, Jackson Leary, Javier Alvarado, Joseph Ly, Lance Brock, Luke Jennings, Nathan Winger, Payton Douglas, Seth Utsinger, Wyatt Marshall, JC Nuci and Anthony Linomontes.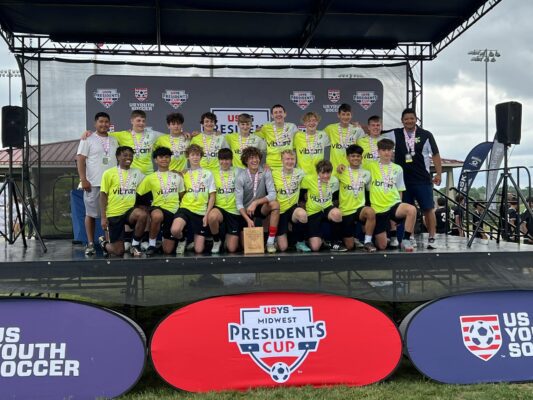 Davenport Central Student Goes To National Theater Competition
Congratulations to Croix Baker from Davenport Central High School for winning the Triple Threat Award for the Iowa High School Musical Theatre Awards and going on to compete in the Jimmy Awards in New York City! He's one of only 96 students nationwide to be invited.
Baker made it to the semi-finals in the New York National High School Musical Theatre Awards competition.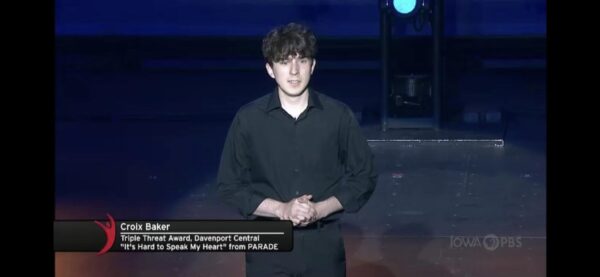 Davenport Nine-Year-Old Advances To BMX Nationals
A nine-year-old from Davenport has qualified for Team USA and to compete in the UCI Cycling World Championships in Glasgow, Scotland in August of 2023.
Knox "Fort Knox" Reaves has been racing BMX since he was able to stand. He has been practicing at East Moline BMX two nights per week and competing around the nation at BMX tracks like Music City BMX (Nashville, TN), Oldsmar BMX Supercross (Oldsmar, Florida), and Hardesty National BMX Stadium (Tulsa, Oklahoma).
His qualification to compete with Team USA in Glasgow, Scotland came at the February 2023 Gator Nationals in Oldsmar, FL.
He will be one of sixteen youth competing in his age-group and one of the only for his age and category from the United States. These young athletes will be competing for one of only eight world plates that will be given out during the UCI Cycling World Championships.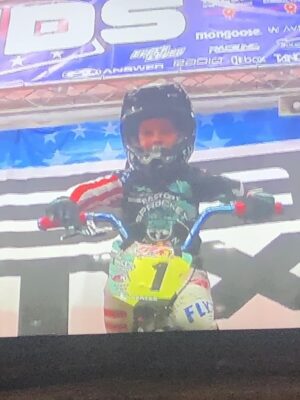 Sudlow Kids Win Third Place In National Yearbook Contest
Congratulations to the Sudlow yearbook staff for receiving a 3rd place finish at the 2022 Lifetouch National School Studios Yearbook Showcase Contest!
The publications were sorted into four divisions: high schools with more than 1,000 students enrolled, high schools with fewer than 1,000 students enrolled, middle schools/junior high schools, and elementary schools.
Yearbooks were evaluated on the following criteria: theme/theme development, design, continuity, photography, writing, creativity, content, and coverage.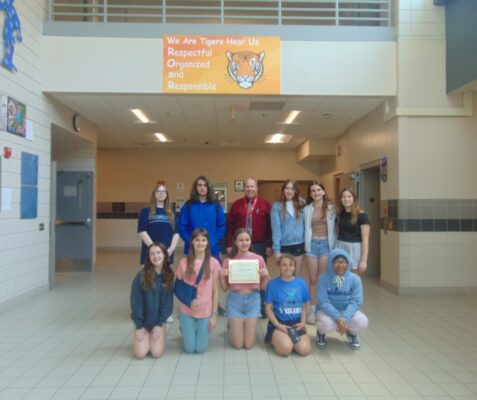 Davenport West Begins Groundbreaking On New Athletic Facilities
Davenport West officially broke ground on their new athletic facilities on July 18!
Various dignitaries and school officials were on hand to dig in to the soil and officially kick off the construction of the expansive amenities, including new gym areas, athletic areas for wrestling and other sports, and a whole lot more.
Construction is beginning soon and will extend into next year, with a debut of the new facility set for next summer.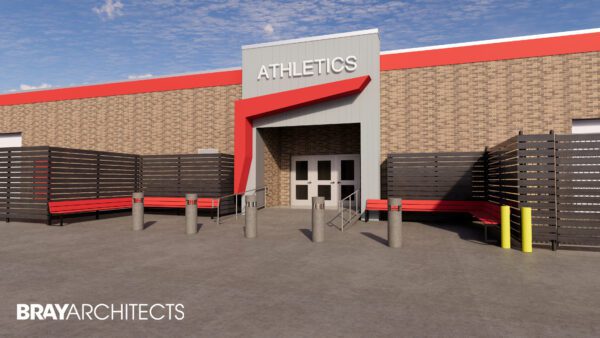 Quad Cities Community Foundation Launching New Center For Nonprofit Excellence
The Quad Cities Community Foundation will launch a new Center for Nonprofit Excellence, a resource dedicated to strengthening the region's nonprofit sector.
The initiative will build on the Community Foundation's long history of supporting nonprofits by providing expanded resources that help local organizations advance their missions and grow their collective impact.
At the heart of the Center for Nonprofit Excellence lies a vision to become a place for the region's nonprofits to connect, build capacity, and champion issues of importance to the sector and our community. "The vision for the Center has grown naturally and intentionally," said Sue Hafkemeyer, the Community Foundation's president and CEO. "Now is the right time to move our efforts forward into something more holistic and accessible to organizations of all sizes."
Moline Public Library Removes Late Fees
Beginning Wednesday, July 5, the Library will stop fining for most overdue items. By eliminating late fees, the Moline Public Library joins a larger movement among libraries to ensure free, inclusive, and equitable service for everyone.
"Moline Public Library strives to make our services accessible to all," notes Library Director Bryon Lear. "We hope that eliminating fines for overdue materials will reduce barriers and encourage more people to use the library and check out without the fear of accumulating debt."
Fine free does not mean responsibility free. "All items will still have due dates and patrons are still expected to return items on time, out of respect for others," states Lear. Cardholders will still be responsible for items that are damaged or lost, or accounts sent to collections.
Vera French Opening Second Facility For Mental Health In Bettendorf
The Vera French Community Mental Health Center (VF CMHC) is adding a second full-service outpatient mental health clinic to serve our community in late 2023 & to meet the growing mental health needs of the Quad Cities and our larger region.
Vera French announced its purchase and renovation of the first three floors of the tower at 852 Middle Road in Bettendorf, Iowa. The location also provides for easy access to I-74.
Vera French has proudly served as an independent community mental health center (CMHC) for a five county region including the Quad Cities over the last 74 years. "It is central to our mission to advance mental health for all and to collaborate with our community partners," said Vera French CEO – Dr. Richard Whitaker, Jr. PhD. "Vera French's expansion to Middle Road in Bettendorf will allow us to help more people improve their mental health – which in our experience is the foundation of healthy living."
Vera French will maintain and expand vital mental health and substance use treatment services currently provided at its location at 1441 W. Central Park Avenue in Davenport, Iowa. "The demand for the services Vera French provides has never been higher," said Vera French Chief Operating Officer (COO), Denise Beenk, MBA, LISW, SHRM-CP. "We need more space for outpatient clinical and case management services, plus we are adding a program to treat substance use using a holistic approach."
In early 2021, Vera French began its search to expand access to evidence-based mental health services and healthy living solutions. In consultation with the Vera French Board of Directors, the acquisition of 26,000 additional square feet at 852 Middle Road in Bettendorf, Iowa was the best option from a programmatic and a fiscal perspective.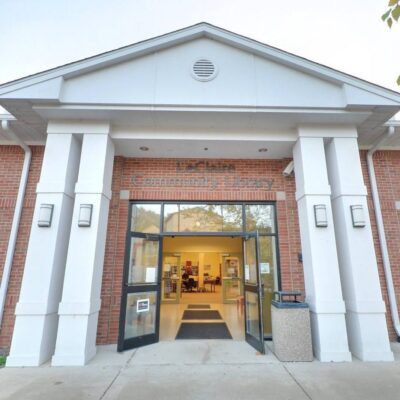 LeClaire Library Receives Accreditation Honor
The State Library of Iowa has announced that the LeClaire Community Library has met the conditions for state accreditation as outlined in "In Service to Iowa: Public Library Standards Sixth Edition."
Achieving accreditation requires a significant, ongoing local commitment to high quality library services. LeClaire Library has been recognized for its efforts in all areas of library operations including governance and funding, staffing, library collection, services, public relations, access, and facilities. The accreditation status begins July 1, 2023, and is valid through June 30, 2026.