Quad-Cities Theaters Tackle Thorny Issue of Diversity and Inclusion
Saturday in the Arts is a weekly feature covering a trend, subject, event or personality of local interest. It runs every Saturday morning on your site for the best entertainment and arts coverage in the area, QuadCities.com!
How do you solve a problem like diversity in live theater?
From Broadway to the Quad-Cities, theatrical organizations of all kinds are wrestling with this thorny issue, now more than ever. Long before the widespread racial reckoning that's taken place nationwide in the past 17 months (post-George Floyd, Breonna Taylor and Black Lives Matter, which has only intensified), actors, directors and others have been outspoken in their call for doing more to ensure that those involved in productions on and off stage better represent the diversity of society at large.
A September New York Times story – "Broadway Is Brimming With Black Playwrights. But for How Long?"  — noted Broadway's pre-pandemic theater season featured just two plays by Black writers, and one of them had been around since 1981. The previous season, there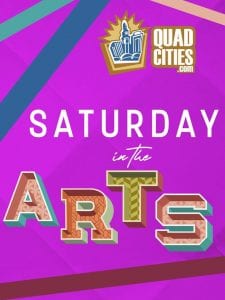 was one such play, and the season before that, zero.
This season, if all goes as planned, there will be at least seven.
"The sudden abundance, after decades of scarcity, is a response to criticism the theater industry, like so many others, has confronted since the widespread protests over police brutality that followed last year's killings of George Floyd and Breonna Taylor," the Times wrote. "Facing scrutiny over what kinds of stories are told onstage, and who makes decisions offstage, Broadway's gatekeepers have opened their doors to more Black writers, at least for the moment."
At the 74th-annual Tony Awards late last month, the Best Play award went to "The Inheritance," a two-part drama, written by Matthew López and inspired by "Howards End," about two generations of gay men in New York City. The win was an upset; "The Inheritance" had received reviews in the U.S., and many observers had expected Jeremy O. Harris's "Slave Play" to pick up the prize. López said becoming the first Latino writer to win the best play Tony was a point of pride, but that it also suggested the industry needs to do better, the Times said.
"We constitute 19 percent of the United States population, and we represent about 2 percent of the playwrights having plays on Broadway in the last decade," López said. "This must change."
A production of "A Soldier's Play," directed by Kenny Leon and produced by the nonprofit Roundabout Theater Company, won the Tony for best play revival. The play, a 1981 drama by Charles Fuller, is about the murder of a Black sergeant in the U.S. Army; it won the Pulitzer when it was first published and was later adapted into a Hollywood film, but it didn't make it to Broadway until 2020.
The production starred Blair Underwood and David Alan Grier. Grier picked up the first award of the night, for best featured actor in a play. Kenny Leon, the director of "A Soldier's Play," gave an impassioned acceptance speech, repeating the names of George Floyd and Breonna Taylor and saying, "We will never ever forget you."
"No diss to Shakespeare, no diss to Ibsen, to Chekhov, to Shaw; they're all at the table," he said. "But the table's got to be bigger."
The outcome in the best play category was startling enough that gasps could be heard in the theater when the winner was announced. "Slave Play," with 12 nominations, had been the most nominated play in history, and a win would have made it the first play by a Black writer to claim the Tony since 1987, but the play was shut out.
Chelsea Ward is an African-American actress who's played the lead in Music Guild's "Sister Act," and was Gary Coleman in "Avenue Q" and the Lady in Red in "For Colored Girls" at Playcrafters in Moline. She posted on Facebook Sept. 27:
"I was watching the Tonys last night and the first performance was the original Broadway cast of 'Hairspray.' The man who played Seaweed, Chester Gregory, had on a jacket that said "black roles matter." One, I need one. Two, gone are the days of "no person of color came to audition."
"You cannot expect those who were trampled on to suddenly join the parade without making them comfortable, without giving them a safe space, without showing them they matter," Ward wrote. "We still have so much work to do. The work starts with us. Hold theatres accountable. If a theatre is not inclusive and diverse and true, then it is not a theatre. Theatre is to tell the stories of everyone, support everyone, and has the power to influence everyone, not just those they deem worthy. If you do not have the actors of color, do not do the show."
She was especially concerned with the recent production of "Little Shop of Horrors" at Moline's Spotlight Theatre, which featured no actors of color in roles that typically casts them – the voice of the plant "Audrey II," and the female trio of street urchins. The "Little Shop" (1982) script description of the women's chorus says: "Crystal, Ronnette and Chiffon are African-American street urchins, acting as the occasional Greek Chorus."
In Music Guild's 2017 version and the 2021 Spotlight edition, each trio was comprised of entirely white women. Each was very entertaining in their own way, but the fact still remains that the script specifically calls for African-American actresses.
"What frustrates me the most is, theater in the Quad-Cities is the only place where they get a pass for, at least they tried," Ward said. "Posting a notice on a Facebook page isn't trying. You have to go out and make connections in the community. I also get really frustrated when theaters come back to you and get defensive and say, well we don't see color.
"Well, you should," she said. "You should see color, acknowledge it and respect it, and work together to make sure that everyone is represented. Not seeing color is not the answer, and that's something Spotlight does continuously."
She recommends reaching out to minority organizations like the NAACP and many Black churches in the area.
"I shouldn't have to teach you how; you're an adult, you have resources," Ward said of local theaters. "Everyone who owns these theaters is intelligent. I'm not saying they're bad people. They're good people – act that way; show it. We don't have to hold your hand and tell you how to be nice to us. That's not how it works. You have to do the work. People have to feel welcome and safe. No one's gonna feel that way if you whitewash every cast."
It's also important that theaters acknowledge their shortcomings, as Music Guild has, she said.
"There's ignorance and there's doing it for money. There's a difference between not knowing and also willfully doing it," Ward said. "I am grateful they're trying and I'm excited to see what comes from it."
"If theater has always exclusively been for one group of people – even Broadway – we have to acknowledge most people who go to Broadway shows are from the same group," she said. "That doesn't mean that has to be how it always will be."
Theaters know the work they have to do, and there's no excuse anymore, Ward said. "I moved away and I've had people contact me and they're terrified of saying anything, standing up about this, because they don't want retribution. They don't want to lose the little crumbs we're getting from the table. That's not fair to anyone."
Whether it's "Little Shop," "West Side Story" or "Miss Saigon" (which all have prominent roles for minorities), you should look for people of color to fill those roles, she said.
"If you don't have the people, don't do the show. It's as simple as that," Ward said. If they're cast anyway without POC, that's very hurtful and shows the theater doesn't care, she said. "It's all about, we don't have the actors; we're still gonna do it, you know, F your feelings."
Shellie Moore Guy of Rock Island, a Black poet, author and activist, is similarly passionate about representation. She wrote on Facebook Sept. 28:
"In 2021, the history of exclusion is a topic still being discussed because it is not 'history.' And this exclusion is as common locally as it is
nationally, as can be evidenced by the production of 'Little Shop of Horrors' presented by Spotlight Theatre in Moline.
What is it about local theatre companies? The lack of productions by and about anyone other than White has been an ongoing discussion.
"In fact, I was involved in one of those conversations several months ago. And to add insult to injury, here is a production of such a classic play. Featuring absolutely no Black actors where they are meant to be," Guy posted. "No young and talented Black women singing and no gigantic Levi Stubbs-like voice for the gigantic plant!
"These decisions are so easily made because they who control the content, control the content. In other
words, 'they' produce what
they want and cast who they want because they can," she said. "It does not and never has mattered what 'should' be. It would never occur to the producers and those in control to find the Black actors necessary and shelve the production until they do. What matters is that those in control want to and so they do. Facts of Life.
"It is obvious they failed to take the necessary steps," Guy said. "The truth is, you cannot exclude Black people for hundreds of years and possibly expect the victims of such exclusion are going to be found in the very spaces they/we have been excluded from. I refuse to apologize for not believing that otherwise intelligent people believe they will recruit Black actors this way. The same old standard and pat excuses and explanations are dishonest and insulting."
"The person who created 'Little Shop of Horrors' wrote those Black characters into the story for specific reasons," she said. "I would have a difficult time enjoying this production knowing important people and elements are intentionally missing. Additionally, I don't consider this a case of 'lack of diversity.' This is a classic case of dishonest representation and blatant white-washing."
Response from Spotlight Theatre
Brent Tubbs, the "Little Shop" director and Spotlight co-owner, took strong issue with the complaints in a recent e-mail. His theater – which he runs with his wife Sara – opened in 2018 at the former Scottish Rite Cathedral, 1800 7th Ave., Moline.
"We are still a very young theatre, and we are always striving to be better. We are taking this as an opportunity to learn from it and grow" he wrote. "Clearly there is a disconnect in our community, and this is a community issue. This same show was done only a few years ago by
Music Guild where it was cast the same way. As well as a number of other shows that have been produced in the area where traditionally roles played by people of ethnicity have been cast with white performers.
"While this one show has been put under a magnifying glass and started a greater conversation, I do feel that the strides and efforts we have made in the past have been thrown by the wayside," Brent said, noting Spotlight has cast many people of color in traditionally white roles in many productions, but declining to name them. "We currently have a young man who is a POC in our 'Frozen Jr.' cast playing Hans."
"We have always prided ourselves on being welcoming to anyone and everyone that wants to be involved
in the theatre and our motto is to create an exceptional experience for everyone that steps through our doors," he said. "That being said, you have to walk through our doors. All of our auditions are publicly posted, and we encourage anyone and everyone to audition. We post the notices to multiple groups and try to spread the word as much as possible. However, we do recognize that we do need to be better about out reaching as well.
"Going forward, we will be extra sensitive and take great care when deciding on shows and casting if it specifically calls for a certain ethnicity," Brent said. "We are always willing to learn and grow and hear new ideas on how we can do better with outreach. We truly believe you should never stop learning and growing as an individual and as a company. We encourage anyone who was upset or felt underrepresented from our production of 'Little Shop' to reach out to us to have a conversation and help us better understand how to bring that representation in."
He and other Spotlight reps will attend the planned Saturday, Oct. 23 community conversation hosted by Music Guild (at their theater, 1584 34th Ave., Moline), on how to improve theatrical diversity.
"We want to be a part of this conversation and believe that the theatre community as a whole in the Quad-Cities can work together, and benefit from each other to make things better," Brent said. Spotlight posts auditions on their Facebook page, the theater website, and all the
Q-C actor and theater Facebook pages that anyone can join.
"Depending on specific shows too, we reach out to people and encourage them to audition. We have reached out specifically to POC for specific shows as well," he said. "We do our best not to have directors precast shows, thereby ensuring that anyone who comes to audition, has a fair shot."
Ben Gougeon, a Q-C theater supporter, also is concerned about the apparent lack of diversity.
"People have to think about their choices before they pick a season," he said. "With 'Little Shop,' to say we just cast who was there and do that show when no one of color showed up, you need to go out and do the work to recruit the people, rather than whitewashing the show."
"Change is always difficult, a step into the unknown," Gougeon said. "We're very adaptable people – think about every time you see a new play, with actors you don't know, a script you don't know. You go on the journey with it; that's the theatrical experience."
"As previously stated, we are still a very young theatre, and I still talk to people in the community that don't even know we exist. So obviously there is more we can do to reach out to EVERYONE in the community," Brent Tubbs of Spotlight wrote. "And honestly, we rely a great deal on word of mouth. I can say multiple productions we've done have had a very diverse group of people that are different sizes, shapes, colors, sexual orientations, and ethnic backgrounds."
What is the new Music Guild effort?
Quad City Music Guild has been a local institution in Prospect Park since 1949, and is entering a new chapter, to broaden the scope of its casts, crews, other volunteers and audiences. Their diversity discussion – Oct. 23 from 10:30 a.m. to noon at the Guild auditorium — will be professionally facilitated by Sasha Trice, LCPC, and Katherine Zerull, LCSW, LISW. All past, present, and future participants and patrons of the Q-C theater community are encouraged and welcome to attend.
"While QCMG is open to all members of our community, it is obvious that the makeup of our participants and patrons does not reflect the makeup of our community as a whole," said a release from Music Guild. "Previous attempts at outreach to under-represented and
marginalized groups have been minimal, project-based and short term.
"We identify this as an organizational weakness, acknowledge that it has caused pain within our community, and have developed a plan to build organizational capacity by beginning to move towards sustained and meaningful outreach to and representation/engagement of all members of our community," the release says.
In March 2021, QCMG received a Capacity Building Grant from Quad City Arts to fund the project's first steps. The organization's leadership attended professional training earlier this year, which focused on building diversity initiatives for Music Guild.
Board president Jennifer Sondgeroth said recently that in 2019, Guild did a comprehensive Strategic Planning Process (funded by Capacity Building Grants from Quad City Arts and Quad Cities Community Foundation), which identified goals and action steps for the next 3-5 years. Over 1,000 stakeholders (patrons, volunteers, etc.) participated in the process and provided input through surveys, focus groups and committees.
"It was really amazing and humbling to see," Sondgeroth (a veteran actress herself) said. "People were very honest and vulnerable in sharing what they love about QCMG and what needs to change to move the organization forward. I'm so grateful. The plan was finalized and board
approved in January 2020."
One focus of the strategic plan is increasing the level of meaningful and sustained outreach to diverse populations within our community. "While QCMG is open to all members of our community, it is obvious that the makeup of our volunteers and patrons does not reflect the makeup of our community as a whole," she said. "We identified this as a glaring organizational need. It was clear, through our process, that prior attempts to reach out to marginalized and under-represented groups have been project-based and short term, which has caused pain. We knew we had to get to work."
"As with everything, the pandemic slowed us down, but it didn't stop our work," Sondgeroth said. "We had tough but meaningful conversations with members of our community who were willing to share their experiences. Katherine attended an online anti-racist directing training and shared that with the board. We did what we could while limited by the pandemic. We did know, with a return to performances and ticket sales uncertain, that we would need grant funding to move forward as immediately as we wanted to with more formal efforts."
QCMG was the recipient of a $2,500 Quad City Arts Capacity Building Grant, which funded training for QCMG organizational leadership, that took place this past spring and focused on building an inclusive community, identifying challenges leading to feelings of exclusion by members of our community, and building a plan for long-term outreach, engagement, and inclusion of all members of our community. They plan to budget for additional training in 2022.
Guild's goal is "to build and maintain a community theatre that is overtly inclusive and representative of all facets of our rich and diverse community.," Sondgeroth said. "I know things won't magically be solved on October 23, but it is a needed first step. I know that inclusivity and representation aren't concerns that can be 'fixed' with a couple of events. It isn't something we can check off the list and call done.
"Meaningful inclusion isn't just about inviting people to auditions," she said. "It's about providing access. Making space. Building trust.  That
takes time. It will need to be an ongoing effort and priority. I know there will be missteps and mistakes along the way – but that is where learning and growth and progress happen. We're committed to doing that work."
Zerull said we can "and should look at the history of theatre and its part in perpetuating damage to people of color. There are absolutely past productions in which mistakes have been made with regard to casting," she wrote by e-mail. "The goal is to take accountability for the history that caused harm and work toward healing.
"Every effort should be made to have production staffs that come from diverse perspectives. Respect for different perspectives fuels empathy," she said. "Everyone involved in a production is being asked to live inside the story of the characters, the story of the time. We need every perspective to make the experience as rich and genuine as possible."
The goal of the community conversation is "simply to open a dialogue, to gain a better understanding of how people move through the world, to acknowledge the different experiences of people with regard to accessibility and representation," Zerull said. "I'm hopeful that this conversation is a stepping stone, a springboard, a spark igniting people to think differently, to open their minds, to understand the world
through a different lens than their own, and to encourage people to learn about the history that we are not taught.
Christina Myatt, a veteran director/choreographer and actress, said this conversation is going on all across our country in arts organizations.
"As an organization, one must constantly look at what we are doing well and where we could make improvements," she said of Music Guild and others (she's owner/artistic director of Center Stage Performing Arts Academy). "Equity, inclusion, and diversity are places where Guild has had missteps. We own those things and are committed to
providing opportunities which are accessible and inviting to all.
"These decisions are difficult," Myatt said. "Shows we might like to see produced at Guild are not always possible with those we currently see at auditions. That is not to say that efforts have not been made by Guild and other theatres to reach out to the community. But those efforts have not produced the results we would have liked. This is why we wanted to have these conversations.
"It is apparent to us (and to the arts community as a whole) that what we think we are doing is not enough," she said. "This initiative is not to point fingers or to point out past mistakes. It is about creating meaningful dialogue and then instituting change. It is not a quick fix or an attempt to satisfy the need of a particular show. We are dedicated to creating an environment where all members of our community feel comfortable and feel accepted and valued based on the things we have in common and not valued because of a particular 'need' of a show.
"We also are looking at diversity in a broader sense," Myatt said. "We want to learn and adapt and create a space where all people regardless of race, skin color, gender identity, or ability can feel at home; a space that emphasizes the community of community theatre. "What I hope is that this is a first step. I hope that we can all come and listen and begin to work towards lasting change within the QC arts community. We will make mistakes, we will acknowledge those challenges and defeats, and move forward. There is much work to be done."
Playcrafters has made diversity a priority
Playcrafters Barn Theatre (4950 35th Ave., Moline) has been around in some form since 1929, and has made diversity a priority since a specific effort that started in 2008, with the occasional selection of Black-themed plays – such as "A Raisin in the Sun," "Fences," and "A Lesson Before Dying."
It was launched by then-president Craig Michaels, "who felt that there was both talent and an audience who were being underserved in our
community," said Jennifer Kingry, a Q-C theater veteran and director of the current "Six Dance Lessons in Six Weeks."
"Craig had informal meetings with two of the area's most prominent black actors — Fred Harris, Jr. and Reggie Jarrell (both of whom had already appeared in previous Playcrafters productions) — to sound them out on how to get more people of color involved at Playcrafters," she said by e-mail. "The outcome of those discussions was that Craig and the board of directors in 2008 made a three-year commitment to schedule at least one show per season that would be devoted to stories about and featuring significant roles (if not entire casts) for people of color.
"I don't want to suggest that no people of color had ever trod Playcrafters stage before that initiative because it simply would not be true," Kingry said. "And I can't say for certain whether or not there were other formal initiatives prior to the one that was launched for the 2009, 2010, and 2011 seasons. There may have been; I just don't know. I can only speak directly about the time period with which I'm familiar.
"After those three seasons, the commitment to diversity seemed to waver slightly. There was no play specifically dealing with diversity themes scheduled in the 2012 season, but these shows re-emerged in the following season," she said. "Since 2013, I don't think Playcrafters has done a season which did not have opportunities for people of color in significant roles.
"Although we say people of color, the truth is, this has largely translated more specifically as black actors, black directors and plays with that deal with the black experience," Kingry said. "The goal of that 2008 initiative was not to only reach out to the black community, but, in truth, we have had less success in engaging with the Latinx and Asian-American communities. We need to do better here."
With the launching of the Barn Owl series in 2017, Playcrafters began to tackle plays that dealt with themes of gender identification, sexual orientation, as well as racial issues, and called for increasing diversity among performers.
They specifically chose the upcoming 2022 season with diversity in mind, "A Raisin in the Sun" being the obvious example. Playcrafters also recently staged another August Wilson play, "The Piano Lesson," in July 2021 (which was postponed from 2020).
"But, more importantly, we hope to broaden as many of the other shows as we can to be more inclusive," Kingry said. "Even before our play-reading process began, we were advocating for increasing opportunities: we see no reason 'The Odd Couple or an Agatha Christie mystery can't be racially diverse."
The director of "Dog Sees God"" has indicated she's very open to inclusiveness in her casting choices, and a big reason for slating "Twelve Angry Jurors" rather than its more common "Twelve Angry Men" title was to give more opportunities to women, as well as hopes of switching up the ethnic and racial makeup of the jury, Kingry said.
"I believe we need to slate directors who are willing to think outside the box and widen their approach beyond traditional (i.e., stereotypical) casting," she said. "Enlisting more ethnically diverse directors is also an important step in engaging with the greater community, both in terms of onstage talent and the audience."
Playcrafters current board president Bruce Duling said he's proud of their record of diversity.
"With the shows we showcased this year so far: 'Princeton's Rage,' 'The Piano Lesson' and 'Six Dance Lessons in Six Weeks' have showcased many diverse talents and lately the TV stations have been picking up on that as well," he said, noting the 2022 season has many chances for diverse casting.
"Now we just need to increase the AWARENESS of actors in the QC area that these roles are for everyone and that they should be encouraged to come audition," Duling said by e-mail. "When all these theatres put out their casting calls, they should ask for all races, genders, ethnicity and people of all sexual orientations to come and audition! Of course if these individuals don't apply for these roles, we all need to do a better job of asking all media for their help to promote the fact that we need all kinds of volunteers to be actors, directors, producers, stagehands, lighting and sound designers to just get them in the door at our theatres.
"Once they're in, we all need to encourage them and befriend them to keep our local theatre scene alive and thriving," he said. "If the same people keep auditioning and being cast because less people are showing up for auditions, we all need to do a better job of PROMOTING the hell out of these opportunities for current and new people to help with our local theatre productions."
Though Ward said Playcrafters has done a good job in programming Black-themed shows, she said: "I would like to see some shows through there that don't focus on Black trauma."
She moved to Alexandria, Va., this past May, in part because of the lack of roles in the Q-C for minorities. Music Guild reached out to her about a year ago about her experiences, and how they could improve diversity. Part of that will be having a neutral party at auditions, to be non-biased and help cast shows.
"I've been really proud to be part of that," Ward said. "I said something and they listened. I think they've been the most responsive in that aspect."
Genesius Guild (Rock Island) and Mockingbird on Main (Davenport) have been very welcoming to diverse casts, Ward said. Color-blind casting is fine, but she prefers focusing on "color-conscious" casting.
"Color conscious casting is a new buzzword that I've heard – a word thrown around a lot," she said. "We see your race; we acknowledge you,
appreciate you and respect you, and that's how we're going to cast each show." It means that everyone gets a fair chance, but also acknowledging everyone and their differences.
"The Quad-Cities has gotta start making the change; it's 2021," Ward said. "I'm concerned for all the people there, my community and all the people I worked so hard to be part of. But people are scared to speak up and stand up."
As a Black person, she doesn't want to play the slave in every show, or the comic relief, or a hoodlum. "You want some freedom," she said. "Sister Act" was amazing in that respect, Ward said, with a very supportive director.
"Even though I'm not there physically, that's why I keep speaking up, because everyone does matter," Ward said. "Representation in the community matters; addressing the mistakes and privileges and errors – acknowledging them and trying to do better. And not being defensive, that matters. If we're gonna keep doing the same with theater in the Quad-Cities, we gotta start working together."
She also wants to see more Latinx, LGBTQ, and Asian-American people on stage. "That's not to say I don't want to see Caucasian people anymore; I want to see everybody," Ward said.
She is thrilled to see so many new Broadway plays penned by Black writers. "It's amazing," Ward said. "Things are changing; we just have to get away from the tokenism and the whitewashing, and being open to new ideas, to doing the work. Not expecting people to do it for you."
"If you don't tell the stories of everybody, you're not a theater," she added. "In theater, all of our art matters."
Casting Black performers in "Rocky Horror"
Kira Rangel is a Black actress who is playing Janet in the new "Rocky Horror Picture Show" this month at The Circa '21 Speakeasy, Rock Island. She performed in Circa's "Beehive" musical this past spring and directed the Mockingbird's first show – "The Mountaintop," which opened July 29, about Rev. Martin Luther King, Jr.'s last night, in Memphis, before he was assassinated in April 1968.
That star, Anthony Hendricks, will play a Black transvestite (the iconic Frank N. Furter) in the new "Rocky Horror," directed by Mockingbird co-owner Tristan Tapscott.
"I saw this quote from Zendaya. She was like, I don't care what the casting calls says, just send me in and we'll see," Rangel said recently. "They could have never thought of it before. It could have just been, they were stuck in a monolithic way of thinking, you know, until they realized. So I don't think it's like blatantly, we need to make sure that we're being conscious and we're being quote unquote, woke. I think it's just blatantly being like if you have the talent, you should get the part. So I don't know if that's color blindness, but it's color-conscious for sure."
She graduated from Rock Island High School, where she wanted to play the mom in "Music Man," and said she killed the audition. They couldn't find a child who could pass as her kid in the show, so Rangel didn't get the part (though she was in the ensemble). "Are you serious? It's theater, the suspension of disbelief," she recalled. "I'm glad to work with Tristan now, because that's not a forefront thought of his. If you have the talent, have the capability, you should get the part, get the opportunity."
The purpose of good theater is to give voice to the voiceless, she said. Having the "Rocky" cast with leads of color will help inspire younger people.
"I didn't see that when I was growing up," Rangel said. "I went to a lot of plays and a lot of theater, and I never really saw myself up there. I
never thought I could do it until I got the opportunity to. I feel like if I saw somebody doing what I wanted to do, you know? There would be so many more talented actors of color."
"You're still gonna get your socks knocked off; it's gonna be an awesome show," she said of the new "Rocky." "I feel like I deserve this spot, and I really appreciate it, and I think it's something the Quad-Cities should see. A woman of color, not being sensualized, or fetishized. But to be in control of her sexuality and to have the power, and to be desired."
When she came up through school, Rangel said she was told she couldn't play a romantic lead, because she seemed too strong.
"So when Tristan asked me, I thought, are you serious?" she said of Janet. "I'm being more vulnerable and more trusting of my scene partner. It has been a challenge for me, because I hadn't had the opportunity to do that yet."
You can't tell people not to be strong and vulnerable, Rangel said. "We're human beings; that's what we're supposed to be – resilient and emotional," she said. "That's what I like about it – she goes on this wild, self-awakening journey. It's a trip."
After "Rocky," she's planning to move to Atlanta, Ga., to pursue more acting work. Brad is being played by Micah Bernas, who was Riff Raff in the musical last year.
Theater should be representative of the population, Rangel said. "Theater is kind of an elitist thing," she said. "Actually doing it instead of talking about it, that's a different thing."
"It's not about meeting a quota either," she said. "This is what life is."
Rangel was in the children's show "Elephant & Piggie" at Circa, while she did "Beehive," and one of the most appreciative audiences was made up of mainly minority kids. "When I went on stage, and they saw me, it was like, I felt how I felt when I was a kid and I saw someone who looked like me on stage. I feel like, there should be that representation for everybody."
There are so many gay people in the theater community, and she was upset at her school production of "Stop Kiss" (which features a female same-sex couple), and they didn't cast any queer people. "You feel marginalized and even more overlooked," Rangel said. "You had an opportunity to be portrayed and seen."
Tapscott said he's made conscious efforts to reach out to people of color for his shows (including Alisha Hanes, who's in the current "Enemy of the People" at Mockingbird).
"It's not the fault of anyone, of course, but you have to do more than just have an audition," he said. "There's a lot of outreach that goes into that. Savannah and I have made it part of our mission that we are constantly  doing outreach for it. We understand it can't be just us, so we find allies that can help us out."
For "Rocky Horror," Hendricks and Rangel are also just so good in the roles. "He's absolutely amazing, and with 'Rocky,' thee are no rules," Tapscott said. "You can do whatever you want and people will accept it. This area is blessed with a lot of talent. They're out there; you just have to find them."
Hendricks lives in Iowa City but is more than happy to do shows in the Q-C, he said. "It's a difficult conversation to have, but it's an important conversation to have and an important thing to do."
"Rocky Horror" is a show about everybody and is a plea for tolerance and acceptance, Tapscott said.
"I think seeing all shapes, all sizes and all colors – especially in that show – is a huge advantage, and I applaud Brett and Circa for making the initiative on that," he said. Hendricks is very commanding as Frank and Rangel "is insanely talented, too," Tapscott said. "Her Janet is wonderful. These guys are good and they should be showcased more."
Putting more 'Black' in Black Box Theatre
Lora Adams – another Q-C theater veteran – is co-founder and co-owner of Moline's Black Box Theatre (1623 5th Ave.), which opened in January 2017 with a concert by the African-American Westbrook Singers. She said recently it's in the BBT mission statement to be proactive on diversity.
"I think of a lot of the theaters here in the Quad-Cities, we've probably reached out more than some," Adams said, also noting their 2018
production of the all African-American "Crowns." She supported Playcrafters when they started a diversity initiative.
"I thought that was great. Don't get me wrong, but I also felt that it was, why were we making it special? Why isn't it just a regular thing?," Adams said. "The mission for us has always been, show us what you got and we'll go from there. So, I think that's the thing. And I've been trying to reach out before all this was happening, actually to see what doors I'm not knocking on."
"People have to know you, to know that you're there for them," she said, noting she was very excited that Michael Alexander (who's African-American) was available to do "I and You" at BBT in July. "I couldn't do the play without him, that's how the play is written," she said. Adams specifically contacted him to do the show, after no one else suitable had come for auditions. He's also in the current musical "Company."
"The thing is, you want to be able to find the cast and they want to be involved – whoever you are," she said. "We've held auditions where three or four people show up. And I've changed parts of my season after not
having the right people show up. It's tough, and we're not one of the big theaters and we haven't been around as long as some of them."
BBT is looking at shows for next year and some of them require diversity, and Adams wants to have a more varied production staff for shows as well.
"You want to be able to draw from your own backyard, but maybe I have to reach farther out. I don't know," she said. It's vital for theater to tell diverse stories, to reflect the local area. The Q-C is about 80 percent white; 9 percent Hispanic and 6.5 percent Black (compared to 58 percent of the U.S. population identifying as white).
"It amazes me," Adams said of Juneteenth (the holiday celebrating the end of slavery), which many younger people still aren't familiar with. "Those are things about our lives, wherever we come from, that we can't forget. It's like the Holocaust."
"If we don't tell those stories, they go the way of the dinosaur," she said. "The more we know about each other, the better we will be as a community. Sometimes, I think people want to push things under a rug and that's not what I think theater is about. Sometimes, it's not just walking out and saying, 'That was fun.' Sometimes, you walk out and say, 'I need to think about that'."
BBT's mission is to present more contemporary, intimate and diverse works, but that's not the mission for all theaters, nor should it be,
Adams said.
"Music Guild has been doing gigantic musicals since God created earth. That's what they do and that's what their stage is made for. Likewise with Spotlight."
"More power to them; I don't have the space for it," she said of her 60-seat venue. "This is what I can actually do – the more intimate stories. It's not they're not good shows. We're just a different animal than a lot of them."
Adams supports what Music Guild is doing to boost diversity and equity, but said it won't work if the only people who show up are "the usual suspects – then what have we learned?"
"There is a concern, I think, from some Black artists that this is not sincere," she said. "I don't know how you speak to that yet. I haven't figured it out yet. The question is, why are you doing this? What do you want from me kind of a thing."
"There should be more Black directors, costumers or lighting designers. There should be,"
Adams said. "It's one thing to say. I need to open my doors to more Black actors, that's great. But now, how do I open the doors farther and wider and say, come create here."
Cast and crew should be matched to shows that they're passionate about and have a point of view of, she said.
"There's sort of a magic that happens. I look at Denny Hitchcock (at Circa '21 Dinner Playhouse) doing 'Disenchanted,' and it was a cast that had to be diverse."
That current show features a Black actress and Asian-American actress from outside the area.
"It's a conversation that I think is long overdue within our community," Adams said. "But I think there have been steps toward that, be it Playcrafters' initiative or what Black Box does – that there's trying, in some instances, we've come up against our own blinders, and not reached out in proper ways."
BBT will send audition notices to Black churches as well, to broaden the scope of participants, which they haven't done up until this point. Adams also will work with the Azubuike African American Council for the Arts in Davenport.
"You have to find some of these things," she said. "Our mission has always been to be as diverse as we possibly can be, based on the people who come through the door, or people we are introduced to through other folks."
"I think it's a great thing that this conversation is gonna happen," Adams said of the Oct. 23 event. "My only concern is, it will not be as diverse enough an audience to actually give some insight into how we can be more equitable across the board."