Looking To Plan Out Your Week? Check Out Our Weekly FUN10!
It's Sunday, and QuadCities.com proudly presents FUN10, a list of the top 10 things to do in the Quad Cities this week, and every week!
Every Sunday, we drop a new Fun10, to give you a head start on your week and a heads up on what's going on over the coming seven days. Check out FUN10 every Sunday for the details on ten awesome events happening around town. It's a cool read, and a great way to get started planning your entertainment for the week.
FUN10 — ten ways for you to have fun in the Quad-Cities, this week and every week, running every Sunday, only on your site for fun, free, local entertainment, QuadCities.com!
So what's on the FUN10 for this week? Read on …
Get Your Tail To See The Tailfins
Hail! Hail! Rock and Roll! A get-up-and-dance musical tribute to early Rock & Roll! The Tailfins Band brings energy and excitement to the
hits of the 50's, 60's, 70's & 80's and they'll be playing at 8:30 p.m. Saturday at Rhythm City Casino in Davenport.
The band's authentic show takes you back to cruisin' cars, sock-hops, beach parties, and the best Rock & Roll of all time!
Five talented musicians – electric guitar, piano, bass, vocals and rockin' drums. Everyone sings golden Doo-Wop Vocals.
The Tailfins are true to the first generation of rock; Elvis, Buddy Holly, Chuck Berry, Fats Domino, Ricky Nelson, and Jerry Lee Lewis. They salute the Swinging Sixties; the Beatles, Stones, Creedence, and Motown. And they bringing back the surf and car songs with the Beach Boys, and The Ventures. The Tailfins cover the greatest era of Rock & Roll! Introducing "The Tailfins" band!
For more info, see their event page here.
Take A Hike!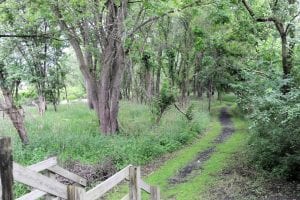 Hey man, take a hike!
Yup, take a free guided hike next Saturday at 9 a.m. at Nahant Marsh, 4220 Wapello Ave., Davenport!
Join a Naturalist for an interpretive trail walk through the Marsh. Hikes are offered year-round on the first Saturday of the month and give visitors an opportunity to learn more about the diverse flora and fauna of this unique natural area. Goodwill Donation goes towards our public education programs.
Get more details here.
Get Baked With Molly Durnin
Baked presents Molly Durnin from 11 a.m. to 1 p.m. Saturday at Baked, 1113 Mound St.!
Come see one of the Quad Cities most beloved acoustic acts for BRUNCH! Show is 11AM-1PM and FREE!
Reservations are highly recommended for this event! See you there!
For more information, click here!
Check Out The Holiday Lights In The Quad-Cities
Holiday light displays are up and lit around the Quad Cities, which means it's time for a Holiday Light Tour with our Jaycees friends! Drive around the QCA with us on Saturday, December 5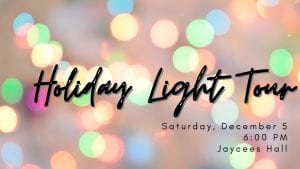 starting at 6:00 pm to get in the holiday spirit!
We will meet at the Jaycees Hall, 2940 Brady St, Davenport, then be on our way, running a caravan through the tour starting at the Quad City Botanical Gardens, then Fejervary Park, and ending at the Kall House (by fellow Jaycee Aubrey Kall!). See you Saturday!
For more information, check it here.

Santa Arriving In The Quad-Cities This Week
Santa Claus is arriving in the Quads this week for pictures with kids at SouthPark Mall in Moline.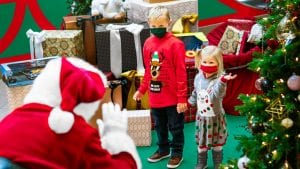 Santa wouldn't miss this visit for anything! Santa will be here starting December 4 and is located in the Von Maur Court. Rest assured, he and his elves have made every effort to provide a memorable – and contact free – experience. A visit with Santa is always free and available without a reservation as social distancing requirements allow.
What to Expect During Your Visit with Santa
Masks are required to be worn by Santa, the team and guests ages 2 and above or by local mandate.
Hand sanitizer available upon entering and exiting.
Social distancing between Santa and guests at all times.
Deep cleaning of the set for the health and well-being of guests.
Reservations are recommended to help ensure social distancing.
For more information, see here.
Shop Local Small Businesses At Iron And Grain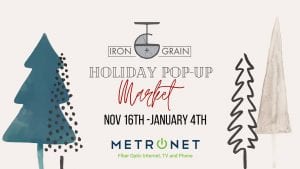 Forget Amazon and Walmart this holiday season, let's rally around our small businesses! Join us for a new take on pop-up markets as we feature 30+ Midwest Makers and the Iron + Grain Boutiques this season. Join us beginning at 7 a.m. Saturday at Iron + Grain, 585 12th Ave., East Moline for local small business shopping.
Per the state of IL, masks are required at Iron + Grain and no more than 25 people will be allowed in at a time.
Thank you to our sponsor, MetroNet. MetroNet is a customer-focused company providing cutting-edge fiber optic telecommunication services, including high-speed Fiber Internet, full-featured Fiber Phone, Fiber IPTV with a wide variety of programming and products.
For more information, click here.
Pop Up Gift Shop and Window Display Poppin' Up
Good times are poppin' up at the Pop up Gift Shop, happenin' through TODAY, Sunday Nov 29 at Quad City Arts (1715 2nd Ave Rock Island).
For more info, check out https://www.facebook.com/events/348641979902773
Festival of Trees may not be happening at the River Center this year, but there is still plenty to see and do! Come visit the Rock Island Gallery and check out Quad City Arts' pop-up gift shop and window display, open through today, Nov. 29.
You can still purchase a limited edition, Festival of Trees exclusive Isabel Bloom sculpture, purchase honor tree ornaments, and bid on a select number of designs and VIP Baskets! Plus, when you do your holiday shopping with us, you can be confident that your purchases are helping to support bringing high-quality arts experiences to our community.
Pop Up Gift Shop Hours today are 10 am – 4 pm
See The Holiday Lights At Fejervary
Join us for seasonal holiday lights display at Fejervary Learning Center! We were so 'Happy' with last year's display that we simply 'Can't
Stop the Feeling' and will be bringing it back with even more lights this year! Shows last approximately 15 minutes with a new show starting every 30 minutes beginning at 5 PM; the last show starts at 9:30 PM.
Stop by for Throw-back Thursday when we rewind to our 2019 show (occurring every Thursday through the duration of the show). This is a park and watch event, not a drive or walk-through event.
Location: Fejervary Learning Center, 1800 W. 12th St, Davenport, IA
Dates: 11/28/20–1/3/21
Times: 5-9:30 PM (last show begins at 9:30 PM)
Directions: Enter on W. 12th St and follow the directional signs. Attendees may park at the listed locations. Accessible parking is labeled and located directly across from the learning center. Exit by following the loop around the west side of the learning center.
Radio broadcast: Turn your radio to FM 107.5 to sync with the holiday lights music broadcast.
Warning: This show may potentially trigger seizures for people with photosensitive epilepsy. Viewer discretion is advised.
Winter Nights, Winter Lights Lights Up The Botanical Center
Winter Nights Winter Lights begins lighting up the Quad City Botanical Center, 2525 4th Ave., Rock Island, this weekend!
From now to Jan. 10, every night from 4 to 9 p.m. the outdoor gardens will be in winter bloom with over 130,000 glowing lights. Showcasing our largest light display yet, new areas of our outdoor gardens will be lit, including the Children's Garden.
Explore the lawns, pond and pocket gardens of our outdoor light exhibit.
Open Christmas Eve, New Year's Eve and the night of New Year's Day. Closed Thanksgiving and Christmas.
A small processing fee will be added to all tickets.
All events have limited capacity and are subject to change based on state mandates governing public health.
$8 ADULTS $4 YOUTH 2-15
FREE UNDER 2
MEMBERS
$6 ADULTS $2 YOUTH 2-15 FREE UNDER 2
TICKETS MUST BE PURCHASED ONLINE FOR TIMED ENTRANCE EVERY 30 MINUTES 4 PM – 8 PM
Valor & Victory Gardens: WWII in the Hawkeye State
When: Now and through Jan 17
Where: German American Heritage Center & Museum (712 W 2nd St. Davenport)
https://gahc.org/
WWII was a global conflict that forever altered society and touched the lives of people around the world, including right here in Iowa. The year 2020 marks the 75th anniversary of the end of WWII. With this exhibit we remember and commemorate that momentous occasion. Through local headlines, personal letters, and historic artifacts, we will tell the Quad Cities' WWII story.
This exhibit is supported by the Jewish Federation of the Quad Cities and was co-curated by GAHC Staff and Arthur Pitz, Ph.D.
The exhibit will be open from September 13 – January 17 and is included with general admission:
Adult: $5 | Senior: $4 | Child: $3 | Member: Free.