Q-C Storm News Raining In As Opening Night Approaches!
There's a veritable torrent of news coming from the Quad-Cities' new hockey team, the Q-C Storm!
Opening night is October 20 and today the Quad City Storm are unveiling their plan to pack the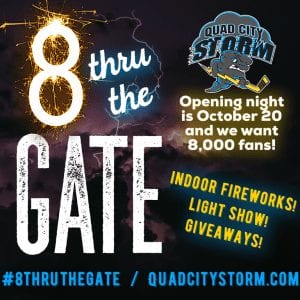 TaxSlayer Center! The Storm are planning to have 8000 fans making noise in the seats for the first game of the regular season!  Fun features for fans include: indoor fireworks, a light show, a kid zone, mascots, a promo team and the first 1000 fans receive a free Storm t-shirt!  John Deere is sponsoring opening night and, along with the Storm, will be raising funds for United Way.
In addition to the excitement off the ice, fans will enjoy their first ever look at the Storm versus their cross-state rivals, the Peoria Rivermen.
Battle #1 in the COLD WAR ON 74 sees Storm head coach Dave Pszenyczny manning the Quad City bench just months removed from playing defense as a member of the Rivermen.  The Storm will be finalizing their regular season roster next week.
TICKETMASTER FEES ARE STILL WAIVED FOR ALL ONLINE TICKET ORDERS COURTESY OF THE QUAD CITY STORM.  Tickets can be purchased at www.QuadCityStorm.com.