Positive News In Illinois And Iowa: What's The Good News For April?
The good weather is back and with it comes the good news!
That's right, QuadCities.com teams up with KWQC-TV6's "Paula Sands Live" to bring you positive news about great things and people in and around the Quad-Cities, and we're springing back with a lot more upbeat stuff!
Here's the good news for this month:
Rock Island Crossing Guard Repays Kindness Of Students
Ben Dixon has stood at the corner of 30th street and 31st avenue for the last 14 years making sure Eugene Field students get to school safely.
He's become a staple within the Eugene Field School community.
"Every day Ben waves to all the staff and students. He knows who is at school and who isn't. If he notices someone is absent for a long period of time, then he will stop a staff car and ask questions. He is genuinely concerned about the welfare of all of us. He sends us Christmas cards and makes sure to acknowledge us on Mother's Day," said Eugene Field teacher Susan Stiles.
And when Ben was absent from his duties, you can bet the students noticed. Ben recently became ill and had to be hospitalized. Eugene Field students missed him tremendously. To send some love, the school made get-well cards for him and they were delivered to him at the hospital.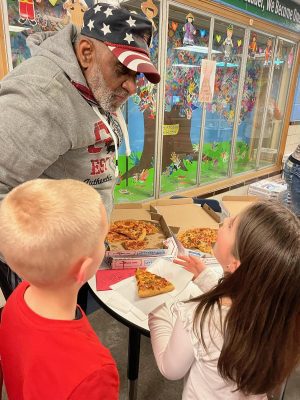 "He is the most compassionate man I know. So as a way of giving back to him, when he was in the hospital, all the students made get-well cards for him. He was overwhelmed with the kindness. Ben doesn't realize how much we appreciate him looking out for the kids and staff on a daily basis. He is such a blessing," said Ms. Stiles
So touched by the student's compassion, Ben wanted to repay their kindness. Once Ben was out of the hospital and feeling much better he surprised the entire school with pizza. He ordered and delivered 95 pizzas for the whole school on Valentine's Day as a thank you and to show them how much he loves all of them.
He even stayed and served each one of the students a slice to personally thank them.
Jesse Day Relays Run In This Week
The Davenport North High School is Hosting The 88th Annual Jesse Day Relays, April 13, 2023, at Brady St. Stadium.
Starting in 1935, the Jesse Day Relays is a track and field event that was originally named the Davenport Relays. Schools from all over town would participate in the Davenport Relays in preparation for state.
The Davenport Relays was eventually changed to Jesse Day Relays in honor of Jesse Day, who was a Geometry and track coach for the Davenport Community School District.
Jesse was remembered as someone who was passionate about coaching and his teaching career. Jesse stood up to involve everyone and encouraged students to participate no matter their skill level.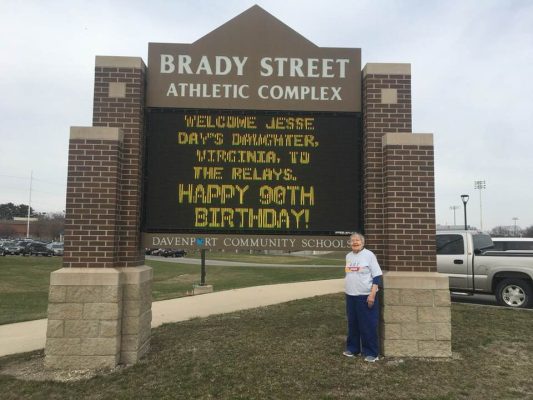 Even 87 years ago, the Davenport Community School District strongly encouraged their students to take part in sports and extra curriculars activities.
The 88th Jesse Day Relays will be occurring April 13, 2023, at Brady St. Stadium. This year, there will be a recognition of Virginia Wayne, the daughter of Jesse day, who will be turning 95 years old on the same day the event takes place.
In addition to this special guest, Virginia's family is making a generous contribution by donating $2,000 to support the Jesse Day Relays.
The Jesse Day Relays will include schools such as, Assumption, Bettendorf, Burlington, Clinton, DeWitt, Dav. Central, Dav. North, Dav. West, Mount Vernon, Muscatine, North Scott, and Solon.
Latino Leaders In The Q-Cs Have New Resource
Latino leaders in the Quad Cities and surrounding areas have a new resource for building their skills, knowledge, and abilities to succeed, lead, and maximize their impact on their community.
This fall, the League of United Latin American Citizens (LULAC) Council 10 in Davenport will host the first-ever cohort of the Quad Cities Regional LIDERAMOS Leadership Development Program. Part of the LIDERAMOS National Latino Leadership Alliance (NLLA) framework, the program will reach across generations and sectors with a culturally centered curriculum tailored to the needs of Latino leaders in the Quad Cities region, as determined by the input of a bi-state Latino Leadership Planning Committee.
Applications to participate are open now and due by May 31st or until the cohort is full. The first cohort will be limited to 25 participants. The program will launch in September and meet monthly through February 2024. For program information and to apply to participate, visit:
https://lideramos.org/programs/lideramos-quad-cities/.o

Davenport Central High School Jazz 1 Invited To Iowa State Championships
Congratulations to Davenport Central High School's Jazz 1 for receiving an invitation to return to the Iowa Jazz Championships this year! Only 15 4A bands in the entire state of Iowa received this distinction.
Rock Island Junior High Wrestlers Grapple To Finals At State
Congratulations to IESA State Placers of the Rock Island Junior Highs! Henry Miller (a 6th grader) took 4th Place for Edison, while Gavin DeRudder (8th grade) took 3rd, Angelo Parker (7th grade) and Rowan Stockwell (8th grade) both took 5th Place for Washington. The last picture is of all future Rock State Qualifiers, coaches, and volunteers together.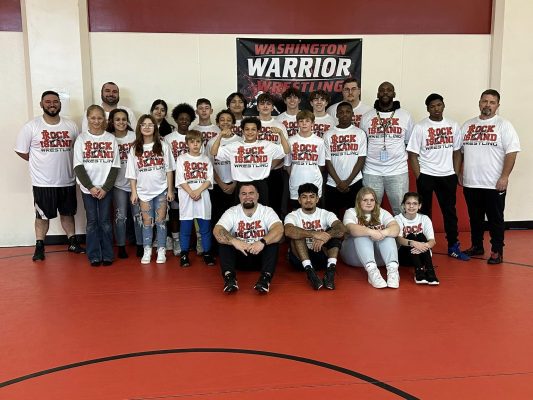 Davenport West High Debate Team Stars Going To Nationals
A big congratulations to the Davenport West High debate team on their performance at the East Iowa Speech & Debate District Tournament series. They have two National Qualifiers and two Alternates who will represent West and East Iowa at the National Tournament in June in Phoenix!
National Qualifiers
Elliot Griffith in Dramatic Interpretation
Clementine Springsteen in Original Oratory
Alternates
Neo Sotirllari-1st alternate in Dramatic Interpretation and Informative Speaking
Trinity Merrick-2nd alternate in Informative Speaking and Congressional Debate
Bettendorf High School Speech & Debate Students Place in All-State Tournament
Congratulations to the Bettendorf Speech and Debate Team for their placements in the Iowa Forensic League All-State tournament. They had 13 entries in the competition. 11 advanced into the semifinal round of the state tournament. Eight of the 11 entries advanced to the final round of competition for their respective events at the state tournament.
Max Rantilla – 1st Place in U.S. Extemporaneous Speaking and Senior of the Year Finalist
Zach Adams – 2nd Place in International Extemporaneous Speaking and 4th Place in Spontaneous Speaking
Charlie Silver – 2nd Place in Spontaneous Speaking and 6th in U.S. Extemporaneous Speaking
Ava Holmes – 3rd Place in U.S. Extemporaneous Speaking
Hailey Koch – 6th Place in Humorous Interpretation