Rock Island's Circa '21 Dancing In With ABBA Musical 'Mamma Mia'
Circa '21 Dinner Playhouse's latest production is a massive hit musical that's currently the ninth-longest-running Broadway musical of all time, a five-time Tony Award nominee and internationally beloved! Enjoying a Quad Cities run through July 8, Mamma Mia's collection of timeless ABBA tunes inspired the New York Post to call the experience "one of those nights when you sit back and let a nutty kind of joy just sweep over you," and the pop/rock revue is being brought to stage life by a spectacular team of professional actors.
 MAMMA MIA! will be presented at Circa '21 with performances on Wednesday, Friday, and Saturday evenings at 7:30 p.m., Sundays at 5:30 p.m., and Wednesday matinées at 1:15 p.m. Pre-show entertainment featuring the theatre's wait staff, the Bootleggers, also will precede all performances. Ticket prices are $60.55 for the evening performances and $53.73 for the Wednesday matinées. The prices include dinner, show and tax.
Reservations are available through the Circa '21 ticket office. For reservations, contact the theatre at 1828 3rd Ave., Rock Island or by calling 309-786-7733 ext. 2.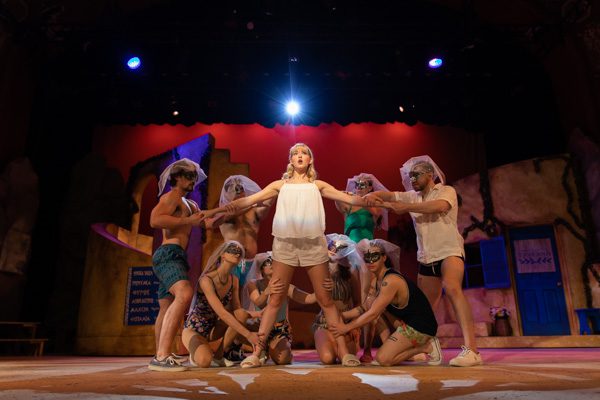 Last seen at the Rock Island theatre in 2018, MAMMA MIA! takes place on a small Greek island where Sophie dreams of her perfect wedding – one that includes her father giving her away. The problem, however, is that Sophie doesn't know who he is. Her mother Donna, the former lead singer of a 1970s pop group, refuses to talk about the past, so Sophie decides to take matters into her own hands. Sneaking a peek in her mother's old diaries, she discovers three possible fathers: Sam, Bill and Harry.
Sophie secretly invites all three to the wedding, convinced that she'll know her father when she sees him and what results is a funny, touching and dance-tastic musical-comedy smash boasting two dozen Swedish-pop hits including ABBA's "Dancing Queen," "Waterloo," "S.O.S.," "Take a Chance on Me," and "Knowing Me, Knowing You." After opening on Broadway in October of 2001, MAMMA MIA! – the longest-running jukebox musical in Broadway history, went on to earn Tony nominations in categories including Best Musical and finally concluded its New York run in 2015 after 5,758 performances.
Helming his first musical for Circa '21 is Michael Brindisi, the longtime resident artistic director for Chanhassen Dinner Theatres in Chanhassen, Minn.  He has more than 100 productions to his credit. Area favorite, Ron May, serves as MAMMA MIA!'s music director, with additional members of Brindisi's creative team including choreographer Ashley Becher, scenic designer Kathleen Voecks, costume designer Bradley Robert Jensen, lighting designer Haley Brown, sound designer and engineer Ben Takitch, production manager Jeremy Littlejohn, stage manager and props designer Kendall McKasson, assistant stage manager and deck captain Emmett Boedeker, scenic artist Becky Meissen and spotlight operator Elsa Besler.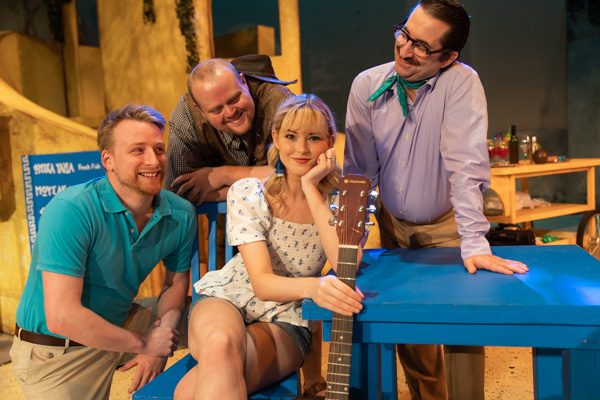 Sophie is played by Caroline Portner, a featured performer in Circa '21's Irving Berlin's "White Christmas" and her mother Donna is portrayed by area-theatre veteran Kim VanDerGinst, who has enjoyed major roles in such Circa '21 presentations as "The King & I," "The Sound of Music" and the recent "Grumpy Old Men: The Musical." The roles of Sam, Bill and Harry are played, respectively, by Bobby Becher, Dan Hasty and Thomas J. Besler, with MAMMA MIA! cast also boasting a blend of familiar and debuting area performers: Emmett Boedeker, Abigail Graham, Sarah Hayes, Taylor Lynn, Tommy McCarthy, Molly McGuire, Anthony Milfelt, Caitie L. Moss, Sylvia Muchmore, Morgan Sexton, Jeremy Weinstein and Kyle DeFauw.
 Circa '21's entire staff is delighted to be continuing their sensational 46th season with such an energetic, magical entertainment, and urges audience members to reserve tickets for what is certain to be a hot-selling stage hit! Call the Circa '21 ticket office at 309-786-7733 ext. 2 for reservations and have the ABBA-salute time of your lives at MAMMA MIA!