Rock Island Parks And Recreation Rolls Out Reopening Plans
As we approach Phase 3 – Recovery in the State plan to Restore Illinois, the Rock Island Parks and Recreation Department is making plans in accordance with the Governor's guidelines. Phase 3 is tentatively scheduled to begin May 29th. If Phase 3 is put in place, the Department will begin modified programming for groups up to 10.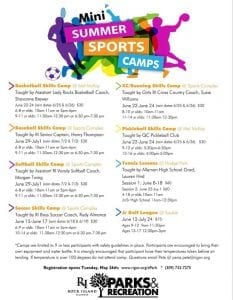 The following sports activities will be offered: mini youth sports skills outdoor camps including basketball, baseball, softball, soccer, xc/running, pickle ball, tennis and golf. All programs will be limited to small groups and have safety guidelines in place.
Registration begins for these programs on Tuesday, May 26th by calling 309-732-7275 option 1 weekdays between 8:00 am – 12:00 pm or click here to register online. See attached flyer for the program details. Registration will be limited.
Additionally, the Tball and Coach Pitch registration deadlines have been extended to June 19th. The season will be June 29th – August 6th. Online registration is still open:
Coach Pitch "Modified": 5-6 year old
Coach Pitch Girls Softball: 7-9 year olds
Coach Pitch Boys Baseball: 7-9 year olds
Please follow and like our Rock Island Parks and Recreation Facebook Page to keep up to date on all of our recreational offerings and most recent information. We will continue to serve our community and look forward to safely expanding services as we progress through the different phases to restore Illinois.