QuadCities.com Top Stories Of 2020: Part One, January And February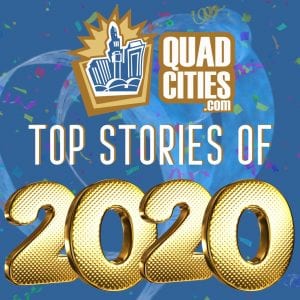 It's time for our look back at the year that was in arts and entertainment, 2020. Every day between now and New Year's Eve, Dec. 31, we'll be posting a story painting the big picture on the year. Some days will have multiple stories, some days there was so much going on in one month we just stuck to that one.
We hope you enjoy the look back, and let's all hope for a happy new year and a much, much, much, much better 2021!
Here's today's installment, months January and February, the two most normal months of the year. During this time, coronavirus was just a news story for the most part. The government was downplaying it, and honestly, the media didn't know what to make of it, so it still wasn't being taken TOO seriously. People figured it would be like the flu, or at least a really bad flu. Most people weren't expecting what was to follow, and few figured that almost a year on, almost all arts and entertainment venues and operations would be shut down.
So, here's our look back at the top stories of January and February.
For upcoming installments, check QuadCities.com every day through Dec. 31!
January
Remember when you could actually see a live sporting event at the TaxSlayer Center? Well, Jan. 1 began with QuadCities.com sponsoring a '70s night at the Moline arena.
Ever want to take a ride on a Zamboni across a hockey rink? Well, your site for fun, free, local entertainment, sports and features, QuadCities.com gave away a ride on one during a Quad City Storm game to Rock Island's Tucker Hanson! QuadCities.com was sponsoring '70s Night at the Storm game Friday, Jan. 10, and we gave away a ride on the Zamboni and free tickets.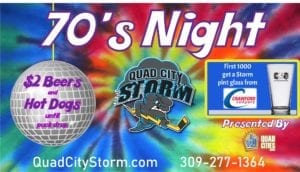 Speaking of the Storm, the Storm and RIA Federal Credit Union presented a check in the amount of $4525 to Honor Flight of The Quad Cities. The money was raised through the Storm's Nickelodeon Night game on December 27th and a game worn Ninja Turtle jersey auction, both of which were sponsored by RIA Federal Credit Union. The donation brought the Storm's 2019-2020 season giveback total to over $45,000!
On the live stage, Jersey Boys, Alice Cooper, Lita Ford, and "Coco Live," hit the Adler; Black Box Theater in Moline opened their fourth season with "I Never Saw Another Butterfly," and the TaxSlayer Center welcomed not only the World's Greatest Rodeo but Matchbox Twenty.
After 60 years in broadcasting, 40 in the Quad-Cities, longtime afternoon radio host Jim Fisher was let go by WOC-AM1420, according to various posts on social media, including one by Fisher's longtime friend and producer Dan Kennedy. WOC has yet to make a formal announcement and neither has Fisher, but social media was buzzing with the news, and Fisher's friend and former program director at WOC, Dan Kennedy, posted the following on his Facebook page: "Sorry to hear about my friends at IHeart Radio. Great people let go today including the legendary Jim Fisher." Fisher wouldn't be alone, as a slew of other folks would be let go by IHeart Radio.
Not to be outdone, Lee Enterprises stepped up to fire more people from the Quad City Times, something they would likewise do throughout the year.
Circa '21 debuted the fantastic "Kinky Boots," which was, in my opinion, the best show of the year for a limited array of theater in 2020.
Brantley Gilbert came to the TaxSlayer, and Squirrel Nut Zippers played at the Redstone Room, while Buckcherry hit The Rust Belt. Who knew these would be some of the last concerts we would see at these venues for the year?
On a positive note, January ended with nine soccer players from East Moline Silvis Soccer Club being named to the Illinois Olympic Development Teams.
February
Hell Yeah! rocked the Rust Belt, and Cody Jinks hit the Adler Theater early in the month.
A Night of Sunshine shined on Circa '21, Bob Marley birthday bash was boppin' at the Rust Belt, science exhibits filled the Family Museum, Family Museum welcomed Olivia the pig's exhibit, and Eugene Field Elementary in Rock Island debuted its own interactive live science museum with its students for the science fair.
Jason Aldean played the TaxSlayer, Gladys Knight was a pip at Rhythm City, playwright David Henry Hwang was the Quad City Arts visiting artist, and dinosaurs walked the Quad-Cities as Jurassic Quest roared into the QCCA Expo Center.
Wynonna and the Big Noise were at the Rust Belt, Junior Theater dropped "Wizard of Oz," and RIBCO welcomed Truckfighters and Valley of the Sun.
In sad news, an old buddy of mine, Steve "Raceman" Donovan of 97X fame, passed away.
The Figge Cajun Cook-Off steamed up Rhythm City Casino, Chocoholics Paradise came to Rock Island Public Library, and it was announced the old Comedy Sportz Late Nite Improv Shows were going to start rolling out at Moline's Black Box Theater. Here's hoping they do sometime in 2021, because those are some fun shows!
Zac Brown Band rolled into the TaxSlayer Center and thrilled fans. Dunkin Donuts debuted a Bucket 'o' Bacon on its menu. And Nahant Marsh gave out their Oberholtzer Awards.
The Quad-Cities lost a legendary character on the local theater scene, as Ed "Jonesy" Jones, the longtime host at Rock Island's Circa '21, passed away at the ripe old age of 92. I'd worked with Jonesy a number of times over the years as a director and theater producer, and he was always a hoot playing various roles in short comedy films I'd done since 2000 with Tristan Tapscott, Scott Beck, Bryan Woods, Justin Marxen and a host of others. He was a great dude.
Local Union 25 Plumbers and Pipefitters celebrated Women in Construction Week with a variety of activities.
Junie B. Jones came to the Brunner Theater, the QC Bridal Expo thrilled prospective brides and grooms, UTHS and Moline basketball teams faced off at the Panther Den Challenge, and Jurassic Quest continued to make a lot of young (and older) dinosaur fans happy throughout the Quad-Cities with sold-out shows.
In regard to QuadCities.com, we hit record highs in regard to traffic, hit over 10,000 followers on Facebook, and debuted our regular Sunday feature, the FUN 10, giving you a look ahead at cool stuff going on in the area over the coming week.
And speaking of cool stuff going on over the coming week, you can continue to check out our ongoing look at the top stories of the year 2020 EVERY DAY from now through Thursday here on QuadCities.com! See you tomorrow…