Iowa Quad-Cities Schools Closed Through End Of School Year
According to an announcement just made by Iowa Governor Kim Reynolds, all Iowa schools will remain closed through the end of the school year, with distance learning via computer remaining in place through the end of the curriculum year.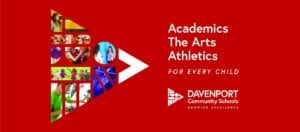 Chicago's NBC 5 just broke the story, and QuadCities.com broke the story locally, that Illinois Governor J.B. Pritzker will be making an announcement at 2:30 p.m. today closing all Illinois schools through the end of the current curriculum year.
According to the Iowa story posted by KWWL News 7 Iowa City, the state school districts will be required to continue distance learning through the school year. Earlier in April, public school districts submitted plans to the state for learning opportunities.
It's also not set as to when Iowa schools will start back up. According to Reynolds, local districts will decide when the next school year will start.