Three Lucky Locals Win Tickets To See The Quad City Storm!
They came, they saw, they answered the trivia question correctly, and they won tickets!
Yup, THREE lucky locals each won a pair of tickets to see the opening night game of the
Quad City Storm
this Friday!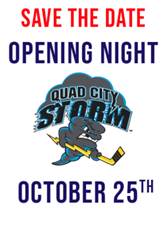 QuadCities.com is, once again, a proud sponsor of the
Quad City
Storm! And during select times this season, we're giving away THREE PAIRS OF TICKETS to see the Storm at the
TaxSlayer
Center in
Moline
to a trio of lucky folks. All you have to do is answer our hockey trivia question correctly and email your answer to Sean@QuadCities.com before 3 p.m. Thursday. We'll pick the winners and notify you that afternoon and announce the winners on Friday!
This week's question was: What is the last name of the three notorious fighting brothers in the hockey movie "Slap Shot?" The answer? Of course we're talking about THE HANSON BROTHERS.
And our three lucky winners are: Ryan Roberson, Liz McIntire and Jeff O'Neil! Go to will call to claim your tickets before the game Friday and they'll be there waiting for you. Congratulations!