10 Fun Things To Do Week of September 13th: Big Lebowski, Ballet, Tacos and MORE!
QuadCities.com proudly presents Fun10, a list of the top 10 things to do in the Quad Cities this week, and every week! Every Sunday, we'll drop a new FUN10, to give you a head start on your week and a heads up on what's going on over the coming seven days. Check out FUN10 every Sunday for the details on ten awesome events happening around town. It's a cool read, and a great way to get started planning your entertainment for the week.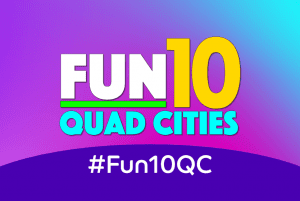 As the current health situation in our country continues to force the cancellation of so many regularly scheduled events in the Quad Cities, we are once again focusing this week's edition of Fun10QC on fun entertainment you can enjoy in the safety of your own home or while practicing safe 'social distancing,' as Iowa and Illinois begin to hold in-person events.
FUN10 — ten ways for you to have fun in the Quad-Cities, this week and every week, running every Sunday, only on your site for fun, free, local entertainment, QuadCities.com!
So what's on the FUN10 for this week? Read on …
Drive-In Theater Tour Featuring Casting Crowns
Enjoy the music you love from Casting Crowns LIVE at the Drive-In!
The Drive-In Theater Tour Featuring Casting Crowns makes its way to the Blue Grass Drive-In (774 W Mayne St. Blue Grass) this Tuesday Sep 15 from 6 – 9 p.m.
Join the fun, with a return to simpler times when drive-in movie theaters were king. Grab your family, fill up the car and enjoy a night unlike you've ever experienced before!
About this Event
-This is a LIVE concert!
-All tickets are sold on a PER CAR basis (LIMIT OF 6 PEOPLE PER CAR) and will be parked in order of arrival in the tier purchased.
-Gates open at 6:00 PM. Show begins at dusk.
-Must be prepared to show ticket to be scanned upon entry through driver's side window.
-Lawn chairs or blankets are welcome but must sit inside your allocated parking space.
-Please observe local social distancing guidelines for the health and wellbeing of all fans.
-No outside concessions or coolers allowed.
-No recreational activities such as frisbee, baseball, or running is allowed.
-No parking available for oversized vehicles (i.e. large vans, buses, motorhomes, etc).
-Show is held RAIN OR SHINE.
Tickets are $100 for GA Parking and $175 for Gold Parking. Purchase yours today at https://www.etix.com/ticket/p/3726028.
Valor & Victory Gardens: WWII in the Hawkeye State
Make plans to check out the latest exhibit at the German American Heritage Center and Museum (712 W 2nd Street Davenport), Valor & Victory Gardens: WWII in the Hawkeye State, this week!
WWII was a global conflict that forever altered society and touched the lives of people around the world, including right here in Iowa. The year 2020 marks the 75th anniversary of the end of WWII. With this exhibit we remember and commemorate that momentous occasion. Through local headlines, personal letters, and historic artifacts, we will tell the Quad Cities' WWII story.
This exhibit is supported by the Jewish Federation of the Quad Cities and was co-curated by GAHC Staff and Arthur Pitz, Ph.D.
The exhibit will be open from September 13 – January 17 and is included with general admission:
Adult: $5 | Senior: $4 | Child: $3 | Member: Free
For more information, please visit https://www.facebook.com/events/758564734977807.
Shine On Quad Cities
2020 has certainly presented many challenges and small businesses have been greatly affected. Ballroom by Nick presents SHINE ON Quad Cities: a thrilling night of competitive dance starring some of the biggest influencers in the Quad Cities!
Shine On Quad Cities takes place this Thursday Sep 17 from 6 – 10 p.m. at the Eldridge Community Center (400 S 16th Avenue Eldridge).
The party starts at with the VIP Cocktail Party from 6 p.m. – 7 p.m. with complimentary wine, beer, and heavy hors d'oeuvres catered by the Phoenix. Dress to impress and wear your best mask because there will be a Best COVID Mask Contest! There will be a Silent Auction to benefit dozens of local small businesses. Showtime is at 7:30 p.m. and will include amazing professional performances by celebrity judges.
Show your support and join our community responsibly to benefit small businesses affected by COVID-19!
Masks are STRONGLY ENCOURAGED. Tables will distanced at a minimum of 6 feet apart. We will also have a completely socially-distanced section of seating available for those who are not comfortable sitting at a table.
For more information, please visit https://www.ballroombynick.com/.
Big Lebowski at Modern Woodmen Park
Come watch the Dude on the video board and enjoy a White Russian.
Mac's Tavern proudly presents Big Lebowski at Modern Woodmen Park (209 S Gaines St. Davenport) this Friday Sep 18. Gates open at 7 p.m. and the movie will begin at 8 p.m.
Tickets are $5 and available online, over the phone or at the box office. Come in a costume and you will be entered to win a prize. Seating is limited to help with social distancing, so get your tickets before they're gone! To help limit contact, Modern Woodmen is only accepting credit cards. This is an 18+ event.
For questions or to purchase tickets call 563-324-3000. Or visit https://uw1.glitnirticketing.com/uwticket/web/ev_list.php.
Viva La Divas Drag Show
The Speakeasy (1818 3rd Avenue Rock Island) is thrilled to welcome back the areas premiere drag show VIVA LA DIVAS this Friday Sep 18 from 8 – 10 p.m. Doors open at 7 p.m.
Seating will be limited due to social distancing so order early or you won't get in! Because The Speakeasy cannot mix parties at tables, reservations can only be made for parties of 4 or 6 people. Everyone coming to the show must wear a face covering and temperatures will be taken of everyone coming in the building.
Now in its 10th year, Viva La Divas is the longest running drag show in the Quad Cities bringing you some of the United States best performers! Viva La Divas has three multiple title holders and Speakeasy favorites… Dementia Jaide, Jamie Summers and Milange Cavalli! This outstanding show cast is the kind you would expect to see in a large market like Chicago, New York and even Las Vegas! Each month the show will feature a special guest performer as well.
***Viva La Divas is pleased to welcome Miss Honestly Valentino as their special guest performer for September. This will be her first time on The Speakeasy stage!***
The music you will hear at Viva La Divas ranges from Top 40, Country, Latin, Rock, Hip Hop, Disco and everything in between!
This is a great "girls night out" or perfect for a bachelorette party! Tickets are only $10 in advance and $12 day of for this two-hour show!! You must be 18 or older to attend – no exceptions.
Reserve your seats online at https://www.thecirca21speakeasy.com/ or by calling 309-786-7733, ext. 2. and experience the one and only – VIVA LA DIVAS.
Casual Classics I: Alex Widstrand and Perry Mears
Join the St. Ambrose University Music Department virtually for Casual Classics I: Alex Widstrand and Perry Mears this Friday Sep 18 from 5 – 6 p.m.
SAU Teaching Artists Alex Widstrand and Perry Mears perform music for bassoon and piano, including selections by Mozart, Tansman, Mediņš, Garšnek, and Rivé-King. The concert will be live-streamed on the SAU Music Facebook page.
Casual Classics concerts are like a musical happy-hour, and now you can enjoy it from the comfort of your own home or office, with your favorite snack and drink!
Taco 'Bout a Party Taco Fiesta Bash
Do you like tacos? How about live music? Well, do we have the event for you!
The Mississippi Valley Fairgrounds (2815 W Locust St. Davenport) brings the ultimate Taco Fiesta Bash to the Quad Cities this Friday Sep 18 and Saturday Sep 19 from 10 a.m. – 12 a.m. both days. Free admission!
Come enjoy live music, food and drinks! The fun kicks off on Friday with live music from Adam Keith (6 – 8 p.m.) and Dirt Road Rockers (8:30 – 10:30 p.m.) Night of Destruction has also been rescheduled to take place Friday night.
Continue the party on Saturday with live music from The Crooked Cactus Band from 1 – 4 p.m., Last Bash Demo Derby at 4 p.m. (Adults $15, Ages 6-12 $10) and more live music from Casey Muessigmann Band from 9:30 – 11:30 p.m.
Vendors Include:
La Finca
Ganzo's
Jeff's Market
Smokin Butt BBQ Pork Tacos
Westmoreland Fair Foods
State Fair Taffy
Jada's Funnel Cakes
Greek Garden Gyros
Peking Foods
Slushies/Ice Cream
More TBA!
For more information, please visit https://www.facebook.com/events/757934151417186/.
Fejervary Healthy Family Fun Day
Davenport Parks and Recreation Department will host another Fejervary Family Fun Day this Saturday Sep 19 from 12 – 5 p.m. at Fejervary Park (1800 W 12th Street Davenport). This week's theme is 'Healthy Family Day'.
Fejervary Family Fun Days will be Hands-Free. Unfortunately, due to COVID-19, there will be a few modifications:
No petting zoo.
No bounce house.
No face painting.
Safety Information:
Surfaces will be sanitized regularly as allowed.
Public health officials remind you to :
Stay home if you're sick.
Practice social distancing.
Avoid touching surfaces.
Wash your hands with soap and water and / or use hand sanitizer frequently.
Come rediscover Davenport Parks and Recreation's Mother Goose Land at Fejervary Learning Center. Enjoy nature-based play areas including:
• Hickory Dickory Dock Harmony Park
• Itsy Bitsy Spider Water Play Station
• Jack be Nimble Jumping Area
• Panning for Gold Mine
• Twinkle Twinkle Little Star Stage
• Mother Goose Caboose Train
• Pollinator Gardens and Monarch Waystation
• And much more!
For more information, please visit https://www.facebook.com/events/1038805503185649.
Wallessance at Skeleton Key Art and Antiques
Normally, the third weekend in September means you can find Skeleton Key Art and Antiques selling John VandeWalle's sculptures at one of their favorite Quad Cities events, Riverssance.
Unfortunately, Riverssance has been cancelled for the year, so they've decided to make their very own small event for the weekend, and they're affectionately calling it Wallessance!
Join John, and maybe a bonus artist friend or two, in the parking lot of Skeleton Key Art and Antiques, 520 18th Street, Rock Island from 10 am to 5 pm on Saturday, September 19, and noon to 4 pm on Sunday, September 20.
For more information, please visit https://www.facebook.com/events/653115635581165.
Ballet on the Lawn Take Two
Ballet on the Lawn was such a success that Ballet Quad Cities has added another performance! All new choreography plus one favorite!
Ballet on the Lawn Take Two will happen this Sunday Sep 20 from 1 – 2 p.m. at the Outing Club (2109 Brady Street Davenport).
Enjoy the atmosphere of the 125-year-old, member–owned, private club for a unique and beautiful dance production by Ballet Quad Cities. Professional dancers will transform the lawn at The Outing Club into a magical setting! Find your picnic spot with friends and family and connect through the arts.
-Bring your chairs and blankets – there is plenty of room to spread out on the lawn
-Purchase your tickets ahead, they won't be available at the door
-Charcuterie picnic box available to order for $20 – Must be ordered by September 17th
-There will be a cash only bar – no cards
– No outside food or beverages
Tickets are non-refundable and can be purchased online at https://www.eventbrite.com/e/ballet-on-the-lawn-take-two-tickets-119480030989.
Stay tuned to QuadCities.com, your site for fun, free, local entertainment for upcoming events in our weekly column, FUN10, every Sunday!
#Fun10QC