Looking For POSITIVE News In Illinois And Iowa? Here's The Good News For September!
Looking for some positive news?
Look no further!
Every month, QuadCities.com and KWQC-TV6's "Paula Sands Live" partner up for What's The Good News, a look at great things happening in and around the Quad-Cities community. So what's the good news for this month? Well…
Genesis and River Bandits Honor Addy
Genesis and the Quad Cities River Bandits honored Home Runs for Life recipient Addy Hosette, 10, of Charlotte, Iowa at their game Sept. 9.
Genesis and the Quad Cities River Bandits have been partnering since 2016 to recognize the success stories of Genesis physical therapy and rehabilitation patients.
Addy Hosette is a fighter, a teller of jokes, and the Genesis Home Runs for Life honoree for September. Addy was born 12 weeks premature and, at age 3, was diagnosed with the spastic diplegia form of cerebral palsy (CP). Having CP caused her muscles to be stiff, making it harder for her to walk or run normally.
Addy's CP primarily affected the lower half of her body. From a day-to-day standpoint, she would get exhausted walking long distances. She couldn't do the mile walk or run at school because she would get tired very easily, her mother, Kelly, said.
The remarkable 10-year-old from Charlotte, Iowa, and her mother travel 45-minutes to Genesis GOPEDS in Bettendorf four days a week. Addy's intense physical therapy sessions last 45 to 60 minutes, and then the pair drive another 45 minutes back home.
Addy underwent a unique surgery called a Selective Dorsal Rhizotomy on April 22, 2022, which was designed to mitigate the effects of cerebral palsy on her ability to walk and run.
The expertise and dedication of the Genesis GOPEDS staff and therapists make the hour-and-a-half round trip of driving, four days a week, worth every second, Kelly said.
Addy said that the intense therapy sessions have forged a sisterly bond between her and her therapists, Kara and Kim.
"I would love them to be my sisters because they work me harder than I expected. I love it because then it's a challenge that I can push myself
harder than normal," Addy said. "It feels great that I can do the things I couldn't do when I was in a wheelchair, but now I can finally run and catch up with my friends."
The future looks bright for Addy. She is doing so well that she has shattered the standard post-operative therapy schedule.
"Addy is so far ahead of where she was pre-op. She's able to stand on one foot, which she couldn't do before; she's able to jump on one foot, which she couldn't do before. Before, she was up on her toes so much that she couldn't really get her balance right," Kelly said.
"She's doing so many amazing things, and it's awesome to watch. I am so excited to see what comes next."
If it is up to Addy, what comes next is an epic race. She has set a goal for herself to beat one of her fastest classmates in a sprint.
The smart money is on Addy.
Benefit for Jackie Celske Oct. 22
Jackie Celske, Augie grad and devoted Quad Citizen, has battled a host of autoimmune diseases for 16 years.
After two unsuccessful surgeries that required her to quit her job earlier this year, Jackie recently began an experimental immunotherapy in Boynton Beach, FL. Oncologist and hematologist, Dr. Maharaj, has discovered that Jackie's immune system is rapidly deteriorating, causing persistent inflammation in her nervous system, significant pain and organ damage.
This new treatment will hopefully restore her immune cell function so she can get back to her life in the QC – pain free.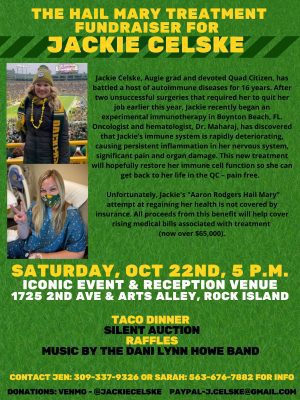 Unfortunately, Jackie's "Aaron Rodgers Hail Mary" attempt at regaining her health is not covered by insurance. All proceeds from this benefit will help cover rising medical bills associated with treatment (now over $65,000).
The fundraiser will be held at The Iconic Event & Reception Venue in downtown Rock Island on Saturday, October 22nd at 5pm. A taco dinner buffet will be held as well as live music from the Dani Lynn Howe Band. We will also have raffles and a silent auction.
If you are interested in supporting Jackie by donating a raffle or silent auction item, contact Jennifer at 309-337-9326.
If you aren't able to join us, donations to help with medical bills can be made directly to Jackie via Venmo- @JackieCelske or via PayPal to J.Celske@gmail.com
A huge thank you to Iconic Event & Reception Venue for hosting this event!
Rock Island's Earl Hansen Opens New Playground Thanks To Donor
Thanks to a generous donor, Earl Hanson was able to purchase a new playground for its students!
On Friday, August 26, Earl Hanson Elementary School hosted a ribbon-cutting ceremony to celebrate its new playground.
The PTO (parent-teacher organization) asked the school's principal what are the school's needs. She told them a playground, somewhere for the kids to play. The PTO members reached out to some of its community connections and found a donor.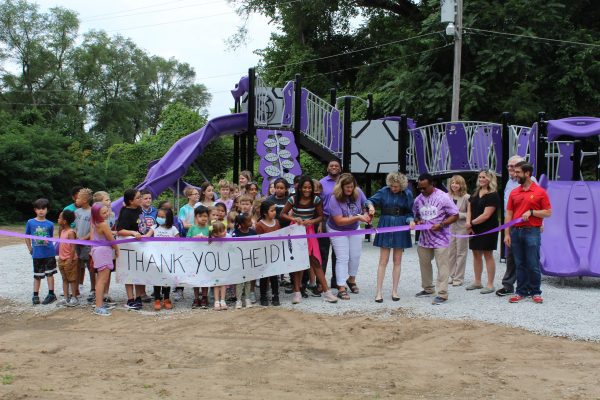 Seeing the need for a new playground, Heidi Huiskamp Collins generously donated funds through the Rock Island-Milan Education Foundation, so the school could purchase the new playground. The donation was more than $150,000.
"A big part of my philanthropy is modeling for women that they can step into their power and show how women philanthropists can make an impact," said Huiskamp Collins.
Students were able to vote on the color of the playground and voted for purple which is the school's color.
"We are so very grateful for Mrs. Huiskamp Collin's generosity. Not only will our students have a safe place to play but so will kids in our community," said Earl Hanson Principal Sarah Leonard.
WIU Students Receive Superior Merit Award
Western Illinois University's Society for Human Resource Management (SHRM) student chapters on the Macomb and Quad Cities campuses both received a 2021-22 Superior Merit award designation from the national chapter of SHRM for providing excellent growth and development opportunities to student chapter members.
The SHRM student chapter merit award program encourages the development of more effective student chapters and distinguishes outstanding activities and projects. Chapters are recognized based on chapter operations, chapter programming and professional development of members, support of the human resource profession and SHRM engagement.
"The members of our SHRM student chapters represent the next generation of HR leaders, and it's critical to highlight the instrumental role they play in SHRM's success," said SHRM President and CEO Johnny C. Taylor, Jr. "The hard work of the WIU chapters shows the future of the profession is, indeed, in good hands. I applaud their accomplishments and ability to foster innovative programming, development and interest in HR as we navigate changing workplaces."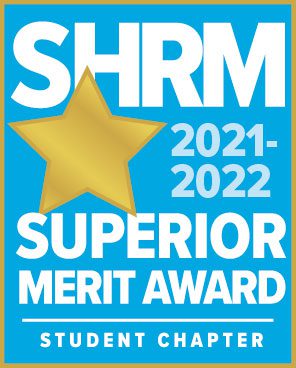 SHRM student chapters have the opportunity to earn an award based on the number of activities they complete during the merit award cycle, from May 1, 2021, to April 30, 2022. The WIU SHRM student chapters had a busy year and invited a number of HR professionals to make presentations and discuss HR certifications, and many student members also held value-added HR internships.
For more information on the Macomb chapter, visit bit.ly/2rxe8Wk or contact Bruce Western at ba-western@wiu.edu. For more information on the QC chapter, visit bit.ly/2sXU6TS or contact Susan Stewart at sm-stewart2@wiu.edu.
SHRM, the Society for Human Resource Management, creates better workplaces where employers and employees thrive together. As the voice of all things work, workers and the workplace, SHRM is the foremost expert, convener and thought leader on issues impacting today's evolving workplaces. With 300,000+ HR and business executive members in 165 countries, SHRM impacts the lives of more than 115 million workers and families globally. Learn more at shrm.org and on Twitter @SHRM.
Davenport Schools Offer Free And Reduced Meals To Children
The Iowa Department of Education, Bureau of Nutrition and Health Services, has finalized its policy for free and reduced price meals for children unable to pay the full price of meals served under the National School Lunch Program, School Breakfast Program, Special Milk Program and the Afterschool Care Snack Program.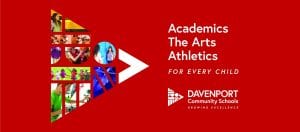 State and Local school officials have adopted the following family size and income criteria for determining eligibility:
Households whose income is at or below the levels shown are eligible for reduced price
meals or free meals, if they complete an application for free and reduced price school
meals/milk. Households may complete one application listing all children and return it to your
child's school. When completing an application, only the last four digits of the social security
number of the household's primary wage earner or another adult household member is needed.
Supplemental Nutrition Assistance Program (SNAP) households, children receiving benefits
under the Family Investment Program (FIP) and children in a few specific Medicaid programs
are eligible for free or reduced price meals. Most children from SNAP and FIP households will
be qualified for free meals automatically. These households will receive a letter from their
children's schools notifying them of their benefits. Households that receive a letter from the
school need to do nothing more for their children to receive free or reduced price meals. No
further application is necessary. If any children were not listed on the notice of eligibility, the
household should contact the school to have free or reduced price meal benefits extended to
them. If you feel you would qualify for free meal benefits and received notification qualifying for
reduced price benefits, complete an application for free and reduced price meals. Households
must contact the school if they choose to decline meal benefits.
Some SNAP and FIP households will receive a letter from the Department of Human
Services (DHS) which will qualify the children listed on the letter for free meals. Parents must
take this letter to the child's school to receive free meals.
SNAP or FIP households receiving benefits that do not receive a letter from DHS must
complete an application with the abbreviated information as indicated on the application and
instructions, for their children to receive free meals. When the application lists an assistance
program's case number for any household member, eligibility for free benefits is extended to all
children in a household.
Eligibility from the previous year will continue within the same school for up to 30 operating days
into the new school year. When the carryover period ends, unless the household is notified that
their children are directly certified or the household submits an application that is approved, the
children must pay full price for school meals and the school will not send a reminder or a notice
of expired eligibility. An application cannot be approved unless complete eligibility information is
submitted. Applications may be submitted at any time during the year. If a family member
becomes unemployed the family should contact the school to complete an application.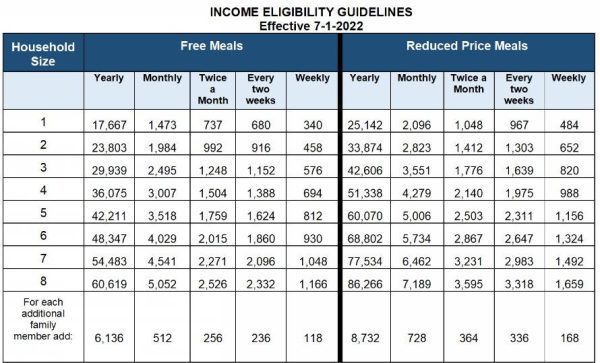 Households notified of their children's eligibility must contact the school if the household
chooses to decline the free meal benefits.
Foster children are eligible for free meal benefits. Some foster children will be qualified for free
meals automatically through the state direct certification process. Their host family will receive
notification of these benefits. Families that receive this notification from the school need to do
nothing more for their foster children to receive free meals. If a family has foster children living
with them and does not receive notification and wishes to apply for such meals, instructions for
making application for such children are contained on the application form. A foster child may be
included as a member of the foster family if the foster family chooses to also apply for benefits
for other children. Including children in foster care as household members may help other
children in the household qualify for benefits. If the foster family is not eligible for free or reduced
price meal benefits, it does not prevent a foster child from receiving benefits. Special
Supplement Nutrition Program for Women, Infants, and Children (WIC) participants may be
eligible for free or reduced price meals based on a completed application.
When known by the school, households will be notified of any child eligible for free meals if the
children are enrolled in the Head Start/Even Start program or are considered homeless, migrant
or runaway.
Looser-Flake Charitable Foundation grants $150,000 for parks and recreation projects
For Alex Johnson, the annual fireworks display over Lake Matherville this past July felt more celebratory than ever. The village of Matherville, in northeast Mercer County, had wrapped up a variety of improvements to the lake area just in time for thousands of spectators to gather for the holiday—a project Johnson had spearheaded as one of the town's five trustees.
"We asked ourselves, 'What can we do to promote our town and benefit people?'" said Johnson, who is also assistant principal of Sherrard High School. "The lake is one of our unique features, something a lot of communities our size don't have. We wanted to make it more accessible for everyone to use."
The improvements—including an upgraded beachside walking surface, new seating and signage, and land and tree maintenance—are designed to enhance the lake as a place for residents to exercise or recreate and as a destination for visitors from farther afield, who will patronize local businesses and deepen their appreciation for the village's small-town way of life.
The project was made possible in part by an $18,000 grant from the Looser-Flake Charitable Foundation, administered by the Quad Cities Community Foundation. Dedicated exclusively to supporting charitable causes in Mercer County, the Looser-Flake Foundation was established by the estates of Dorothy Looser-Flake and Roberta Looser, sisters who were born and raised on a family farm near New Boston, Illinois.
"It's our privilege to help uphold the legacy of two people who were passionate about their community and committed to ensuring its vitality beyond their lifetimes," said Kelly Thompson, the Community Foundation's vice president of grantmaking and community initiatives. "The Looser-Flake Foundation's championing of good work all across Mercer County—from parks and recreation to mental health and education—has been generous, strategic, and nothing short of transformational."
The "Enjoy Lake Matherville Project" was just one of 13 Mercer County parks and recreation initiatives funded by the Looser-Flake Foundation this year. Altogether, Looser-Flake granted $150,000 to the projects—the same amount it made available for village parks and recreation grants in 2018.
Both years, the villages applied for the grants through a unique collaborative process coordinated by the community and economic development nonprofit Mercer County Better Together (MCBT). "The Looser-Flake Charitable Foundation and Mercer County Better Together share the same collaborative vision," said Kyle McEwen, MCBT's executive director. "It's one thing to say you have a participatory process—it's another to have an actual driver putting that financial incentive behind it, which is exactly what the Looser-Flake Foundation does."
McEwen coordinated a streamlined grant application process for Johnson and the other project leaders, most of whom were volunteers. He also convened them for collaborative conversations where they could share questions, insights, and even equipment. Together, the villages decided on each project's grant funding request as well as a match dollar amount drawn from pooled resources. They even agreed to take less funding per project so that all 13 projects could be realized. "What a great demonstration of the fact that we have shared priorities and interests and an ability to work with one another," said McEwen.
Johnson appreciates that Matherville's Looser-Flake Foundation grant allowed it to complete so much work on the lake all at once. "Instead of taking baby steps, we're in a place where people can come out and see a finished product," he said. "That fills everybody with a sense of pride, and what we have now is something people are interested in continuing to grow. That wouldn't have been possible without the Looser-Flake Foundation."
"A lot of our small towns see the health of their community in their parks and recreation facilities, so if things look good and people are using them, that does a lot for morale," said McEwen, adding that parks are centers of community activity where multiple generations come together for a variety of purposes.