Learn and Play at the John Deere Pavilion
Looking for a free and fun event for the entire family this weekend? Then check out the 11th Annual Learn & Play Day at the John Deere Pavilion!
On Saturday Jul 21, from 9 a.m. – 4 p.m. kids of all ages are invited to spend the day playing and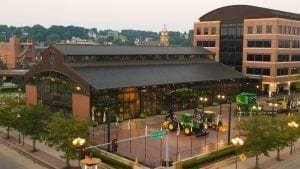 learning about the work of John Deere customers! The John Deere Pavilion is located at 1400 River Drive Moline and showcases the past and present of agriculture in a hands-on fashion that will prove to be an unforgettable experience.
The 11th Annual Learn & Play Day will allow children to learn about life on a farm, see what it's like to work on a construction site, explore the world of forestry and more.
Kids will be able to test their driving skills in a pedal-powered tractor pull or in a battery-powered Gator obstacle course. There will also be a petting zoo, a construction zone to test toy equipment in sand and a Mega Blocks station where kids will be able to build equipment and buildings. Kids who complete all the "chores" in Little Johnny's Farm, will receive a "Deere Dollar" they can cash in for a special treat. And don't miss out on the blacksmith demonstrations that will be happening throughout the day.
Don't forget to stop by booths from the Rock Island Farm Bureau, Rock Island 4H & Extension, Midwest Dairy Association and Country Corner.
The Discovery Zone will also be open, so get ready for a day filled with agricultural fun!