Illinois Businesses Shut Down Due To Covid As Statewide Numbers Spike, Are More On The Way?
Businesses have begun to shut down across the state as spiking covid numbers have hit their workers hard, causing the places to close temporarily as workers recover.
In Rock Island, for example, Circa '21 Dinner Playhouse was forced to shut down for two weeks, delaying the opening of a new show, "Disaster!" due to a number of the cast and crew testing positive for covid.
Other businesses around the state have likewise been hit with the same dilemma as statewide numbers continue to surge, as previously reported on QuadCities.com.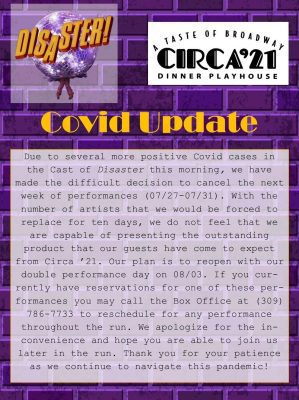 Statewide numbers have continued to rise over the past month, as Illinois health officials reported 32,268 new coronavirus cases over the past week, along with 52 additional deaths, both increases over the past week, along with a rising number of 58 counties across the state at a "high" community level of COVID-19. The previous week, only 5o were at that level.
The week before that, the state reported 27,543 new cases and 28 deaths.
Chicago's Cook County is at "high" community level for COVID-19, and Chicago health officials issued a travel warning late Friday afternoon.
"Cook County is again in the High COVID-19 Community Level today, based on CDC national metrics. If you are traveling, be aware of the current spread and take the proper precautions," Chicago Department of Public Health said in a tweet Friday.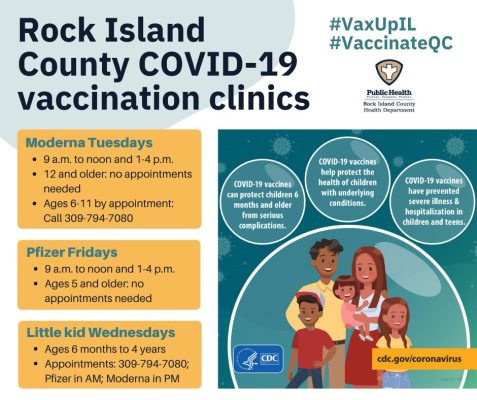 There is still talk about what to do as schools re-open to students next week across the state. Colleges are requiring proof of vaccination, a requirement of most grade schools and high schools as well.
As the new subvariants of covid have become more contagious, many have questioned how to properly quarantine and react to outbreaks.
The latest guidance from the Centers of Disease Control and Prevention recommends people who contract COVID-19 isolate for at least five days, followed by five days of strict mask use.
For more information on this important subject, continue to follow our coverage on free, fact-based QuadCities.com.