10 Fun Things To Do Week of July 26th: Flamingo Follies, Jazz Fest, Meadstock and MORE!
QuadCities.com proudly presents Fun10, a list of the top 10 things to do in the Quad Cities this week, and every week! Every Sunday, we'll drop a new FUN10, to give you a head start on your week and a heads up on what's going on over the coming seven days. Check out FUN10 every Sunday for the details on ten awesome events happening around town. It's a cool read, and a great way to get started planning your entertainment for the week.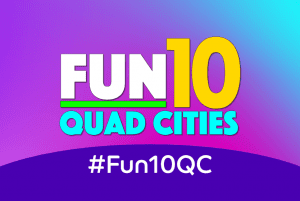 As the current health situation in our country continues to force the cancellation of so many regularly scheduled events in the Quad Cities, we are once again focusing this week's edition of Fun10QC on fun entertainment you can enjoy in the safety of your own home or while practicing safe 'social distancing,' as Iowa and Illinois begin to hold in-person events.
FUN10 — ten ways for you to have fun in the Quad-Cities, this week and every week, running every Sunday, only on your site for fun, free, local entertainment, QuadCities.com!
So what's on the FUN10 for this week? Read on …
Pollinator Week at Vander Veer Botanical Park
Come join Davenport Parks and Recreation at Vander Veer Botanical Park (215 W Central Park Ave Davenport) as they explore the pollinators that keep our green earth beautiful!
Pollinator Week will kick off this Tuesday Jul 28 and will continue Wednesday, Thursday, Friday and Sunday from 10 a.m. – 4 p.m.
There will be a pollinator menagerie to excite and amaze. You won't believe all the colors, shapes, and sizes that pollinators come in! There will be a fun activity for young ones to explore the conservatory as well as more in-depth information for older explorers to learn about the plants we have on display.
My Little Wheelbarrow on Wednesday Jul 29 (10:30 a.m.) will also feature an un-bee-lievably fun activity, so be sure to join!
For more information, please visit https://www.facebook.com/events/273041103965046/.
Figge's Big Picture in the House Goes Virtual
The Figge's Big Picture program returned this summer, in a different format. For the past 3 weeks, virtual free programming has been streaming live from the museum on Wednesday mornings from 10:30 – 11:30 a.m. via Zoom. The program will continue through Aug 5.
This Wednesday Jul 29 will mark the fourth week of Big Picture in the House. In this lesson they will explore why are we so fascinated with places we cannot reach. Historically, the West was thought to be a mysterious and fantastically place full of grand adventures and new opportunities. Join the Figge as they explore our never-ending interest in the West through a discussion of the brand new Magnetic West exhibition, later creating collages based on our own mysterious places.
This program is suggested for ages 6-12 years old (younger children are required to have an adult helper).
To sign up (and receive the Zoom link), please visit https://sales.figgeartmuseum.org/PatronEducation.aspx.
Socially Distant Free Community Party
Café Express Deli (1507 E Locust St. Davenport) will be celebrating their one-year anniversary, under new management, with a Socially Distant Free Community Party this Friday Jul 31 from 5 – 8 p.m.
This event will be outdoors. Masks will be handed out and hand sanitizer will be provided for free as well as being socially distant.
Come enjoy a Food Truck and 1 Sweets Truck, a Bounce House, Live Music, Temporary Tattoo Tent, Craft Table, Yard Games, Chalk Art, Photo Booth and Prizes!
For more information, please visit https://www.facebook.com/events/735661973863275/.
Anime-zing 2020
Anime-zing! 2020 – Iowa loves anime!
Anime-zing! is three days of anime at the RiverCenter (136 E 3rd Street Davenport) this Friday Jul 31 through Sunday Aug 2. This event allows Anime fans to wear costumes, make friends, eat ramen, meet voice actors, cosplay, buy stuff, shop and have an AMAZING time!
Expect a jam-packed 3-day convention filled with cosplay, vendors, artists, anime screenings, panels, dealers, tutorials, lessons, workshops, voice acting, guests, autographs, video gaming, tabletop gaming, karaoke, and so much more.
Here are just a few of the cool things to expect at Anime-zing! 2020:
ConSweet – Filled with unlimited free ramen and rice for all attendees, plus free soda! Anime-zing! is working on making this bigger and better this year, so that you can have a more and more fun convention on less and less money!
Video Gaming – An epic game room with your favorite games, and tournaments held all weekend long, some with special prizes.
Karaoke – Sing your heart out with your fellow fans and discover a cool way to make friends even if you're not the best singer.
Anime Screenings – An Anime Convention should remember the anime, and we make sure to! In the video room you can see everything from new shows to old favorites, and it's a great way to pass the time between panels (oh, wait, there usually isn't any time between panels).
Special Guests – Guests range from voice actors to musicians and beyond, and they bring you inside knowledge from the world of anime and Japanese culture (and sometimes even video gaming and sci-fi).
Get your tickets at https://qcanimezing.com/. The earlier you get them, the cheaper they are. Most attendees register in advance to save time at the door, but you can also get your tickets at the convention. Early registration is highly recommended to get the best deal and get in faster!
The schedule can be found at https://qcanimezing.com/schedule. The schedule includes exact panel, workshop, Q&A session, and autograph session times, as well as the times for video game tournaments and tabletop tournaments, and more.
AnimeCon.org's mission is to bring fun and awesome experiences to our fellow anime fans and nerds around the country. We've run 20+ conventions ourselves, and our staff have worked countless others.
Learn more at www.animecon.org.
Virtual Bix Jazz Fest
The Bix Jazz Society is excited to announce they are hosting a VIRTUAL JAZZ FEST on Friday Jul 31 and Saturday Aug 1. This virtual concert is free to anyone who wishes to experience 1920's-30's Jazz. Covid-19 may be separating us, through Bix, Jazz and Technology we will unite!
The 49th annual Bix Beiderbecke Memorial Jazz Festival will feature six fantastic bands from Denver to Chicago. Each band will premiere new sets of traditional 1920's & 30's era Jazz music on Friday, July 31 from 6pm – 9pm and Saturday, August 1 from 6pm – 9pm. These concerts may be viewed on a smartphone, tablet, computer or television screen. More information will soon be available at https://www.bixsociety.org/and Facebook @Bix Society.
Bands scheduled to perform at the Virtual 49th Bix Jazz Fest are: Joe Smith and the Spicy Pickles (Denver); Chicago Cellar Boys, led by Andy Schumm; Vine Street Rumble (Kansas City); NOLA (Des Moines); and from the Quad Cities, Josh Duffee Quartet, and the Bix Youth Band, comprised of QCA teens.
Typically, this event is the organization's annual fundraising event. This year is anything but typical. Funds earned are used to sponsor a Bix Youth Jazz Band and Director, provide music scholarships, promote traditional Jazz era music, and history of Jazz great, Bix Beiderbecke, a Davenport native.
The Bix Society will be accepting donations to help offset the costs of providing this virtual Jazz Fest, music scholarships and programs. Donations are not required to participate. The Bix Jazz Society appreciates the support of its donors and sponsors who have made this opportunity possible.
Meadstock 2020
The mead-iest party in the Quad Cities returns for its 11th year, this weekend!
Meadstock 2020 will take place this Saturday Aug 1 from 5 p.m. – 12 a.m. at Bootleg Hill Honey Meads (321 E 2nd Street Suite 200 Davenport).
Come out and enjoy live music from Dan Fennesy, Blue Movies, comedy, mead specials and more!
Before beer, before wine, before event the advent of recorded history: there was mead. This ancient drink was likely the first alcoholic beverage and is enjoying a resurgence in popularity after a long and storied history. Bootleg Hill Honey Meads, a licensed winery, is dedicated to mead of the highest quality at affordable prices. Their honey is unprocessed directly from the hive. They prefer a more natural approach with no sulfites added however their meads may contain naturally occurring sulfites.
For more information, please visit https://www.facebook.com/events/667028277374223/.
Auto Swap Meet and Flea Market
Mississippi Marketplace Antique & Shopping Mall (4004 W Kimberly Rd. Suite 6 Davenport) will be celebrating their 2-Year Anniversary this Saturday Aug 1 from 10 a.m. – 5 p.m. with a huge Auto Swap Meet and Flea Market!
This premier shopping center specializes in antiques, home décor, collectibles, clothing and much more. The anniversary celebration this Saturday will feature the Inaugural Bryant Classic Car Show from 11 a.m. – 4 p.m., food, a DJ, a Pin-Up Contest and so much more!
For more information on this event, please visit https://www.facebook.com/events/233009354359972/.
Flamingo Follies Finale at Quad City Botanical Center
Flamingos have been flocking to the Quad City Botanical Center this past week and are ready to be judged.
The Flamingo Follies exhibit will culminate at the QC Botanical Center's (2525 4th Avenue Rock Island) Art in the Garden event this Saturday Aug 1 from 10 a.m. – 5 p.m.
Admission on closing day is included with admission to Art in the Garden, which is $10. The exhibit will be judged by Botanical Center guests.
The three artist categories include adult, youth and professional. All flamingos in the adult and professional category will become a donation to the center and will be auctioned or raffled off at Art in the Garden on August 1, 2020. Flamingos in the youth category may be reclaimed by the artist after August 1. Each registrant will receive two free passes to Art in the Garden.
Based on people's choice voting, 1st, 2nd, and 3rd place prizes will be awarded in each category. Voting will take place in the gardens the entire length of the exhibition of July 13-August 1.
See more details at https://bit.ly/2BPi10Y
LoPiez Anniversary Party
One year has gone by so quickly! It is officially time to celebrate with the Quad Cities Homeslice, LoPiez. The local favorite pizza joint is pulling out all the stops to party with the people, pizza, and things we all love.
Starting at 5 p.m. on Sunday Aug 2, LoPiez (429 E 3rd Street Daveport) will open the gates at the parking lot across the street to welcome their brothers at Wake Brewing into Iowa. Come and enjoy some SCW Wrestling followed by three of LoPiez' favorite QC bands: Road Soda, Pit Lord, and Giallows!
If music, wrestling, beer, and pizza aren't sweet enough, they are also featuring a grown-up cake walk with Oh So Sweet cupcakes and Wake beer as prizes!
LoPiez will also be rolling out a special hibiscus margarita to quench the summer heat!
Tickets are $20 in advance, $25 at the door and cover entertainment, a pizza slice, and beer while it lasts. Tickets will be available at the Downtown location and are limited.
MRDC hand sanitizer and facemasks will be available as well as plenty of space to social distance for a safe party.
For more information, please visit https://www.facebook.com/events/3531670146885720/.
Hildegard von Bingen: Power Woman of Medieval Times
Join the German American Heritage Center & Museum (712 W 2nd Street Davenport) on Sunday Aug 2 at 2 p.m. for "Hildegard von Bingen: Power Woman of Medieval Times – Her Life, Work, and Music" presented by Wolf Koch.
This presentation will summarize the life of St. Hildegard, review her major works and their impact on medieval life as well as today, and provide eight short samples of Hildegard's music, some performed as originally written for voice, others interpreted for medieval and baroque instruments, as well as arrangements by modern contemporary artists.
This program is included with General Admission: Adult: $5, Senior: $4, Child: $3 and Members are Free.
For more information, please visit http://gahc.org/event/hildegard-von-bingen-power-woman-of-medieval-times-her-life-work-and-music/.
Stay tuned to QuadCities.com, your site for fun, free, local entertainment for upcoming events in our weekly column, FUN10, every Sunday!
#Fun10QC