Brick & Motor Boutique Opening With Ribbon Cutting In Rock Island Thursday
Rock Island, IL- Sisters Haley Walker and Lauren Corwin will celebrate their new retail storefront location with a ribbon cutting for Brick & Motor Boutique on Thursday, March 2nd, 2023 at 3:00 PM.
Sisters, Haley and Lauren, born and raised in Rock Island, IL, dreamt of opening their own mobile fashion boutique and with a little help from family, friends, and the man upstairs, their dream finally became a reality in July of 2018. Brick & Motor Boutique originally began as a "mobile" boutique, operating out of a trailer with the inside decorated for selling their boutique clothing and accessories. The pair would travel within a three-hour radius of their location to events such as farmers markets, community events, university pop-up shops, and more. In November of that same year, the Development Association of Rock Island- DARI, reached out to offer a storefront incubator space for the business. "We were planning on using that for about 3 months, for the winter, since we couldn't operate the mobile boutique outside." Walker said.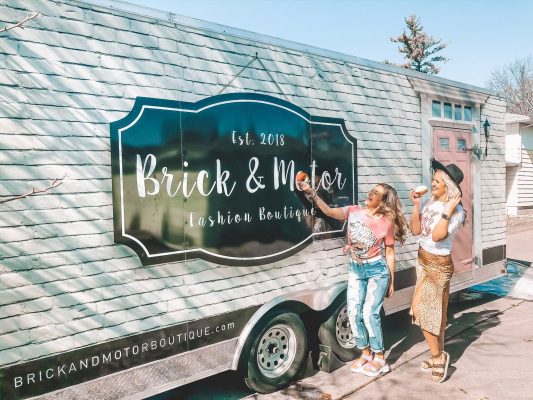 The two sisters have been operating their mobile boutique and their incubator location in Rock Island for the past 4 years. In November of 2022, the two partnered with DARI to have a pop-up location through the holidays. These 2 months were so popular, and they had so much fun in a larger space while hosting other businesses to pop-up in their location that they wanted to make it their permanent retail store location. The lease was signed and the ladies began working to make the larger store feel like home.
Brick & Motor Boutique is a trendy, affordable fashion boutique offering women's clothing, original designs by Haley Walker, candles, purses, bags, coats, jewelry, accessories, and so much more!
Following the grand re-opening celebration, Brick & Motor will be open, Saturday, March 4th from 10:00am – 3:00pm. Specials include new styles for spring, free gift for the first 15 people in store, a Pop-up with Link'd by Lindsey (permanent jewelry), and sips & Snacks.