REVIEW: Circa '21's 'Seussical' Is A Wonderfully Colorful Show For The Whole Family
Exploding with vibrant costuming and swirling with clever choreography, Circa '21's enchanting "Seussical" is an absolutely wonderful show for the whole family.
Full of energy and charged with a talented and exuberant cast, it nicely captures the spirit and buoyancy of Dr. Seuss' work and briskly unspools a smart tale germane to today while avoiding a heavy hand.
"Seussical" revolves around a little girl, JoJo (Ellerie Hurley), who lives a rather banal but generally pleasant life with her straight arrow parents in a grey town. However, JoJo dreams of bigger things, and wishes for a more colorful life. (Don't we all, JoJo…)

Her wishes are answered with the appearance of the brash and bold Cat in the Hat (Tristan Tapscott, perfectly cast), who introduces her to a fantastic world of terrific tales based on Seuss favorites. The ensuing set pieces follow a variety of fun song and dance numbers interspersed with narratives spinning the stories in delightful fashion, presented with panache by the Circa cast and crew.
The costumes by Greg Hiatt are imaginative and have the loose, explosively colorful feel of Seuss' artwork and the choreography and direction by Ashley Becher is brilliant, weaving and darting through the space with the same manic energy of Seuss' poetic prose. I loved both elements and how they echoed the feel of Seuss' work. Even the blocking harkens to Seuss' illustrations; a detail many may not notice but which adds so much to the experience.
The cast does a great job as well. Tapscott was a smart choice for the Cat, with his manic energy undercut with a mischievous wink and smile. Bobby Becher is sincere and lovable as Horton the Elephant. Erica Lee Bigelow, so adorable in Circa's "Winter Wonderland," is equally dark and cutting as the deadbeat bird parent Mayzie. Savannah Bay Strandin has a child-like charm as Gertrude. And Brad Hauskins, always great to see on stage, does a fine job as one of the Wickershams alongside the equally amiable Evan Brody and Adam Sanders.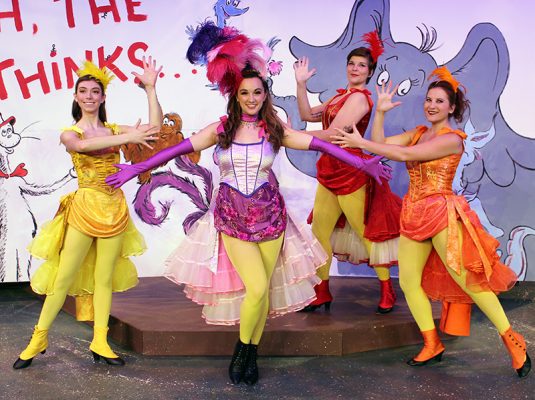 I greatly enjoyed "Seussical," and while it's not your overt holiday style show for this time of year, I still highly recommend it. Your kids will get a charge out of it, and you will too.
Circa '21 will present show-only performances of  "Seussical" on Dec. 11, 14 and 18. Doors open at 9:30 a.m. for the 10 a.m. performances, with tickets $9.50 per person, or $9 each for groups of 12 or more. Added 1 p.m. matinées (with doors at 12:30 p.m.) have been scheduled for December 11 and 18.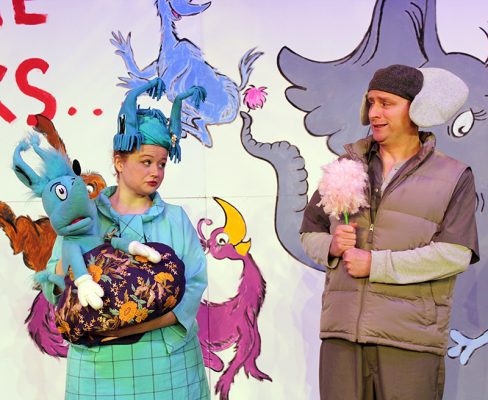 Brunch performances also will be held every Sunday from Nov. 28 through Dec. 26. Doors for these presentations open at 10:45 a.m., brunch is served starting at 11 a.m. and the shows begin at noon. Tickets are $22.05 for adults, $19.95 for ages six to 18, and $16.80 for ages 5 and younger.
For tickets and information, contact the Circa '21 Dinner Playhouse at 1828 3rd Ave., Rock Island or by calling 309-786-7733, ext. 2.