Quad-Cities' Disney World Equity Performers Are Missing Stage, Despite Reopening
Saturday in the Arts is a comprehensive, in-depth feature on a topic, trend or personality impacting the Quad-Cities, posted every Saturday morning on QuadCities.com.

Nathan and Whitney Meyer are a bit like the plucky, cute orphans who are often protagonists of a Disney adventure. Nathan, a 34-year-old graduate of North Scott High School, Eldridge, and his wife (like most of us, isolated and home-bound) actually work for Walt Disney World and are accomplished, blazingly talented singers and actors.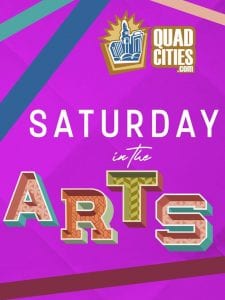 Despite the four theme parks in Orlando, Fla., reopening this past week, the Meyers remain out of work, since the Actors' Equity Association (AEA) and Disney disagree over how to safely bring their 750 members back to the magic stages on which they perform, delighting visitors from across the globe.
"So until they see eye to eye, we won't be back," Nathan – who's been at Disney since 2016 with Whitney – said recently. "AEA is the same union that handles Broadway contracts and Broadway announced they will be closed for the rest of this year. I believe certain non-union performers have been recalled to Disney, but again until Disney and AEA can agree on their negotiations, it may be a long time.
"The main topic of conversation right now is making sure that Disney provides weekly testing for the equity performers and Disney is not willing to do that," he said.
Actors' Equity, whose deal with Disney runs through 2022, wants the company to regularly test performers for Covid-19 – which has been rampant in Florida (with 315,767 cases, third most in the country, and 4,676 deaths as of July 16). More than 15,000 new cases of coronavirus were announced July 12 in Florida, marking the highest single-day total of known cases in any state since the start of the pandemic.
"When it comes to basic workplace safety standards, there are a couple of fundamental building blocks," Brandon Lorenz, a spokesman for the union of actors and stage managers, told the Orlando Sentinel this week. "One of those building blocks is testing."
Disney has not offered testing, but points to its own safety protocols, which include increased cleaning, physical distancing, and requiring workers to self-screen with temperature checks and wear face coverings.
Those who portray Disney's animated characters in parades and meet-and-greets but don't sing or speak live in scripted shows are not represented by Equity. Pictures and video from the reopened parks show they have not been wearing masks, though they have been kept distanced from guests, according to the Sentinel.
In Equity's discussions with Disney about its membership — which include performers in the "Hoop-Dee-Doo Musical Revue," "Finding Nemo," "Lion King," "Beauty and the Beast," and "Indiana Jones Epic Stunt Spectacular" — "we have not received an indication that [mask wearing] would be acceptable during a performance," Lorenz said.
Disney World employs a total of 77,000 people and in a normal year, draws more than 52 million visitors. After the mid-March shutdown, the company paid workers four weeks, until furloughs started April 19.
Florida is a right-to-work state, "so the shows that are considered to be under union contracts, performers can choose whether or not to pay into the union," Nathan Meyer said. "So we are both in the union and pay our dues to be protected by them. However, in the state of Florida a non-union performer can still perform under those union-contracted shows and reap the benefits as if they were indeed union performers but they're not technically."
He is among the 20,464 people (as of July 16) who've signed a Moveon.org petition – "Don't Open Theme Parks Until It's Safe" — from concerned Disney cast members, to the company and Gov. Ron DeSantis, started before the July 11 reopening of Disney World's Magic Kingdom and Animal Kingdom. Epcot and Hollywood Studios opened July 15.
The state planned to reopen theme parks "after the successful conclusion of Phase 1, which includes a downward trajectory…this will occur when there is no evidence of a rebound or resurgence of COVID-19 cases." The petition says because of the increase in cases, "it is clear that theme parks – a non-essential business – should not be planning to operate until the cases have gone down again."
"Retreating back to an earlier Phase in re-opening is our best option at not exposing the virus to thousands and thousands of theme park employees and their families," it says. "As individuals who work in the bustling tourism industry in central Florida, we are responsible for ensuring the safety of our guests and our fellow magic makers. Keeping ourselves and our visitors safe is our number one priority, in every theme park. This includes our health and well-being. We are encouraged to say something when we see something that we deem is unsafe so we're speaking up."
"While theme parks are a great way to relax and enjoy free time, it is a non-essential business; it is not fair to the people who work there to risk their lives, especially if they are at risk or have family members who are at risk," the petition says. "People are more important than making a profit."
A piece in UK's Independent this week is headlined, "If you want to know why coronavirus is spiking in the U.S., compare Florida to Illinois." The writer notes in the past month, Florida's positive test rate went from 4.1 percent to 19.1 percent.
"While the infection rages out of control in Florida, Texas, and Arizona, though, other parts of the country have had real successes in fighting Covid," the story said. "In particular, a quick, coordinated, and sustained response in my own state of Illinois has quietly but decidedly reduced case numbers and deaths."
Florida also reported its highest single-day total Covid-related deaths, 156, on Thursday, July 16, up from the 132 deaths the state added on July 14. The U.S. recorded its highest number of positive cases in one day July 16, with 75,671.
In addition to providing employees with protective gear, Disney added 4,000 hand-sanitizing stations at Disney World, set up restaurants for mobile ordering and installed plexiglass partitions everywhere, including inside the queuing areas of rides, according to The New York Times.
"People trust Disney, and we have a big responsibility to deliver on that trust," Josh D'Amaro, Disney's theme park chairman, said as he stood near Main Street on July 11. "As hard as the world is right now, this feels like a turning point — it's a signal that people have hope."
Earlier in the week, negative commentary about the reopening flooded Twitter. People used words like "irresponsible" and "disappointed" to describe Disney's decision to stick to its reopening plans, announced in May, even as coronavirus cases surged to alarming levels in much of the country, the Times said.
Disney has been devastated by the coronavirus pandemic, the article noted. Its 14 theme parks delivered record profits in 2019. Several are still closed, including Disneyland in California, and Hong Kong's Disneyland recently closed again after just a month, amid a surge of Covid cases. Hong Kong (with a population over 7 million) had 1,656 total cases, and just 10 deaths (the same as Scott County) as of July 16.
Disney's movie studios controlled 40 percent of the domestic box office last year. Now, they're sitting at a near standstill. ESPN has been left without live sports to broadcast. Analysts estimated that Disney will lose more than $1 billion for the quarter that ended in June.
Disney World is requiring face coverings for all guests (ages 2 and up) and cast members.
After the first day back open, USA Today wrote: "It's a totally different world for park visitors, who are required to have their temperature taken when they arrive. Face masks are mandatory, except when eating or swimming and hand-sanitizing stations are sprinkled throughout the park."
The Covid section of Disney's website begins, "We have taken enhanced health and safety measures — for you, our other guests and cast members. You must follow all posted instructions while visiting Walt Disney World Resort."
The caution goes on to read, "An inherent risk of exposure to COVID-19 exists in any public place where people are present. COVID-19 is an extremely contagious disease that can lead to severe illness and death. According to the Centers for Disease Control and Prevention, senior citizens and guests with underlying medical conditions are especially vulnerable. By visiting Walt Disney World Resort, you voluntarily assume all risks related to exposure to COVID-19. Help keep each other healthy."
Its precautions feature distancing measures, including distanced spacing on rides, severely reduced park capacities, plexiglass barriers, and face shields for employees in close contact with guests.
Disney has declined to provide testing to its employees, writing in a June letter to employee unions in California that the high rates of false negatives could provide "a false sense of security" and the company would instead implement measures like physical distancing, mask wearing and increased sanitation, according to Forbes.
Though Disney's Equity employees were initially called back June 23, according to the union, Disney rescinded its call for performers to return on June 26 — one day after the union pushed for regular testing – and moved to reopen without Equity performers.
"Rather than agree to testing of performers, Disney has decided to retaliate against workers fighting for a safe workplace during this pandemic," Actors' Equity executive director Mary McColl said in a statement, noting that Florida has seen more than 140,000 new cases of Covid-19 since the union initially demanded regular testing.
In a statement to Forbes, a Disney spokesperson said AEA has "rejected our safety protocols and have not made themselves available to continue negotiations," and that the company is "exercising our right to open without Equity performers."
"There's lot of people who can do their work when they're wearing a mask and gloves. Our people can't do that," Actors' Equity president Kate Shindle told Bloomberg before the grievance was filed, saying regular Covid-19 testing is "just very important to our membership, who otherwise is overwhelmingly eager to get back to work."
Nathan Meyer has mainly performed with the "Hoop-Dee-Doo Musical Revue" at the Campsites at Fort Wilderness Resort, and Whitney with the a-cappella choir "Voices of Liberty" in a soaring, acoustically perfect two-story rotunda in Epcot's American Adventure Pavilion.
"Most cast members will be wearing masks, and I say most because there will be performers not wearing masks," Whitney said of employees ("cast members" in Disney parlance) who returned. "This would include some parade performers, some face characters. The Voices of Liberty were going to return not wearing masks, but instead socially distanced on a stage with mics.
Since these performers won't be wearing masks, AEA is asking for testing to ensure protection and safety," she said. "My manager feels strongly we'll be performing by Labor Day ironically enough, but it's all just speculation. Disney stays very quiet when informing us on what their plans are."
"Employees will make sure that everything is clean. Disney is all about the details, you know?" Nathan said. "I'm having a difficult time with it personally," Whitney said of reopening.
"It's a tough situation, because every day there are thousands and thousands more cases," Nathan said. "Every show we do on property, they're going to have rehearsals for it, because it's been so long. So everyone is in sync and on the same page again."
A spokeswoman for Disney Parks and Experiences told The New York Times that AEA members would remain on furlough. "We've decided to move forward with our phased reopening without their participation," she said. (Employees who appear in full-body costumes as Disney characters will be working. They are part of the Teamsters union.)
"I'm really impressed with what Universal's done, and I've looked at Disney's plan, and it is very, very thorough," Gov. Ron DeSantis, a Republican, said at a July 8 news conference. "You can have society function in a way that keeps people safe."
A life filled with music, love and magic
Nathan has three sisters, but he's the only one who truly got the music and theater bug from his parents Mark and Beth – who have been in shows at Countryside in Eldridge and Music Guild in Moline; are both church choir members, and Mark (a tenor like Nathan) is in Cedar Rapids-based Chorale Midwest.
Nathan made his stage debut in 6th grade, in Circa '21's production of "The Sound of Music," and had several leads in musicals at North Scott (from which he graduated in 2005). One was the title role in "Joseph and the Amazing Technicolor Dreamcoat," and his dad's favorite was his senior year, as Jesus in "Godspell."
Mark said he saw it 15 times, including a summer at International Thespian Festival in Lincoln, Neb. "That was a wonderful production," he said. Mark also singled out a hilarious, confident and improvisatory turn when Nathan was Cat in the Hat in "Seussical" at Countryside, in 2007.
A Quad-City Times review said: "His ebullient performance is energetic and arch, without caricature, and he does lively and fey work throughout. More than once, I heard someone say, 'I'd pay to see this again, just to see the Cat in the Hat,' and someone also said afterwards, 'He was so good I wanted the show to be longer just so I could see him do some more songs.' This is not audience hyperbole, either, because Meyer is so absolutely superb in this role."
Nathan spent two years as a voice major at University of Northern Iowa, but wasn't impressed with the musical theater program. Beth said a friend of his from North Scott recommended her school, Belmont University in Nashville, Tenn., and there he flourished, she said.
"Belmont's campus is stunning; it's like a Southern plantation." Whitney said. There, they performed in "Swing," "Ragtime," "Thoroughly Modern Millie" and "On the Town."
"It was a great experience," Nathan said. Their senior year, they did a cabaret showcase in New York City.
Whitney, a 33-year-old Florida native raised in Oak Ridge, Tenn., spent her first year of college at Lee University in Cleveland, Tenn., and also transferred to Belmont, her sophomore year. There, she fell in love with Nathan in a stage movement class.
"We quickly learned that our souls were very similar," the soprano said. "We feel most at home on stage. This pandemic has been difficult in many ways, but realizing that singers are 'super spreaders' makes it pretty much impossible for us to get to do the very thing that our soul desires. In order to scratch that itch, we have been singing for ourselves and for our own enjoyment as opposed to employment or a paycheck, and it is bringing us back to the beginning of where our passion began.
"Our souls desire to express ourselves through music, dance, and acting," Whitney said. "And we have continued to do that, even if the audience is just our 2-year-old son, Greyson."
After graduating Belmont in 2009, the couple spent the summer working together in a theater in Pennsylvania before getting married that fall and moving to New York City in 2010.
"We were very close to New York City and would often go there on our days off to apartment hunt," Whitney said in a piece for belmontvision.com. They worked in several productions together, including "Hairspray," "Xanadu" and the huge, bucket-list musical "Sweeney Todd," back in Nashville in 2014, for Nashville Repertory Theatre.
"We love working together. We are one of those couples that complement each other. My weaknesses are his strengths," Whitney said in the Belmont feature.
"I think that is why we have done so many shows together. We just enjoy it. But, I have noticed that one negative of performing together is that her nerves become my nerves," Nathan said. "I get nervous for her and anxiously wait backstage to see if she made it through a difficult part or something."
"We have always wanted to do 'Sweeney Todd' because it is very different from other musicals and it is performed so rarely. It was definitely a bucket-list type of thing for us," Whitney said of playing opposite each other as young lovers Johanna and Anthony.
"This is also the first chance that either of us have had to perform Sondheim," she said in 2014. "We really wanted to take that opportunity because having this on our resume shows that we have some chops."
"We reached out to them, and we knew we were perfect for those roles. We couldn't make their auditions," Nathan said recently. "We told them our Nashville Belmont story, and they hired us. We got really lucky there. Anytime we get to share the stage together is so special."
Of course, his parents came to see the production. "That was pretty special," Mark said. "It was cool to see them interact with each other."
"Their voices just blend so well," Beth said, noting that applies to anything the pair performs.
A review of "Sweeney Todd" in The Tennessean said: "Belmont alums (and real-life husband and wife) Nathan and Whitney Meyer share a wonderful chemistry as the star-crossed lovers Anthony and Johanna. Their work on 'Johanna' and 'Green Finch and Linnet Bird' is simply exquisite."
Whitney said they did that show with only 10 actors, noting she was the only soprano in the ensemble. "It was a challenge, but so fun," she said.
After their first year in New York, they took a job singing on a Royal Caribbean cruise ship for nine months. "It was a really good excuse to leave the city and we got to be together and sing and perform," Nathan said. "we saved a lot of money and went back to New York and hit the ground running. That's when we got our Equity card, got our agency. So, things started happening.
"We never did Broadway; we did a couple off, off-Broadway shows, and regional theater around the country," he said. "What's so great about our careers is, you get to meet so many people. We feel like our community of friends is just so big, because we have all these connections, people we've worked with."
In 2013, Nathan got back into the amazing technicolor dreamcoat, as the lead in a professional production of "Joseph" at the Fulton Theatre, Lancaster, Penn. A review at lancasteronline.com said he had "a gorgeous voice," and a "talented and highly agile cast handles it all with energy to spare."
"It's a beautiful theater. It was just a beautiful production and I just felt like a star there," he said. "They took really great care of me and they also hired my wife as an ensemble dancer."
His mom said compared to high school, it was "so much more fantastic, bigger singing, in a professional production."
While based in NYC, Whitney loved playing Cosette in "Les Miserables" at Beef & Boards Dinner Theatre in Indianapolis, and "Xanadu" (in which she played the lead), in Manchester, N.H. "That's a highlight because I had to roller-skate and speak in three or four different accents. It was a lot of comedic timing, really fun."
Getting to Disney, stability
After six years of the grind auditioning in New York and traveling around the nation in regional theater, the Meyers got jobs at Disney World, and a lot more stability.
"We were at this place in New York, where we weren't getting a lot of work. We made it far in some big auditions, but nothing was really getting a big break," Nathan said. "We had always known Disney was a great place to work and so, we were always kind of keeping that on the back burner."
Disney had Voices of Liberty auditions in New York, and they tried out in February 2016. The Mouse House offered both jobs and paid moving expenses to Florida.
Nathan started in the barbershop quartet Dapper Dans, which strolls along Main Street USA and does banter, jokes and crowd interaction between songs. He was a substitute for them up until early this year.
"We love the central Florida area. We love the quality of life here. It's so much nicer than having to hustle in Manhattan," Whitney said. "The work has been very consistent and we've been able to be a part of some really fun and creative projects here. Each show that is under a union contract at Disney holds an extreme expectation of perfectionism.
"Especially with the Voices of Liberty, an eight-to-10-member a cappella group singing Americana music in the American Pavilion at Epcot," she said, noting most all arrangements are done by director Derric Johnson, and mostly consist of 8-part harmony. "The vocal range is extreme and we call it vocal Olympics."
When she first learned the core repertoire of 28 songs in eight-part harmony, it took over two weeks rehearsal, and more songs are added from time to time, Whitney said.
Voices of Liberty sings in 19th-century period costume, in 15-minute sets, seven times per day, 365 days a year. "Well, excluding a global pandemic," Whitney joked.
"The challenge of my show, I don't know what songs my director is gonna call," Whitney said. "It requires us to be a lot more flexible, and we have to be ready to do anything our talent allows us to do, every day."
She's subbed in for the 90-minute "Hoop" show five times, which has three men and three women, including twice with Nathan.
"We love performing together; it's our favorite thing to do," Whitney said. "Nathan has subbed with Voices of Liberty more times than I can count."
"It was vocally taxing and demanding, but we knew like, wow, this is stretching us in so many ways we never thought possible," he said. "We were also grateful for the challenge, too."
There have been multiple times when he's done both in the same day, going from the formal, precise Voices (which starts in the morning) to the rollicking hootenanny that's Hoop — "which makes it exhausting for me, but it's better money and it makes it fun to do both in one day," Nathan said, noting his first revue starts at 4 p.m.
"It's a big puzzle for their entertainment, so that's why they have as many subs as they can so they can fill those holes when needed," he said. "Hoop is very physically demanding; it requires acting, singing and dancing. It's like musical theater, but Voices of Liberty is just singing. Both are very challenging in their own way; I'm grateful to be part of both of them."
"It's a lot to gear up for the day, because I know I'm doing three 90-minute shows," Nathan said. "I've got to be smart, pace myself, but give 100 percent to the audience, so they know they're getting as good show." He gets 45 minutes between shows. "In one day, it seems more exhausting than doing one three-hour musical.
"What's also good about working at Disney, I'm not doing regional theater or a Broadway show, when you get one day off a week, normally Mondays. Here at Disney, Whitney has three days off and I have four days off every week."
For the past three years, Nathan has been in the "Hoop Dee Doo Revue" dinner show, at the Fort Wilderness Resort, a high-energy, interactive show for the 300-seat theater.
"It is another great honor to be in, as it is the longest-running American musical show in the country," he said. "It's a traveling show done only at the Pioneer Hall with all-you-can-eat fried chicken and ribs and all-you-can-drink sangria and beer. Needless to say, it's a family favorite and it's been running for 46-plus years. We're doing something right.
"There's improv, guest interaction song and dance and really fun scripted dialogue," Nathan said. It includes songs like "Clementine, Beautiful Dreamer, "Shenandoah, a big spectacle about Davy Crockett, where volunteer guests come up on stage and help them tell Davy's legacy.
The crowds vary based on time of performance, with the late show attracting lots of other cast members, since they get half off the $80 ticket price, Nathan said. His folks have seen the revue three times, including in 2018 for their 40th anniversary.
"I think that would be a hard role to stay engaged in, the same show every time," Beth said.
"It was an absolute thrill to see that — he's so focused on stage, he hardly knows we're there," Mark said, likening Nathan's role to Cat in the Hat, in terms of energy and audience interaction. "That's exactly what he does with the Hoop, engaging the audience," Mark said.
"The audience always leaves full and joyful," Nathan said. "It always keeps me on my toes because you never know what's going to happen with the guest interaction. There have been times when backstage before the show begins, I'll meet for the first time the woman who will be playing my dancing partner and 15 minutes later, begin the show and perform it as if we've done it a hundred times together. It's thrilling."
Voices of Liberty is thrilling for Whitney because the nostalgic American and movie music is challenging, each set can vary during the day, and for every song, she has to learn two soprano parts, and have them memorized.
"I'm not ever doing the same show, each show is different," she said. "It's always a different combination of people. It always keeps me on my toes."
Whitney also admires the international scope of Epcot (originally known as the Experimental Prototype Community of Tomorrow), as well as its global visitors and workers.
"The amazing thing about music, you don't have to know the words to enjoy it," she said. "We get a lot of compliments about the patriotic music. Not a lot of countries have much patriotic music."
When they're both in that choir together, Nathan said: "It's rewarding, gratifying, and magical."
The most fulfilling production they've partnered on is their son, Greyson, born in May 2018. Whitney sang in Voices of Liberty (in a roomy dress) just a few days before he was born, she said, and she was able to take extra leave (12 weeks paid total) for required reconstructive surgery after his delivery.
"That's unheard of for a performer to be able perform nine months pregnant," Whitney said, noting her voice was even better while pregnant. "I told Nathan, I was on fire; I feel like I could do anything. It was bizarre."
When Greyson was 18 months, they brought him to see Goofy (his favorite Disney character) and he was terrified, Whitney said.
"The idea of Goofy, he liked. When he saw him in real life, it's 'Oh, I'm scared'," Nathan said. "Then we continued to come home and read his books, and it's like, 'Goofy's my pal'," Whitney said.
Nathan said being at Disney is especially satisfying with their boy. "That's part of the reason why so many adults bring their kids; they see the magic through their eyes. We experience that through Greyson," he said.
"We don't have stress of a ticket price, so it turns into our fun weekend activity," Whitney said. "I can come in for two hours, as opposed to the stress of all day. Being with Disney has given us the opportunity to perform full-time, be able to own a home, to go through my whole pregnancy while performing, have paid leave and come right back to my job. Those are things really hard to come by."
"It's like anything else, doing something for your career that you really enjoy — that's the best," Mark said. "Kudos to him and Whitney. Not everybody always has that."
Cast member perks include endless complimentary park admission (starting at $109 per person per day for the rest of us) — "It's one of the biggest blessings, one of the main reasons we're still here," Whitney said. "Not only do we get in the parks for free; with our entrance, we can get three other family members or friends into the park with us, for 16 times a year. It's a beautiful thing."
That doesn't extend to free Disney Plus as well, Nathan said; you can either get the parks or streaming service (which costs just $70 for a year).
He visited Disney World for the first time at 16, during a high school band trip (he played trumpet). "It really was magical – it still is," he said. "As cast members, we're in awe of how clean everything is, how beautiful it all is, and the cast members do such a great job of making everyone feel special."
Nathan had a big highlight last holiday season, as he was picked to sing with the annual  "Mickey's Very Merry Christmas Party," in a spectacular show in front of Cinderella's Castle two nights a week from late November through December.
"You have to get a separate ticket to go. It's really incredible to be on the castle stage, looking out, seeing 10,000 people down Main Street," he said. "The adrenaline was amazing."
"Ever since working at Disney World, it has been a dream of mine to perform on the castle stage," Nathan posted last December on Instagram, noting he had auditioned last summer for the celebration. But callbacks were the same day as a commercial he was filming in Tampa, for Tommy John undergarments. "What the heck did I get myself involved in?!" he wrote. "I was stuck in Tampa wearing only boxer briefs with a camera crew and a costumer adjusting my … and I had that thought of fight-or-flight."
Fortunately, four weeks later, they had another round of callbacks, and the rest was history. "Performing in front of the castle at Magic Kingdom this holiday season will be an experience I'll cherish forever," Nathan wrote.
Augie professor lived the dream, too
Shelley Cooper knows just what the Meyers have experienced, in "The Happiest Place on Earth."
A Disney World veteran, she's been an assistant professor at Augustana College, Rock Island, since late 2017. She's a vocal coach, stage director, choreographer and actor specializing in musical theater, who's performed, directed and taught around the world.
"I simply adored my time working for Walt Disney World from 2009 to 2012," Cooper said this week, noting she performed in "Holidays Around the World" in Epcot and the "Hoop" revue.
"I believe working for Walt Disney World was formative for me as a performer, director, and professor. The productions are extremely professional, expectations are high, while also being a lot of fun," she said. "The cast members I worked with were incredibly talented, multi-faceted, and some of the kindest people.
"The actors want to go back to work," Cooper said of the current impasse. "These artists are the antithesis of lazy. However, they want to do it safely. Projected speech and singing is proven to be high risk for the spreading of this virus. Some of the casts are really large as well, so that increases the risk."
Universal Studios in Orlando, where she also worked, is open again, "actors are performing, but from what I've seen, it's the outdoor shows and the actors are wearing masks that match their costumes," she said, noting Universal is not partnered with Actors Equity.
Cooper has been a musical theater voice specialist at the University of Central Florida; given master classes throughout the U.S. and the world, including Thailand and Austria. She's given master classes and a concert with Simbiose Produções in São Paulo, Brazil; taught directing, dance and voice for the International Performing Arts Institute in Thailand and Germany; and sang "The Spirit" in Chicago Summer Opera's production of "Dido and Aeneas."
She has performed, taught and directed for companies such as Orlando Philharmonic Orchestra, Orlando Repertory Theatre, Shawnee Summer Theatre, Bangkok Theatre Festival and the Venetian Macao.
Cooper's first live performance coming out of quarantine will be in mid-September, involving two people (songs made famous by Ethel Merman and Mary Martin), before an audience of 50 people at The Speakeasy in Rock Island.
"I feel confident in that because of the safety measures in place from Circa '21, and the fact that it's myself and my pianist, Mason Moss on stage and there is a great distance between myself and the audience," she said.
Since March, she's also been certified as a 567 Broadway! Dance instructor with Broadway dancer/choreographer Joseph Corella; opened an online voice studio, and is teaching voice for Des Moines Performing Arts Virtual Broadway Intensive.
Living on "The Prayer"
In addition to being unsure when they can get back to work, the Meyers are like many unemployed across the country, in facing the July 31 expiration of $600/week in extra benefits due to the pandemic.
"That's going to make it a lot harder," Nathan said. "When it closed in March, we honestly thought we'd be back in two weeks. For Disney, you can count a handful of times they've ever closed, like during hurricanes, shut down one day. We've never experienced this before."
Since the pandemic took their work away in mid-March, they've been mainly stuck at home. The pair sang for a Florida real estate commercial, in a recording studio, and have made videos from home.
"It's like we're on vacation in a sense, because we are getting paid through unemployment," Nathan said. We have been trying to enjoy it – taking this time to relax."
In preparation to return, Voices of Liberty planned to get masks (not worn while singing), a thermometer for each singer to use daily, questions they had to answer, and planned to move outdoors, six feet apart, on a stage away from the audience, with Plexiglas partitions in dressing areas. "There were a lot of great things in place," Whitney said, noting that typically, the choir would have visitors very close.
People in Orlando are good about wearing masks, Nathan said, and they cherish the extra time with their son.
"He's gonna be so confused once this is all over and he goes back to day care," Greyson's dad said. "Wait, what? I thought we were all together all the time."
"I don't know if anyone has the answers at this point. Everyone is just trying to survive," he said. "If that means stay home and quarantine, then great. If that means you need to get out and experience normal life again, then great. Disney has lost millions and millions of dollars and we do believe they're taking the appropriate safety protocols to make guests feel as safe as possible under this crazy, unprecedented time."
"Everyone is waiting for a vaccine, waiting for cases to go down," Whitney said.
There's another petition at moveon.org seeking extension of the federal Pandemic Unemployment Assistance program through Jan. 1. It's gotten over 57,000 signatures.
"The entire live event industry has been shut down, plunging everyone working in it into unemployment with no end in sight," the petition from Broadway veteran David Patridge says. "The extra $2400 monthly has allowed me to have a grain of hope that I can hold on long enough living in one of the most expensive areas in the country. If I lose it, I will need to sell my place and move away from NYC. Hundreds of thousands more are in the same position all over the country. We are ready to work but work is not ready for us."
Nathan and Whitney are not only praying for a solution, they're preparing to sing another of their favorites – "The Prayer," made famous by Celine Dion and Andrea Bocelli – at his sister Karen's wedding back in Eldridge July 25.
The Meyers sang it for Whitney's best friend's wedding in 2008, and at that time, they said they knew they'd be getting married, too.
"It's such a weird and hard time for everybody," Nathan said of many invited guests declining to come for the church wedding. "What's important is for everyone to make their choice and to do what they feel comfortable with. That's what Karen wants and how my parents feel, too."
"Their numbers are going to be way lower than expected, but it's still important for Karen to get married, have the wedding she wants," he said. "We're hoping everyone's healthy and safe."
Whitney said they will sing two duets, as far away from people as possible. "I told her, we may just face the wall," she said, referring to Nathan's mom.
You can see them perform "The Prayer" at home, among four quarantine duets, at youtube.com/user/whitneyg3/videos. You can also see other musical videos featuring Nathan by clicking HERE.