Quad Cities Great Glass Hunt Debuting Around The Area
Get ready to go on a treasure hunt. The QC Great Glass Hunt is a partnership between Visit Quad Cities and Hot Glass, Inc., a glass blowing studio and gallery in Davenport, Iowa. Participants can engage in this outdoor treasure hunt to find handblown glass floats hidden at specific parks in Bettendorf, Davenport, Moline, and Rock Island.
Hot Glass has handblown 250 glass floats that are hidden at area parks; full details can be found at qcglasshunt.com. Now it's up to you to find them.
Each float has a glass stopper with a QC emblem and QR Code sticker. Scan the QR code with your mobile device, and it takes you to the website at qcglasshunt.com, where you report your discovery. You will then enter your name, the park you found the float, and the number etched on your float. Each float has an individual engraved number (Example 5/250) to identify it.  You can also post about your QC Glass Hunt experience and photos on Facebook at QC Glass Hunt.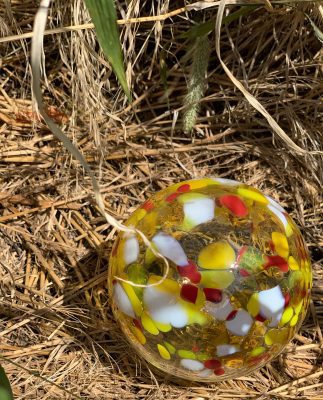 A running tally of discovered floats will be reported on the website. People can collect as many floats as they can find. The treasure hunt does not end until all floats have been found. Plans are to repeat this project every year.
"Fishermen once used glass floats to keep their fishing nets and longline or droplines afloat. People would find these glass floats when they washed up on the shore. The QC Great Glass Hunt captures the spirit of finding a treasure," said Joel Ryser, owner of Hot Glass Inc. "You will discover clear floats and colorful floats on your treasure hunting journey. The search is part of the fun. We are excited to partner with Visit Quad Cities on this first-of-a-kind project in the Quad Cities."
According to Visit Quad Cities, similar float glass hunts have been popular in Lincoln City, Oregon; and Westport, Washington. Block Island's glass hunt in Rhode Island, was featured on CBS News's Sunday Morning show.
"The Quad Cities' creative energy is exemplified by the artists that bring their creations to life through paintings, pottery, jewelry, sculptures, murals, and handblown glass," said Charlotte Doehler-Morrison, VP Marketing & Communications, Visit Quad Cities. "We are excited to partner with Quad City Arts and Hot Glass to bring these new experiences to Quad Citizens and our visitors. We also look forward to promoting these new in-destination experience through social media and advertising."