Looking For Positive News? Here's The Good News For June, Quad-Cities!
It's summer, covid is fading, and spirits are high for new beginnings and positivity!
And we here at QuadCities.com, as we do every month, are giving you a dose of that positivity with our What's The Good News column! Every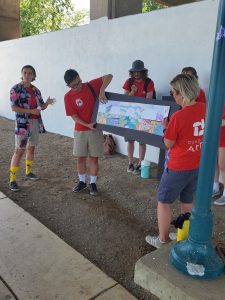 month, we, in conjunction with our friends and partners at KWQC-TV6's "Paula Sands Live," give you a rundown of some of the positive things going on in and around the Quads.
So, what's the good news for this month? Here ya go…
Quad City Arts Metro Arts Is Coloring Moline
The Quad City Arts Metro Arts Youth Apprenticeship Program has kicked off and is bringing art to your area soon!
This week, the group presented three outstanding proposals for a new mural that will go up along the bike path under the Arsenal viaduct downtown Moline.
This mural will be visible from the river and will be enjoyed by everyone on the bike path. Meet "Retro Electric" a perfect blend of Quad City history and retro-pops of color!
#downtownqc #renewmoline Moline Centre
Royal Neighbors CEO Receives Prestigious Honor
Cynthia Tidwell, President and CEO of Royal Neighbors of America, is the 2021 recipient of the American Council of Life Insurers (ACLI) Forum 500 Distinguished Service Award.
The award is presented annually to a member of the ACLI Forum 500 whose work exemplifies life insurers' commitment to helping all Americans – regardless of where or how they work, their life stage, or the economic status of their household – to protect their family's financial future. The Forum 500 is composed of small- and medium-sized life insurance companies that serve consumers in communities across the United States.
"Whether it's her policyholders or people in her community, Cynthia's passion for helping others embodies life insurers' mission," said ACLI President and CEO Susan Neely. "Her strong leadership and commitment to the industry and her community are why her peers in the Forum 500 have chosen to honor her with this prestigious award."
Before joining Royal Neighbors of America in 2005, Tidwell held executive leadership roles at Xerox Financial Services and Fireman's Fund Insurance company, part of the Allianz Group. Her transformative initiatives reduced expenses and increased profits at both companies. Under her leadership, Royal Neighbors revenue and sales have reached record highs, increasing company assets to more than $1.2 billion. Also, in 2020 the organization increased its fraternal philanthropy, giving back over $19 million worth of volunteerism and support to local communities.
Tidwell is a past recipient of the American Business Award's Stevie Award as Turnaround Executive of the Year and has been named Professional Woman of the Year in Insurance by the National Association of Professional Women. She has also been honored with the Athena Business Women's Award for excellence in her profession and for the significant difference she makes in her community. In addition, she was named Business Leader of the Year by the Quad City Chamber of Commerce, and, in 2018, she was one of
CEO Connection's Most Influential Women.
Tidwell is a member and past chair of the ACLI Forum 500 Board of Governors, and a past member of the ACLI Board of Directors. She also is a member of the American Fraternal Alliance, the International Women's Leadership Association, and the National Association of Corporate Directors. Tidwell is a former member of the Quad City Chamber of Commerce Board of Directors, where she served for seven years on the finance committee.
Tidwell is a graduate of Arizona State University and has achieved the Wharton AICPCU, LLIF, and FLMI designations.
Woman Becomes Youngest Latina Alum In WIU History
When Esmeralda Portillo crossed the commencement stage in May, at age 19, she became the youngest Latina woman to graduate from Western Illinois University in its history.
Portillo, of Chicago Heights, IL, received her degree in Law Enforcement and Justice Administration (LEJA) during the University's
Commencement weekend May 14-16. Although age requirements to work for police departments prevent her from applying for a career position yet, since graduation she has been working as a records clerk at the Harvey (IL) Police Department. She will begin work toward a master's degree in Fall 2021 at Michigan State University.
As Portillo was making her way through her high school years, she was also taking classes at her local community college. She graduated from both her high school and community college in 2019, at age 17. She received her associate's degree in information technology-networking.
"I knew since my early teenage years that I wanted to pursue a career in law enforcement; however, my only issue was I didn't know exactly where," she said. "I was stuck between wanting to travel and wanting to stay close to home. It wasn't until I was explaining my frustrations to my counselor and he immediately suggested WIU."
Davenport Schools Offering Free Meals To Kids This Summer
Summer should be a fun time for kids to enjoy family gatherings and vacation time. But for children in some families, summer can bring hunger. The Summer Food Service Program of the Iowa Department of Education provides meals for those hungry children. This program was previously administered in the Davenport Community School District (DCSD) in the summer of 2020, and this year, the program will again offer numerous sites for students, ages 18 years and younger, to receive breakfast and/or lunch.
"When school is out, many people forget that for some students, their main source of meals is their school," said Coni Dobbels, DCSD Supervisor of Food and Nutrition Services. "Distributing meals during the summer helps to keep us connected to the kids."
"Because of the pandemic, we have a U.S. Department of Agriculture waiver that allows us to package the meals to-go. That way, the kids can take them off the distribution sites," said Kent Heinen, DCSD Food Services Specialist. "Our summer meals include chicken sandwiches, walking tacos, hot dogs, fresh fruits and vegetables, and more. The meals are just for students ages 18 and younger, not their parents. But still, that will keep us busy. We plan on serving 60,000 meals across 17 sites over a seven-week period."
"Our food service workers are to be commended for all the work they put into summer meal distribution," said TJ Schneckloth, DCSD Superintendent. "The District is proud to be able to help area families to make sure their children have enough to eat."
The summer program will begin Monday, June 21, and end Friday, August 6. Due to the holiday, there will be no food service on Monday, July 5. The following is a list of the meal distribution sites and times. In the list, ** indicates a Stepping Stones Program. All sites are Davenport locations unless noted otherwise.
Fairmount Branch Library, Breakfast and Lunch Bags, 12:40 – 1:05, 3000 N. Fairmount Street
Sr. Concetta Park, Lunch, 12:15 -12:35, 6th & Warren Street
Progressive Baptist Church, Breakfast, 8:30 – 8:50; Lunch, 11:40 – 12:00, 1302 E. 12th Street
Wood Intermediate, Breakfast and Lunch Bags, 11:00 – 12:30, 5701 N. Division Street
Sudlow Intermediate, Breakfast and Lunch Bags, 11:00 – 12:30, 3414 E. Locust Street
Smart Intermediate, Breakfast and Lunch Bags, 11:00 – 12:30, 1934 W. 5th Street
J.B. Young Community Center, Breakfast and Lunch Bags, 11:00 – 12:30, 1702 N. Main Street
Buffalo Elementary, Breakfast and Lunch Bags, 11:00 – 12:30, 1000 Jefferson, Buffalo, IA
YMCA Bittner, Breakfast, 8:30 – 8:50; Lunch, 11:40 – 12:00, 630 E. 4th Street
YMCA North, Lunch, 12:40 – 1:00, 624 W. 53rd Street
Buchanan Elementary, Breakfast and Lunch Bags, 12:00 – 12:20, 4515 N. Fairmont
Central High School, Lunch, 11:30 – 12:30, 1120 Main Street
Hayes Elementary**, Breakfast, 7:20 – 8:00; Lunch, 11:30 – 12:30, 622 S. Concord
Jefferson Elementary**, Breakfast, 7:20 – 8:00; Lunch, 11:30 – 12:30, 1027 Marquette Street
Madison Elementary**, Breakfast, 7:20 – 8:00; Lunch, 11:30 – 12:30, 116 E. Locust Street
Trinity Lutheran, Lunch, 11:30 – 12:30, 1122 W. Central Park
Wilson Elementary, Lunch, 11:30 – 12:30, 2002 N. Clark Street
To learn more about the Davenport Community School District, please visit http://www.davenportschools.org/.
Rock Island Schools Offering Free Meals To Kids This Summer
Meal distribution will take place every Monday. The 5-day meal packs are for children 12 months-18 years regardless of income or school district enrollment.
There will be a morning and an afternoon meal distribution. Meals must be pre-order by the Friday before. To preorder please call 309-581-2147.
Five-day meal packs will be available on Mondays, starting June 7.
Denkmann Elementary School –  7:30 a.m. – 8:30 a.m.
4101 22nd Ave, Rock Island
Longfellow Liberal Arts –  10:30 a.m.-11:30 a.m.
4198 7th Ave, Rock Island
Rock Island Academy – 10:30 a.m. – 11:30 a.m.
930 14th St, Rock Island
Frances Willard  – 7:30 a.m. – 8:30 a.m.
2503 9th St, Rock Island
Ridgewood Elementary School – 10:30 a.m. – 11:30 a.m.
9607 14th St W, Rock Island
Thomas Jefferson Elementary School 7:30 a.m. – 8:30 a.m.
1307 4th St W, Milan
Rock Island High School – 4:30 p.m. – 5:30 p.m.
1400 25th Ave, Rock Island
Quad-Cities' Beck And Woods Get Summer Release Date For New '65' Film
The latest film from Quad-Cities born-and-raised duo Scott Beck and Bryan Woods, "65," starring Adam Driver and Ariana Greenblatt, has gotten its Sony Pictures summer 2022 release date — May 13. That's the only big-budget film set to open that weekend at this time.
Beck and Woods, who have been making films since they were teens in the Quad-Cities in the late '90s and early '00s, finally broke through big time with their script to "A Quiet Place," which was followed by the successful directorial debut of the duo with "Haunt."
"65" reunites the filmmaking team with producer Sam Raimi, with whom they wrote and directed an episode of his Quibi series 50 States of Fright last year. Danny Elfman will be writing the soundtrack for the film.
Plot details on "65" are being kept secretive, but it is known that it has more of a science-fiction bent.
For more info, see HERE.
John Deere Donates $1.7 Million To Area Food Banks
Moline-based John Deere  — which started River Bend Food Bank in 1982 in response to the '80s farm crisis — committed Thursday to donate $1.7 million to the Food Bank in 2021, part of a planned $7 million through the John Deere Foundation over the rest of this decade.
In 2020, with Deere's continued investment, the Food Bank distributed more than 23 million meals and served 160,000 people in 23 Eastern Iowa and Western Illinois counties.
"Our history together goes back to the very beginning of River Bend almost 40 years ago," Nate Clark, president of the John Deere Foundation, said Thursday. "In 1982, we were in the midst of the farm crisis, that threatened the livelihoods of John Deere's employees, the livelihoods of our customers, suppliers and dealers."
Deere said they needed to support those in their home communities experiencing hunger, so employees provided seed money to rent warehouse space, hire an executive director and a warehouse manager for what would eventually become River Bend, Clark said.
Two Quad-Cities Properties Earn Historical Honors
Two historic preservation projects in Davenport are among 11 in seven Iowa communities that have earned the state's highest awards for historic preservation during this year's Preserve Iowa Summit.
The annual conference is presented by the State Historic Preservation Office, which is part of the Iowa Department of Cultural Affairs.
During the awards ceremony on June 3, the State Historical Society of Iowa Board of Trustees awarded two projects in Des Moines and two in Davenport with a Preservation Project of Merit Award, which recognizes projects that exemplify the best practices of historic preservation, meet federal standards, and make use of state tax credits for historic preservation.
The historical society also honored successful efforts to stabilize a prehistoric site on the Little Sioux River near Anthon and to rehabilitate historic facades on the Winterset square.
"These awards celebrate the dedicated, creative professionals and volunteers who save and
adapt Iowa's historic properties for a new era," Susan Kloewer, administrator of the State Historical Society of Iowa, said in a recent release. "Their work creates new economic opportunities and promotes a real sense of community pride."
In addition, the nonprofit group Preservation Iowa presented its Preservation At Its Best Awards in five categories during the same ceremony. These annual awards honor properties and educational efforts that meet the highest standards of preservation practices.
"Iowans across the state can take pride in this year's winning projects," said Bruce Perry, president of Preservation Iowa's board of directors. "All are fine examples of historic preservation that serve as models for future preservation work in Iowa and beyond."
The two Davenport properties that were honored are:
Adrian Anderson Award                                      
Peter Lampe House, 1128 Mound St., Village of East Davenport
This award recognizes outstanding preservation of a small historic preservation project using State Historic Preservation Tax Credit Program incentives. For purposes of this award, small projects are defined as those projects having total qualified costs of $750,000 or less.
Sustainability in Preservation Award and William J. Wagner Award
Buchanan School/Naval Station Apartments, 2104 W. 6th St., Davenport
This nearly $9-million renovation project, which was about twice the original estimate in 2014, was completed in the summer of 2019. The building, now known as The Naval Station, houses 18 senior living apartments with six units on each floor.
New Training Series Promotes Racial Healing
As SAL Family and Community Services (SAL) celebrates its 50th year, few people have witnessed the organization's evolution like Loredia Nunn-Dixon.
Born and raised in the Quad-Cities, Nunn-Dixon began 30 years ago as an office assistant, working her way up and then over into childcare and family services. There, she saw the nonprofit's opportunity to offer the community a fuller range of services.
SAL oversees Skip-A-Long Child Development Services, which operates four childcare and learning centers in the Q-C.
"Seeing the families that came in, I had a chance to experience firsthand that not only did they need childcare, but they needed other services as well," Nunn-Dixon said.
When SAL decided to expand its services beyond childcare by piloting the Open Door Crisis Assistance program in 2009, Nunn-Dixon was chosen to direct it. Now, she is launching the program's latest development with the help of a $14,200 grant from the Chicago Community Trust's Healing Illinois initiative.
The project funded by the grant aims to strengthen relationships between community members in poverty and the volunteers trained to help them access resources and remove barriers.
Through Opportunities Quad Cities, an initiative managed by Open Door, these volunteers—known as "navigators"—partner with "neighbors" who have passed through Nunn-Dixon's program.
"But navigators don't always understand what neighbors have gone through in their life and what caused them to be there," she said. As a result, well-intended advice may miss the mark or cause offense, harming the relationship and the support provided.