Sweatstock Music Festival Will Take You Around 'The Bend'
In 1969, the original Woodstock Festival brought together half a million people in a celebration of peace, music and love. Fifty years later, there are anniversary celebrations of Woodstock large and small taking place throughout the country and around the world, including right here in the Quad Cities.
Presented by All Sweat Productions, Sweatstock Music Festival, is the Quad Cities only tribute to legendary performers from the Woodstock Festival. It will take place at Murphy Park in The Bend (900 Bend Boulevard East Moline) this Friday Aug 16 (gates open at 4 p.m.) and Saturday Aug 17 (gates open at 12 p.m.)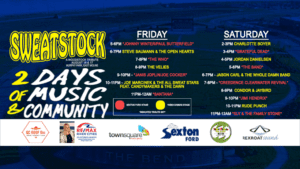 This new festival will celebrate the 50th anniversary of Woodstock with over 20 sets on two stages, alternating between tribute and original music from over 100+ Quad Cities based artists. The festival will include tribute performances to Jimi Hendrix, Santana, Janis Joplin & Joe Cocker, Creedance Clearwater Revival, Sly & the Family Stone, The Who, the Grateful Dead, The Band, Johnny Winter and many more.
Local acts that will also feature their original music include: Joe Marcinek, The Velies, Rude Punch, The Candymakers, Jordan Danielsen, Jason Carlson and the Whole Damn Band, Condor and Jaybird, The Dawn and Charlotte Boyer.
Ticket options include $15 for a single day or $25 for a weekend pass. Parking is an additional $5 cash upon arrival. Tickets can be purchased in advance online.
The Hyatt Place is offering a special nightly rate of $124, on August 16-17, that will include one weekend pass to Sweatstock per night's stay. Patrons can redeem by using the promo code SWEAT online at www.hyatt.com.
For updates on Sweatstock, you can also check out the Facebook event page.
Here is the line-up for this unforgettable 2-day music festival:
Friday Aug 16
Sexton Ford Stage
5 – 6 p.m.           "Johnny Winter/Paul Butterfield"
7 – 8 p.m.           "The Who"
9 – 10 p.m.        "Janis Joplin/Joe Cocker"
11 p.m. – 12 a.m.            "Santana"
Yabba Dabbas Stage
6 – 7 p.m.           Steve Baumann & The Open Hearts
8 – 9 p.m.           The Velies
10 – 11 p.m.      Joe Marcinek & The All Sweat Stars Feat. Candymakers & The Dawn
Saturday Aug 17
Yabba Dabbas Stage
2 – 3 p.m.           Charlotte Boyer
4 – 5 p.m.           Jordan Danielson
6 – 7 p.m.           Jason Carl & The Whole Damn Band
8 – 9 p.m.           Condor & Jaybird
10 – 11 p.m.      Rude Punch
Sexton Ford Stage
3 – 4 p.m.           "Grateful Dead"
5 – 6 p.m.           "The Band"
7 – 8 p.m.           "Creedence Clearwater Revival"
9 – 10 p.m.        "Jimi Hendrix"
11 p.m. – 12 a.m.            "Sly & The Family Stone"
Don't miss Sweatstock. Kind of like Woodstock, but 50 years later and right here in the Quad Cities.