Enjoy Live Music at Murphy Park in The Bend this Summer!
Summer is right around the corner, or should I say The Bend? Enjoy some amazing outdoor live music throughout the next few months with the Quad Cities' newest Wednesday Night Concert Series!
Murphy Park (900 Bend Blvd East Moline) will be the home to the Wednesday Night Concert Series, beginning this Wednesday May 29 and continuing through Wednesday Sep 11. Come out to enjoy free live music for all ages, beer and drinks, food and vendors!
Food and drinks will begin at 6 p.m. and live music will be provided from 7 – 10 p.m.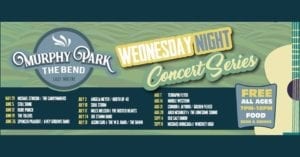 Here is this season's lineup:
5/29      Michael Stinson/The Candymakers
6/5        Still Shine
6/12      Rude Punch
6/19      The Tillers
6/26      Spencer Praught/Avey Grouws Band
7/3        Angela Meyer/North of 40
7/10      Soul Storm
7/17      Miles Nielsen & The Rusted Hearts
7/24      Joe Stamm Band
7/31      Jason Carl & The W.D. Band/The Dawn
8/7        Terrapin Flyer
8/14      Middle Western
8/21      Condor & Jaybird/Golden Fleece
8/28      Arlo Mckinley & The Lonesome Sound
9/4        Old Salt Union
9/11      Michael Moncada & Whiskey High
For updates on the Wednesday Night Concert Series at Murphy Park The Bend, visit them on Facebook at https://www.facebook.com/events/1623851914414100/.
Don't miss this amazing concert series!