20 Germans You Didn't Know You Knew
Join the German American Heritage Center and Museum on Sunday, June 7th for "20 Germans You Didn't Know You Knew," presented over zoom by Kelly Lao, Executive Director of the GAHC.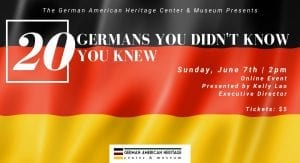 From the food we eat to the clothes we wear, our lives have been shaped by the discoveries and creations of German and German Americans. Some left their homes to further their careers while others created their life's work in the kitchen. In this presentation you will learn about 20 Germans whose work has likely touched your life. These are 20 Germans you didn't know you knew.
A zoom link will be sent on Saturday to those who purchase tickets.
Tickets are $5 and can be purchased on Eventbrite.com.
---
For more fun things to do in the Quad Cities this week, check out the latest issue of FUN10QC.