Circa '21's Hilarious 'Play That Goes Wrong' Gets All The Laughs Right
Circa '21's latest show, "The Play That Goes Wrong," gets one huge thing right: It hits all the comedic notes to make it a hilarious show.
These types of silly, goofy, farces are exactly what we need right now, in my opinion. The last two years have sucked, let's face it, and things aren't exactly looking fantastic on the horizon either. What we need more than ever is levity and distraction, and Circa's "Play That Goes Wrong" is the epitome of both.
The show is pretty much explained in its title. It's a murder mystery show where anything and everything that could go wrong does, and the actors are forced to gamely shoulder on throughout.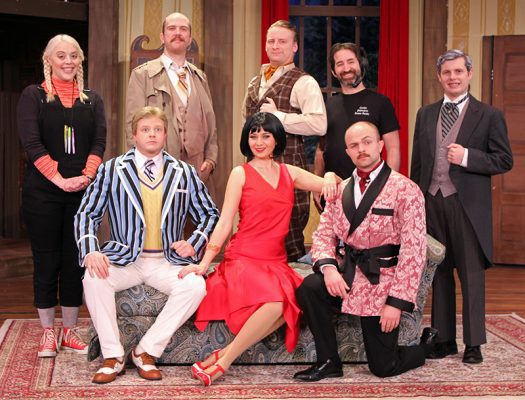 The program describes it as such: "Written by Jonathan Sayer, Henry Lewis and Henry Shields, THE PLAY THAT GOES WRONG welcomes patrons to opening night of community theatre troupe the Cornley Polytechnic Drama Society's, whose newest production is the Agatha Christie-like 1920s mystery The Murder at Haversham Manor. Events in the show – and the show-behind-the-show – are quickly going from bad to utterly disastrous. The set, props, lighting and sound thwart the performers at every turn and eventually, a few of these semi-amateur thespians, demoralized by disaster, go rogue. It's a stage manager's worst nightmare but an audience's cue for laughter!"
And so it is. It's a nice little meta play that's not too thinky, playing upon the formula of the audience watching a play about a play, albeit one which skids off the rails from the start and never recovers. The result is a couple of hours of slapstick, odd situations and hilarious wordplay, and, honestly, it was a wonderful relief and terrific escapism. I thoroughly enjoyed it.
Of course, two huge factors in making a show like this work are the direction and the cast. Director Warner Crocker does a great job of keeping things loose and letting the beats play out, and there are a lot of great moments where he lets the show breathe and lets the actors stretch out a bit to goose the laughs. That's exactly what you need in a show like this, and Crocker has a deft touch that's likely to be underrated but is key to the execution.
The cast is wonderfully chosen. Bobby Becher is especially great sporting a convincing British accent as Robert/Thomas Colleymoore, Derrick Bertram is slyly snooty as Dennis/Perkins the butler, Elsa Scott Besler is funny and assertive as Annie the stage manager (particularly during her battles with Sandra/Florence), Thomas Besler is goofy as Trevor the lighting and sound guy, Martin Flowers is smarmy as Jonathan/Charles Haversham, and Benjamin Elias Nickols is wonderfully forceful in his cluelessness as Chris/Inspector Carter. Savannah Bay Strandin hilariously overacts as the starry Sandra/Florence Colleymoore, and Kristen, I mean, Tristan Layne Tapscott does funny double duty as the skanky Arthur the Gardener and the pompous Cecil Haversham, both "played" by Max Bennett.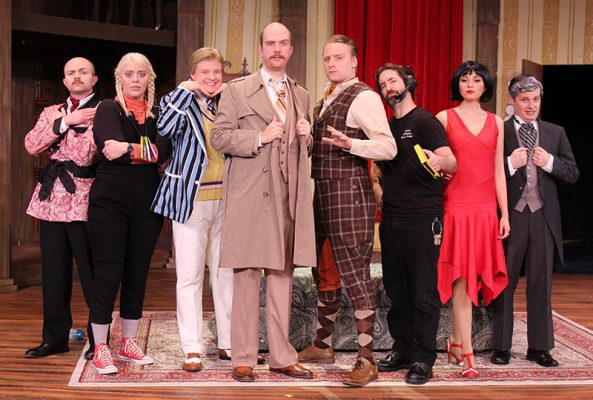 I really, really loved this show. I brought my 13-year-old son with me, and he loved it as well. It's a show all ages will enjoy, from pre-teens up to seniors, and it's just a very well done, goofy romp.
It was an incredible amount of fun, and I highly recommend it. It's just the lighthearted, funny, entertainment we need right now.
"The Play That Goes Wrong" will be presented on Wednesday, Friday and Saturday evenings at 7:45 p.m., Sundays at 5:45 p.m. and beginning Feb. 16, Wednesday matinées at 1:30 p.m. Pre-show entertainment featuring the theatre's wait staff, The Bootleggers, also will precede all performances. Ticket prices are $56.55 for the evening productions and $49.73 for the matinées.
Reservations are available through the Circa '21 ticket office. For reservations, contact the theatre at 1828 Third Ave., Rock Island or by calling 309-786-7733 ext. 2.