10 Fun Things To Do Week of August 9th: Hot Air Balloons, Floatzilla, Live Music and MORE!
QuadCities.com proudly presents Fun10, a list of the top 10 things to do in the Quad Cities this week, and every week! Every Sunday, we'll drop a new FUN10, to give you a head start on your week and a heads up on what's going on over the coming seven days. Check out FUN10 every Sunday for the details on ten awesome events happening around town. It's a cool read, and a great way to get started planning your entertainment for the week.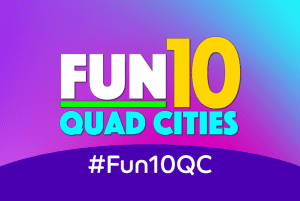 As the current health situation in our country continues to force the cancellation of so many regularly scheduled events in the Quad Cities, we are once again focusing this week's edition of Fun10QC on fun entertainment you can enjoy in the safety of your own home or while practicing safe 'social distancing,' as Iowa and Illinois begin to hold in-person events.
FUN10 — ten ways for you to have fun in the Quad-Cities, this week and every week, running every Sunday, only on your site for fun, free, local entertainment, QuadCities.com!
So what's on the FUN10 for this week? Read on …
Thursday Night Groove Concert Series
Live music returns to the banks of the Mississippi!
Rock Island Parks and Recreation kick off their Thursday Night Groove Concert Series this Thursday Aug 13 at Schwiebert Riverfront Park (101 17th Street Rock Island).
Beginning at 6 p.m., concessions will open featuring Happy Joe's Pizza (Rock Island), grill items, popcorn, plus much more! A beer garden will be provided by Bent River Brewing Company, as well.
From 7 – 9 p.m. you can enjoy a live music concert along the beautiful Mississippi River.
Check out this 2020 line-up:
Aug 13 Funktastic 5
Aug 20 North of 40
Aug 27 Wicked Liz & the Bellyswirls
Sep 3 Soul Storm
Sep 10 Phyllis And The Sharks
Sep 17 Class of '82 – 80s New Wave/Retro Tribute Band
Sep 24 Minus Six
Oct 1 The Stone Flowers
Updated Health Safety Precautions:
• No Dance Lessons or Dance Floor (Dancing is suggested at your seats and practicing social distancing.).
• Social Distancing seating is required. Please only sit near people from your household.
• Face Coverings are highly suggested.
For more information, please visit https://www.facebook.com/events/579421599455189/.
Quad Cities Balloon Festival Fun Flight Weekend
It's a bird… It's a Plane… It's Hot Air Balloons!
After the difficult decision to cancel this year's Quad Cities Balloon Festival, something magical happened. While Tether Rides, food vendors and socialization will not be available at this year's event – the color spectacle in the sky is still on!
More than ten pilots have graciously volunteered to fly their hot air balloons over the Quad Cities this weekend. The balloons will launch from the Rhythm City Casino (7077 Elmore Ave Davenport) and will take a quick jaunt around the area. The public is welcome to watch all flights but will be asked to follow social distancing guidelines.
Launches are currently scheduled for Friday Aug 14 at 6 p.m. and Saturday Aug 15 at 6 a.m. and 6 p.m.
All activities are weather dependent. Launch times are approximate. The Quad Cities Balloon Festival will update their Facebook page with launch locations. All glows have been cancelled to protect the pilots and the public.
Movies at Modern Woodmen Park
Take me out to the movies. Take me out with the socially-distanced crowd!
Enjoy outdoor movies at Modern Woodmen Park (209 S Gaines St. Davenport) this Friday Aug 14 and Saturday Aug 15 at 8 p.m. Gates and box office open at 6:30 p.m. if tickets are available.
Movie Night #1 (Friday Night) will feature Space Jam.
Movie Night #2 (Saturday Night) will feature The Goonies.
All tickets are $5 per seat and everyone will be seated in the seating bowl with social distancing. Tickets can be purchased now at the Quad Cities River Bandits' box office Monday-Friday 9 a.m. – 5 p.m., by calling (563) 324-3000 or online at https://uw1.glitnirticketing.com/uwticket/web/ev_list.php.
Bring the family out to the ballpark for some outdoor movie fun, this weekend!
The Artist Series at The Ruby Slipper
Support the arts and our community, while having a great time, this weekend!
The Ruby Slipper (2507 53rd Avenue Bettendorf) presents The Artist Series this Friday Aug 14 and Friday Aug 21 from 4 – 7 p.m.
This socially responsible, partly outdoors, event will feature works (also for sale) from the artists below:
Aug 14 – Honsey Art, Wilson Creek Pottery, Hartley Studio
Aug 21 – Molly Koenig Photography, Wilson Creek Pottery, Kimberly Pierce Jewelry
Meatheads food truck and local beers will also be available, as well as music by Maureen Carter from 5 – 6 p.m.
Inside the store masks are mandatory and a limit of 10 people at once will be adhered to.
For more information, please visit https://www.facebook.com/events/332850004739984/.
Live @ Five 2020
Live music returns to the RME Courtyard!
Kick off your weekend with FREE live music in the RME Courtyard (129 N Main Street Davenport)! Live@Five is totally free, for all ages, and features the best local bands to come rock out for everyone to enjoy.
5 – 7 p.m. each Friday in August and September.
Here is the 2020 lineup of bands:
Aug. 14: Playthangs – Sponsored by Estes Construction
Aug. 21: Fair Warning – Sponsored by Estes Construction
Aug. 28: The Velies – Sponsored by Estes Construction
Sept. 4: Hal Reed & Mississippi Journey – Sponsored by the Mississippi Valley Blues Society
Sept. 11: The Bobby Ray Bunch
Sept. 18: John Resch & Doggin' Out
Sept. 25: The Dawn – Sponsored by Quad Cities Foot & Ankle Associates
HEALTH AND SAFETY GUIDELINES:
In order to keep guests, staff, and musicians safe, the following guidelines will be enforced:
• Face masks are required for entry and bar service. Guests will wear face masks when not seated and when not able to maintain 6-foot distance from others.
• Seating will only be allowed in the boxes marked on the ground, which can seat up to 3-4 people in the same group. When seated, guests may remove their masks.
• Bring your own chairs! RME will not be setting up chairs as they have in the past.
• Capacity will be limited. Entry will be first come, first served. When the space reaches capacity, no additional guests will be admitted unless other guests leave.
• A limited number of face masks will be available for guests that do not have one.
• Hand sanitizer stations will be provided.
• Some additional seating will be available on the Tacobar patio. (Food & beverage purchase may be required.)
For more information, please visit https://www.facebook.com/events/332550811108176/.
For Peter Pan on Her 70th Birthday – A Virtual Reading
Mississippi Bend Players is proud to present a virtual reading of Sarah Ruhl's play, For Peter Pan on Her 70th Birthday this Friday Aug 14 at 7:30 p.m.
Filled with Quad Cities references and memories of the past, Ruhl lovingly wrote the piece which explores life, death and the allure of never growing up for her mother, Kathleen Kehoe Ruhl. MBP is thrilled that Kathleen will be reprising the role she inspired in this one-night only presentation which will be followed by a Q & A session with the cast and playwright Sarah Ruhl.
To sign up for this livestream today, visit https://app.arts-people.com/index.php?show=116366. A zoom link to the performance will be sent on Friday Aug 14 at noon.
MBP will gratefully be accepting donations from those who choose to attend. They understand finances are difficult for many right now, but they don't want money to be a hurdle to enjoying the arts. If you are able to make a donation at this time, Mississippi Bend Players will use your tax-deductible donation to further their mission of providing excellence in entertainment and education in the coming years!
Live is Beautiful Live Stream
The Life is Beautiful event is back for its third year with a decidedly "Quaran-Tune" twist. A three-night live stream event from Bishop Hill Creative Commons, a visual and performing arts cooperative is made possible by Heartland Connections this Friday Aug 14 through Sunday Aug 16.
Concert organizer Joe Lee offers a blend of alternative, rock and blue grass — all to help raise funds for mental health education and support programs. Attend for free, appreciate and donate at www.namigmv.org/donate/
LIVE STREAM LOCATIONS
Heartland Connections Facebook – www.facebook.com/HeartlandConnections
NAMI Greater Mississippi Valley Facebook – www.facebook.com/NamiGreaterMississippiValley
NAMI Greater Mississippi Valley YouTube – https://youtube.com/channel/UCYeSgOfnlb0ddhZZmbensQg/live
Attending is free and donations are encouraged to support NAMI's no-cost mental health education and support programs.
3-EVENING LINEUP
Friday, August 14
5:00-5:45 Been There Done That
6:00-6:45 Aubs.
7:00-7:45 Dr. Heat
8:00-8:45 Jenny Lynn Stacy & the Dirty Roosters
Saturday, August 15
5:00-5:45 The Memphis Dives
6:00-6:45 Doomr Noomr Boomr
7:00-7:45 Rezinator
8:00-8:45 DYNORIDE
Sunday, August 16
5:00-5:45 Murnau
6:00-6:45 Giallows
7:00-7:45 Cedar County Cobras
8:00-8:45 Cryptostatic
Floatzilla 2020
Take part in the largest paddle on the Mississippi!
Floatzilla 2020 will happen this Saturday Aug 15. Experience the Mississippi River free of commercial barge traffic. All paddle crafts are welcome to participate, but only kayaks and canoes are allowed in Lock 15.
This year due to the COVID-19 pandemic some aspects of Floatzilla have been altered. The most popular launch sites at Leach Park, Bass Street YMCA, and the Lindsay Park Yacht Club will have registrations limited to 400 paddlers, their launch windows are being expanded to four hours, and they will be assigning half hour launch windows to each group or paddler.
For more information on launch sites, visit the registration page at https://secure.getmeregistered.com/get_information.php?event_id=133785.
Buses back to each launch site from Lake Potter will leave every half hour from 10am to 4pm. The Lockmaster at Lock and Dam 15 will have ropes crossing the lock area this year so that paddlers can put six feet of distance between themselves and their neighbors. Unfortunately, the World Record attempt at Lake Potter will not be held this year.
Don't have a kayak or canoe? Check out the list of outfitters that serve Floatzilla. Outfitters will meet up with you at a launch point with the boat, then wait at Sunset Park to pick it up after you finish paddling. Find our list of outfitters HERE.
Included in your registration fee, River Action provides a shuttle service from Sunset Park back to each of the launch sites.
For more information on Floatzilla 2020, visit http://riveraction.org/floatzilla.
Community Barn Sale at Playcrafters Barn Theatre
Playcrafters Barn Theatre is having its very first Community Barn Sale and they need your help!
Community Barn Sale will take place this Saturday Aug 15 and Sunday Aug 16 from 12 – 4 p.m. at Playcrafters Barn Theatre (4950 35th Avenue Moline).
Bring your stuff (old stuff, new stuff, red stuff, blue stuff) to sell 6 feet apart in the Barn parking lot! Only $20 for a space! This money will be donated back to Playcrafters to alleviate the stress of their bills. It is asked that all vendors bring their own tables.
Playcrafters will be selling vintage clothes and costume pieces ranging from $1-$10. Props and furniture will be for sale as well!
Admission to the public is free, but Playcrafters asks that you please practice social distancing and wear a mask.
For more information, please visit https://www.facebook.com/events/997633990691683/.
Black Hawk State Park Investigation with Exspiravit Paranormal Society
Join the Exspiravit Paranormal Society this Sunday Aug 16 from 4:30 – 6:30 p.m. on Facebook Live for their Black Hawk State Park Investigation.
Exspiravit Paranormal Society (ESP) will be providing viewers with a brief history about Black Hawk State Park, and then will head into an investigation that YOU will lead! Tell the team what you want to see while joining virtually and you may help them uncover some paranormal activity.
This event is NOT hosted by Blackhawk State Park, so please contact ESP on Facebook at https://www.facebook.com/exspiravitparanormal/ for any questions you may have.
Stay tuned to QuadCities.com, your site for fun, free, local entertainment for upcoming events in our weekly column, FUN10, every Sunday!
#Fun10QC