Taste Of Ethiopia Is The Quad-Cities' Jewel Of The Nile, Doc Says
Next to the Mighty Mississippi River sits a hidden gem. Our own little Jewel of the Nile if you will.
Taste of Ethiopia will bring you a new way of experiencing the
Quad Cities
, in a more flavorful way.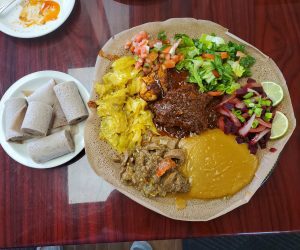 Today's review is somewhat sponsored and two parts. I sat down with Consumed Foodie , too experience this restaurant. While it maybe a new experience to us, I have a feeling we've been missing out. Families and couples flow through during our lunch break and order large dinner plates and laugh and carry on as if they were right at home. The patio which offers an amazing view of the river is packed even on a hot day.
While not as large as other diners, the openness and feel of the restaurant keeps you from feeling claustrophobic. The cool AC is welcome on this hot day.
Sambusa's are first ordered. A little appetizer to start. These flaky fried treats remind me of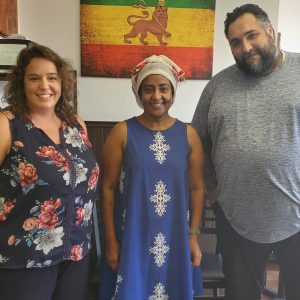 empanadas almost. They have meat and lentil versions for you vegetarians. Matched with the Sriracha Sweet and Sour sauce these are a delite. We choose a lentil version and a shredded chicken version. I fell in love with the lentils.
For lunch we ordered Beyaynetu Bi'saga. I know that doesn't sound English, and it definitely doesn't translate into Cheeseburgers. What it does translate into is that new experience I was talking about. This dish is served on a platter and it is meant for you to discover your favorites.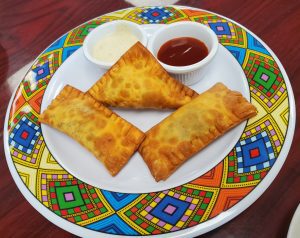 As I aim to eat healthier my dishes continue to become more vegetable than meat, and this plate certainly offers an adventure in that arena.
Forewarning wash your hands, and don't bring the kid next door who likes to play in mud. This is Ethiopian food at its finest. You'll be tearing off Inreyu to put together your feast. Instructions adorn the napkin holder which you will use, however knives and forks are offered for those less adventurous.
Is it Spicy? Not dangerously. Is it exotic? About as exotic as the freshly single retired English teacher wearing a leapord print shirt I dated for two months before I met my wife. Why haven't you gone? Maybe your worried, maybe your stuck in your normal routine.
What I can guarentee is you'll have an amazing time, you'll be impressed with the staff and owners. You'll experience a new and amazing culinary treat right here in our community. As for me and Consumed Foodie, it was something to write home about.
Your friends in food,
Doc and Annie