Take That Dam Shopping Trip!
Twelve downtown Rock Island and Davenport stores, located on both sides of the lock and dam, are joining together for a shopping event that gives customers a chance to win $1,200 in gift certificates while shopping small on Black Friday and Small Business Saturday, this November 29th and 30th.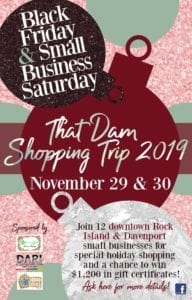 In order to be qualified to win, customers will get a stamp on a provided shopping guide at each of the participating locally-owned small businesses, and turn in their completed guide at their last stop. No purchase is necessary at any location, and one lucky winner will be drawn at random from the completed shopping guides. The shop hop is taking place from 11 am to 5 pm each day.
The participating stores for That Dam Shopping Trip 2019 are Skeleton Key Art and Antiques, Brick and Motor Boutique, Vintage Varieties, Taste Buds, The ARTery, Wild Cherry Spoon Co, Crafted QC, Chocolate Manor, Bucktown Center for the Arts, Abernathy's, SiS International and downtown Davenport's newest boutique, Theo & Co.
In addition, two more shops, Alley Shoppers and Spellbound, are bonus stops that aren't required for the completion of the shopping guide, but will have drawings going on during the event. Shoppers can begin and end at any participating location, and each store will have shopping guides available.
That Dam Shopping Trip 2019 is sponsored by Skeleton Key Art and Antiques, DARI, and QuadCities.com. More information can be found at www.facebook.com/damshopping or by contacting Skeleton Key Art and Antiques during normal business hours.