Celebrate the Man Behind the Name at 47th Bix Jazz Festival
One of the most iconic festivals in the Quad Cities Area is once again upon us. It's time for some jazz!
Bix Beiderbecke was a musical genius from our very own city of Davenport. He was a famous jazz cornetist pianist and composer. The annual Bix Beiderbecke Memorial Jazz Festival is not only a celebration of his accomplishments but a way to keep the genre alive.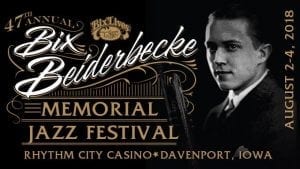 The 47th Annual Bix Festival has a new location! The festival will be held once again at the Rhythm City Casino Resort in Davenport (7077 Elmore Ave) in the Event Center. World-class jazz bands will charm you while dancers twirl and swing! A pleasant mix of traditional and "newer" jazz will be enjoyed by attendees.
In addition to live music at Rhythm City Casino (schedule can be found at https://www.bixsociety.org/docs/2018%20Bix%20Fest%20Band%20Schedule.pdf) events will be taking place at the Bix Museum, Putnam Museum and more! Check out some of these exciting events planned for the week:
Aug 1                   6 p.m.                 Free Concert at Grumpy's Saloon
Performance by "Andy Schumm and His Gang"
Aug 2                   3 p.m.                 Bix Fest Kickoff at Putnam Museum
Performance by "Miss Jubilee and the Humdingers"
Aug 3                  9:15 a.m.            Free Tour of the Bix Museum
Free transportation leaving from Rhythm City Casino
Aug 4                   10 a.m.               Graveside Event at Oakdale Memorial Gardens
Performance by Miss Jubilee and the Humdingers
Aug 4                   4:30-5:30 p.m.  Youth Band Clinic at Rhythm City Casino
Aug 5                   8:30 a.m.            Jazz Services at First Presbyterian Church
Services at 8:30 am & 10:30 am
Aug 5                   5-8 p.m.              Knoxville Tap
Call 563-650-3403 for reservations and cost.
If you are interested in booking a room at the Rhythm City Casino Resort, you can also ask for the 'Bix Fest Group Rate'. Make reservations by calling (563) 328-8000. Restaurants, shopping and fun are all nearby the venue.
For more information and ticket purchases, visit https://www.bixsociety.org.
Don't miss this three-day party of jazz music while celebrating a Quad Cities icon!