John Leguizamo To Endorse Andrew Yang For President Friday
Award-winning actor John Leguizamo will endorse Andrew Yang for president on Friday, Yang announced Thursday evening during his stop at the LULAC Club in Davenport.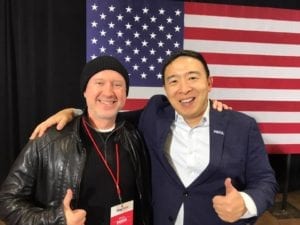 The announcement of the award-winning Latino actor endorsing Yang was met with loud applause in the local headquarters of one of the biggest Latino civil rights organizations in the country.
Yang didn't specify when or how the endorsement would be delivered, but said that he was "honored" by it. Leguizamo has been campaigning for Yang and has mentioned his support for him on his social media.
Leguizamo has led a long and critically-acclaimed career, from his beginnings in the hit film "Carlito's Way," and other films like "Romeo and Juliet," "To Wong Foo, Thanks For Everything," and "The Happening," through his stints on TV on shows like "ER," "The Kill Point" and "Bloodline," as well as stints on children's shows and films like "Ice Age," "Dora The Explorer" and Super Mario Bros." He was most recently seen in the Netflix original miniseries "When They See Us."
For more information, including Andrew Yang being featured on Sean Leary's upcoming podcast episode of QCUNCUT, keep an eye on www.quadcities.com.