10 Fun Things To Do Week of November 8th: Heroes, Veterans, Holiday Shopping and MORE!
QuadCities.com proudly presents Fun10, a list of the top 10 things to do in the Quad Cities this week, and every week!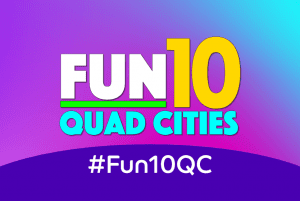 Every Sunday, we drop a new FUN10, to give you a head start on your week and a heads up on what's going on over the coming seven days. Check out FUN10 every Sunday for the details on ten awesome events happening around town. It's a cool read, and a great way to get started planning your entertainment for the week.
FUN10 — ten ways for you to have fun in the Quad-Cities, this week and every week, running every Sunday, only on your site for fun, free, local entertainment, QuadCities.com!
So what's on the FUN10 for this week? Read on …
Remembering Our Fallen
Rhythm City Casino (7077 Elmore Ave Davenport) is currently displaying the traveling memorial "Remembering Our Fallen". The display will continue through Nov 18.
Remembering Our Fallen includes our nation's military Fallen who have died post 9/11 in The War on Terror and called Iowa Home.
For more information, please visit https://www.rhythmcitycasino.com/event/2020/nov/rememberingourfallen.html.
KinderNature: Worms
Wiggly worms are everywhere!
Join the QC Botanical Center (2525 4th Ave Rock Island) for KinderNature: Worms this Tuesday Nov 10 from 10:30 – 11:30 a.m.
Understand more about these squirmy creatures and their role in composting nature. You can even hold one yourself!
Attendance is limited. KinderNature is for kids ages 3-5. RSVP required. Visit https://www.qcgardens.com/store/p135/11.10.20_KinderNature.html#/ to register today.
Hero Street: A Historical Documentary Film Series
The Moline Public Library (3210 41st Street Moline) will showcase Fourth Wall Films' two new documentaries 'Riding the Rails to Hero Street' and 'A Bridge too Far from Hero Street' during an virtual screening event on Tuesday Nov 10 from 2 -3 p.m.
Producers Kelly and Tammy Rundle will also take part in an online Q&A following the films.
Registration is required. To sign up, visit https://molinelibrary.librarymarket.com/events/riding-rails-hero-street-and-bridge-too-far-hero-street-film-virtual-screening or call (309) 524-2470.
Riding the Rails to Hero Street explores the immigrants' journey from Mexico to the Quad Cities segregated communities of Cook's Point in Davenport, Holy City in Bettendorf, and the Chicago, Rock Island and Pacific Railroad yard in Silvis, Illinois. Featured interviews include Latino Studies professor Brian Behnken of Iowa State University and Marc Wilson, the author of "Hero Street, U.S.A."
A Bridge too Far from Hero Street tells the story of Pvt. William "Willie" Sandoval who was assigned to Co. F, 504 Parachute Infantry Regiment, 82nd Airborne Division and became part of the ill-fated Operation Market Garden plan. The day after his 21st birthday, Willie was one of 20,000 paratroopers who leapt into the sky over German-occupied Holland on September 17, 1944.
Only a block and a half long, Hero Street in Silvis, Illinois lost six young men in World War II and two in the Korean War, more than any other street in America of any size. Hero Street has provided over 100 American military service members since World War II.
The Rundles' Hero Street proposed ten-part documentary series, will explore the personal and family sagas behind each of the eight heroes and tell an unforgettable true story of American courage, character, and perseverance. Letters Home to Hero Street (co-produced with WQPT) was the first film created for the series, and it received a Mid-America Emmy-nomination. "Letters Home" is available with lesson plans to teachers nation-wide via the PBS Learning Media website.
Fourth Wall Films is an award-winning and regional Emmy-nominated independent film production company formerly located in Los Angeles, and now based in Moline, Illinois.
FunBundle Friday
Enter for a chance to win a FREE FunBundle, which gives your family memberships to the Quad City Botanical Center, Niabi Zoo and the Putnam Museum!
For one day only, visit the Putnam or Quad City Botanical Center to enter for a chance to win on FunBundle Friday!
Can't make it out? You can still join the fun. When you purchase a FunBundle using the code FALLFUN on Friday you'll get 25% off your FunBundle. That's savings ON TOP of savings.
What's a FunBundle, you ask? It's your all-in-one membership to three Quad City favorites: the Botanical Center, Niabi Zoo and the Putnam Museum. It comes with tons of perks:
-One year FREE admission to all three locations.
-Access to member-only events.
-10%+ discount to gift shops, concessions, education programs, and more.
-Free and discounted admission to zoos, museums and gardens nationwide.
Learn more and see the full list of perks at https://www.funbundleqc.com/!
Holiday Collection Reveal Party
Brick and Motor Boutique (1700 2nd Ave Rock Island) is excited to show the community some of their new holiday goodies!
Stop by Brick and Motor Boutique for their storefront Holiday Collection Reveal Party this Saturday Nov 14 from 10 a.m. – 3 p.m.
Get a first look at all of their holiday arrivals, enjoy in-store and online holiday giveaways as well as a FREE holiday goodie bag with any $100+ purchase (in-store and online).
Help this small business come back stronger than every by shopping LOCAL this holiday season!
Visit https://brickandmotorboutique.com/ for more information.
Vendor Show at Mississippi Marketplace
Support your local artisan by shopping with Mississippi Marketplace!
Mississippi Marketplace (4004 W Kimberly Rd Suite B Davenport) will be hosting a Vendor Show this Saturday Nov 14 from 10 a.m. – 5 p.m. and Sunday Nov 15 from 11 a.m. – 5 p.m.
Shop for unique gifts, home décor, vintage and repurposed items with 90+ vendors. Admission is FREE!
Visit https://www.facebook.com/events/514075322569077 for more information.
Snow White 2.Zoom: The Evil Queen Returns
Davenport Junior Theatre is currently live streaming their latest masterpiece, Snow White 2.Zoom: The Evil Queen Returns in REAL TIME!
Experience this Free Mainstage Show Streaming Live this Saturday Nov 14 at 4 p.m. and Sunday Nov 15 at 1 p.m. and 4 p.m. at https://www.davenportjuniortheatre.org/, YouTube and Facebook pages.
Inspired by the winner of our Student Play Competition, Julia Reagan's The Evil Queen Returns, Snow Whit 2.Zoom is a celebration of all things Snow White. Hosted by DJT's very own Showtime Pal, the show celebrates classic Snow White scenes all tied together by the band of Dwarfs telling their side of the story.
Don't miss Davenport Junior Theatre's first ever virtual production!
Families in Nature: Terrific Turkeys
There are so many fun things to explore and discover as a family at Nahant Marsh!
Join Nahant Marsh (4220 Wapello Ave Davenport) for Families in Nature: Terrific Turkeys this Saturday Nov 14 from 10 – 11 a.m.
Learn all about the unique characteristics of wild turkeys, just in time for Turkey Day! There is no fee for accompanying adults.
Preregistration required at https://nahantmarsh.z2systems.com/np/clients/nahantmarsh/event.jsp?event=576.
Country Thyme Craft Show
Are you ready for a Country Thyme Craft Show?
Join Antique Engine & Tractor Working Farm Show (13451 Illinois Highway 92 Geneseo) for a Country Thyme Craft Show this Saturday Nov 14 and Sunday Nov 15.
This craft show will feature many local vendors and provide an opportunity for some holiday shopping!
Visit https://www.facebook.com/events/844319876309062/ for more information.
Ryan Niemiller of AGT Season 14
Ryan Niemiller of AGT Season 14 comes to the Rhythm City Casino (7077 Elmore Ave Davenport) this Sunday Nov 15 from 6:30 – 8:30 p.m.
You may know Ryan Niemiller as the disarmingly handsome comedian and 3rd place finalist from America's Got Talent Season 14. Despite being born with a disability in both arms, Ryan, the self-proclaimed "Cripple Threat of Comedy", shares his views of the world from the perspective of the handicapped (and very handsome).
Ryan began his comedy career in Los Angeles, California, and hasn't looked back since. He's a favorite performer in clubs and colleges across the country. His comedy covers topics such as dating, trying to find employment and attempting to find acceptance in a world not designed for him.
With his quick wit, good looks, great timing, and a gimmick that only he can exploit, Ryan hopes to prove to the comedy world that he may be unarmed, but he is dangerous. And handsome – in case you missed it the first three times.
Tickets are $25 advance, $30 day of show plus an online/phone ticketing fee. These fees are waived when tickets are purchased at The Market gift shop inside Rhythm City Casino Resort.
Reservations: Advance ticket purchase are always recommended as shows do sellout.
Age Restriction & Seating Policy: This show is open to those 21 years or older with a valid photo ID. Our bar opens thirty minutes prior to show time. Seating begins thirty minutes prior to all shows. Customers arriving 30 minutes after the show begins, may not be allowed in as they will disrupt the performance.
You must bring a valid photo ID to be admitted as our Rhythm Room is on the casino floor.
All seating is done on a first come, first sat basis. Everyone will have a seat, but to sit together, your entire party must arrive together. We seat from the front of the room to the back, per section. If a single guest is sat at a table for four, please be prepared to have other guests at your table.
Most tables sit 2 to 4 people. For groups of more than 4, you will be seated at adjacent tables. Large groups should arrive early to better the ability to be seated together.
Visit https://www.rhythmcitycasino.com/event/2020/jul/RyanNiemiller.html for more information.
Stay tuned to QuadCities.com, your site for fun, free, local entertainment for upcoming events in our weekly column, FUN10, every Sunday!