10 Fun Things To Do Week of August 23rd: Comedy, Concerts, Corn Dogs and MORE!
QuadCities.com proudly presents Fun10, a list of the top 10 things to do in the Quad Cities this week, and every week! Every Sunday, we'll drop a new FUN10, to give you a head start on your week and a heads up on what's going on over the coming seven days. Check out FUN10 every Sunday for the details on ten awesome events happening around town. It's a cool read, and a great way to get started planning your entertainment for the week.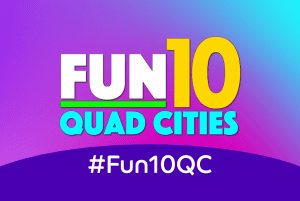 As the current health situation in our country continues to force the cancellation of so many regularly scheduled events in the Quad Cities, we are once again focusing this week's edition of Fun10QC on fun entertainment you can enjoy in the safety of your own home or while practicing safe 'social distancing,' as Iowa and Illinois begin to hold in-person events.
FUN10 — ten ways for you to have fun in the Quad-Cities, this week and every week, running every Sunday, only on your site for fun, free, local entertainment, QuadCities.com!
So what's on the FUN10 for this week? Read on …
Quad City Arts at The Airport
Quad City Arts is proud to present three gifted Midwestern artists: Ralph Scott of East Galesburg, Illinois; Andrea Van Wyk of Pella, Iowa; and Terry Rathje of Long Grove, Iowa.
Community members can view artwork from these three amazing artists at Art at the Airport, located in the Quad City International Airport Gallery (2200 69th Avenue Moline) Monday – Friday through Aug 31. Admission is free, and parking is only $1.
A little more about the artists:
Ralph Scott – Scott manipulates cell-phone images to create digital paintings, and through the use of software, the artist can achieve painterly effects or rework his compositions to place emphasis on their most important details. He also combines images, such as a tricycle with clouds, to create an otherworldly effect, with Scott's finished images consequently printed on aluminum.
Andrea Van Wyk – Andrea paints realistic magnifications of flowers and spiral staircases on large canvases, ranging in sizes 48"x 72" and 60"x 48". She collects images of what she wishes to paint while traveling throughout the U.S. and overseas, then settles into her studio to interpret her findings with oil paint.
Terry Rathje – Terry creates sculptures (among other things) by first drawing out his ideas, then making a model, then laminating large quantities of wood together, then shaping the wood using tools including grinders, saws and sometimes fire. Why go through all this effort? Rathje explains, "There are many reasons to make things, but at the heart of it is a compulsion for expression; an obsession to make things to get them out of your head and into the world, to leave yourself a milepost that marks the passage of time and an accumulation of effort."
For more information, please visit https://www.quadcityarts.com/art-at-the-airport.html.
Impact: QC Women's Fight for the Vote
The Putnam Museum's exhibition, "Liberated Voices, Changed Lives," showcases how technology provided more time for women to work on the suffrage movement which led to the ratification of the 19th amendment on August 26,1920. This amendment gave some women the right to vote in the United States.
Marking 100 years since the passage of the 19th Amendment, join the Putnam Museum and exhibit sponsor, Royal Neighbors of America for a virtual gathering of women who have changed our Quad City Community. This online program will feature five minute flash talks, each with a different topic.
The Putnam thanks one of their cultural community partners, River Music Experience for their support in providing artists for this panel.
Event Features:
– Cynthia Tidwell – President & CEO, Royal Neighbors
– Dr. Monica Smith – VP of Diversity, Equity and Inclusion, Augustana College
– Chris Cournoyer – Iowa State Senator from the 49th District
– Maggie Tinsman – Former Iowa State Senator
– Spoken Word by Kya Angelou
– Music by Charlotte Boyer (Charlotte Boyer Music)
Sign Up at: https://us02web.zoom.us/webinar/register/WN_DghIBqnPQQqMhyDb16UEwg
"The history of the past is but one long struggle upward to equality." –Elizabeth Cady Stanton
Friends of Vander Veer Summer Concert
Looking for some fun outdoor live music?
Experience the Friends of Vander Veer Summer Concert this Thursday Aug 27 from 6:30 – 8 p.m. at Vander Veer Botanical Park (215 W Central Park Ave. Davenport).
Live music will be provided by Troy Rangel and Friends. Social distancing will be followed. Bring your lawn chairs and enjoy a wonderful concert! (No concessions sold)
For more information, please visit https://www.facebook.com/events/959803601113099/.
Mattie Poole: Moline Businesswoman
Join the Butterworth Center & Deere-Wiman House for a digital presentation of 'Mattie Poole: Moline Businesswoman' this Thursday Aug 27 from 2 – 5 p.m.
Learn about entrepreneur Mattie Poole who demonstrated progressive marketing skills and considerable business acumen well ahead of her time. The Poole building she built on Moline's 5th Avenue still stands today, evidence of the achievements of a woman in what was then a man's world.
Gretchen Small, Director of Programs and Collections of Butterworth Center & Deere-Wiman House, will lead this virtual program, and will also show some of her own Mattie Poole porcelain pieces.
Register here https://molinelibrary.librarymarket.com/events/mattie-poole-moline-business-woman-virtual-program-presented-gretchen-small-butterworth.
Speakeasy Laugh Hard Comedy Show
The Speakeasy Laugh Hard Comedy Show is back on this Friday Aug 28. Doors open at 7:00 and the show starts at 8:00.
Tickets are only $3.00 for this show! Seating will be limited due to social distancing so reserve early! Because we cannot mix parties at tables only reservations for 4 or 6 people can be made. Sorry for the inconvenience.
It's time to get out of the house and have some adult beverages and laugh. We need laughter now more then ever!
This is a great stand up comedy show featuring many hilarious comedians from across the area! Reserve your tickets in advance to make sure you get in for the August show! Your show emcee will be Speakeasy favorite, Todd Willhite!
Reserve your tickets today at https://online.reserveashow.com/ShowSelect.aspx.
Fair Food Fest at Mississippi Valley Fairgrounds
Corn Dogs, Funnel Cakes and Fried Oreos? Oh my!
While the Mississippi Valley Fair was cancelled this year, that doesn't mean we can't all enjoy some delicious Fair Food! A delicious (and greasy) Fair Food Fest will be taking place at the Mississippi Valley Fairgrounds (2815 W Locust St. Davenport) this Friday Aug 28 and Saturday Aug 29.
Gates will open at 10 a.m. and food will be sold until gone. And there are no admission fees! Live music from Electric Shock and cold drinks will also be available.
Here is the current vendor and menu info:
Brother BBQ– Barbecue Pork, Ribs, Mac and Cheese, Pepsi (Saturday only)
Ganzo's– Tacos, Macho Nachos, Pepsi
Fried What– Fried everything including pickles, Twinkies, Oreos, Peaches, Tomatoes, Milky Way
McKinney Foods– Corn Dogs, Funnel Cakes, Nachos, Lemonade
Jada's Concessions– Funnel Cakes
Smoking Butt Barbecue Bacon Barn– Bacon everything.
Success on Wheels– Frozen Slushies
Jeff's Market– Rib Eye Steak Sandwiches
Roger Westmoreland Concessions– Corn Dogs, Fries, Lemonade
Corky Westmoreland Concession– French Fries, Loaded Fries, Curley Fries,
Coal Fire Pizza– Oven Baked Pizza
Bryan's Concessions– Sirloin Tip Dinners, Bourbon Chicken and Rice, Chicken Sandwiches.
State Fair Taffy– Taffy
Peking Foods– Egg Rolls, Crab Rangoon, Steak Kabob, Chicken Kabob, Sweet and Sour Chicken and Pork
For updates on Fair Food Fest, visit the Facebook event page at https://www.facebook.com/events/2612840848965880/.
Metallica: Encore Drive-In Nights Concert Experience
METALLICA FANS! GET READY!
Catch a must-see, once-in-a-lifetime, drive-in Metallica concert like you have never seen at the Blue Grass Drive-In (774 W Mayne St. Blue Grass) this Saturday Aug 29 from 8:20 – 11:20 p.m.
The band is recording a FULL-SET, featuring material spanning the band's near 40-year career and it will be edited and mixed by their award-winning production team. This show is being filmed EXCLUSIVELY for this one-night-only concert on August 29 at hundreds of drive-in and outdoor theaters across the United States and Canada. Most importantly, it will be SAFE and SOCIALLY DISTANCED.
METALLICA FANS – YOU WON'T WANT TO MISS THIS. The band's first show of 2020 will go down as one of the most UNIQUE and MEMORABLE Metallica experiences of all time. Special guest appearance by Three Days Grace.
TICKET INFORMATION:
-Tickets are $115 PER CAR. One ticket admits a carload of up to six people (that's about $19 per person in a 6-seater car)
-Get 4 FREE digital downloads of Metallica's long-awaited S&M2 album with each ticket purchase
-Purchase tickets at: https://www.universe.com/onsales/metallica/events/metallica-presented-by-encore-drive-in-nights-blue-grass-ia-tickets-6TKS9J
DON'T MISS THIS ONCE-IN-A-LIFETIME METALLICA CONCERT EXPERIENCE!
Body, Mind & Spirit Expo
Peaceful River Creations is hosting the 3rd Annual Body, Mind & Spirit Expo this Saturday Aug 29 at the Riverfront Event Center (516 S 1st St. Clinton).
Pre-registration is not required. Tickets are $10.00 in advance on Eventbrite, or at Peaceful River Creations (246 5th Avenue S. Clinton). Tickets are $15.00 at the door.
For more information, please visit https://bodymindandspirit.info/.
Vendors
This will be a place for like-minded individuals to come together in the spirit of fun, self-exploration, self-empowerment, and self-improvement. Learn from experts in the field and have some new experiences. Many will offer their services for sale the day of the event.
Education
There will be many classes throughout the day. This is included in your registration fee. New this year is that the classes will be videoed and available for sale after the event. You can order a copy of all classes for just $10 if you attend. If you are unable to attend, you can still receive a copy of all classes for only $25.
Record Store Day at Ragged Records
Ragged Records presents: A Socially Distant Record Store Day in the Courtyard this Saturday Aug 29 from 9 a.m. – 5 p.m.
Things will be done a little bit different this year by moving the sale outdoors in an attempt to keep everyone as safe as possible but as always we will be trying to get as many titles and as many copies as we can. For more information go to https://recordstoreday.com/
Starting at 9 a.m., Ragged Records will be serving a line of customers one by one in their record purchasing process to help them try to score their desired Record Store Day titles (so be prepared with your requests). This event is a mask required and socially distant event so while in line you must be wearing a mask and please respect everyone's space.
Along with the Record Store Day titles in the courtyard, the Rock Island store will also be open for business – but regulated to five customers at a time. Hand sanitizer will be on hand and it is strongly recommended to use it. It is asked that everyone be respectful of the time they spend in the shop so that everyone can get an opportunity to come in and browse.
Along with the sale, friends and neighbors next door Rozz Tox will be opening their Saturday daytime service early to provide everyone with food and beverage from 9 a.m. – 2 p.m. Check out their new walk-up window and expanded outdoor seating.
For updates on this event, please visit https://www.facebook.com/events/726022818243787/.
Ballet on the Lawn
Ballet Quad Cities presents Ballet On The Lawn this Sunday Aug 30 at 2 and 6 p.m. at the Outing Club (2109 Brady St. Davenport).
Enjoy the atmosphere of the 125-year-old, member–owned, private club for a unique and beautiful dance production by Ballet Quad Cities. Professional dancers will transform the lawn at The Outing Club into a magical setting! Find your picnic spot with friends and family and connect through the arts.
Bring your chairs and blankets – there is plenty of room to spread out on the lawn.
Purchase your tickets ahead, they won't be available at the door.
Charcuterie picnic box available to order for $20. There will be a cash only bar – no cards.
For more information, see www.balletquadcities.com.
Stay tuned to QuadCities.com, your site for fun, free, local entertainment for upcoming events in our weekly column, FUN10, every Sunday!
#Fun10QC