Iowa's Crane & Pelican Offers 'Food As A Time Machine,' Doc Says
Coincidentally I spent October 26th, dining at
The Crane & Pelican Cafe
. You're probably wondering what's so important about October 26th?
Was it the famed gun fight at the OK Corral? George Foreman winning the gold medal in Mexico City? The Village Voice publishing the first alternative news magazine, then going on to launch the careers of some of my favorite writers who would win three Pulitzer Prizes? All of these incredible historical events are worthy of celebrating at The Crane & Pelican. However, the most important date is October 26th 1985… The date that Doc Brown and Marty McFly discovered time travel in a DeLorean.
I know what you're thinking, why is Leo talking about time travel at the Crane & Pelican? Is there something Mandy and the crew aren't telling the people of the
Quad Cities
about their almost 175-year-old building?
While I'd wish I could travel back and see firsthand important moments in my life, we live in the real world. Fortunately, for us though we have The Crane & Pelican. Food is their time machine, while delicious, incredible and now quite possibly my favorite its transports me back to different moments in my life.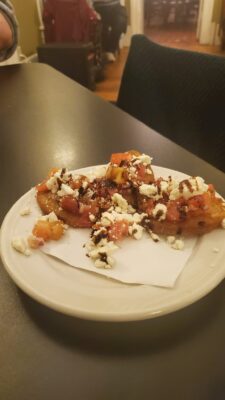 One bite in and I'm remembering the tomato sandwiches I had with my grandfather sitting on our deck watching the leaves fall. Every bite is refreshing and unbelievable. The bread is crisp yet soft in some magical way I am in love with this whole dish.
The Lobster Mac and Cheese:
I have a deep connection with a small city Cedar Keys, Florida. While that is a story all of its own, this dish stirs all the best memories of that part of my life. Fishing off the piers, getting stuck on a sandbar with our rented boat and being rescued by the Coast Guard so many hours later after hoping the high tide would free us. All while enjoying a picnic on the ocean not stressing over the dilemma, we found ourselves in. This insanely creamy dish has all the elements that you'd except to overpower your taste buds, Smoked Gouda and Cheddar Cheese, Sauteed Mushrooms, Roasted Red Bell Peppers, and Lobster. Instead, it's more of a melody sung by Etta James, because at last I've found some Mac and Cheese I'd die for.
Chef Jeana's Peach & Cream White Cake:
Like all Time Travel movies, something always happens to alter the future. While dinner at the The Crane & Pelican Cafe has certainly transported me back in time several times over the course of our meals. This singular piece of cake has given me a sign that I haven't made a mistake in my past that will destroy the fabric of our realities here in the present day. I've never had cake this good and trust me I'm a fat guy I know cake. The peaches do just what a good southern peach would do, they subtlety compliment the cake which is perfectly moist and flavorful. The cream doesn't send you into sugar shock and time stands still while you embrace every bite not wanting it to end.
What can I say? Walking in through the doors you can feel an uncanny sense of warmth and love throughout. Time doesn't obey the rules of the world here. 2 hours seemed to last forever in a good way. I can't wait for my next visit, the best part of all of this? I spent it with my wife. We laughed, we ate, we enjoyed every minute of our time. Autumn our guide through all of this was amazing, our Chef perfect. If you're waiting for me to give this a 10/10 its not coming. Numbers just can't score an experience like this.
So, if you find yourself lost in time or looking for something magical that can only be found in LeClaire look for a Crane and a Pelican that overlook the Mississippi.