Viva Las Divas Drag Show Returns To Illinois' Speakeasy TONIGHT!
Drag shows are hardly a drag. If you've ever been to one, you know that they're all over-the-top flamboyance, attitude and above all, raucous fun.
That's certainly the case with Viva Las Divas.
The regular drag show at the Circa Speakeasy, 1818 3rd St., Rock Island, returns with a gig TONIGHT, doors open at 7, you get your tickets at the door or by calling 786-7733, ext. 2, and if you're looking for a colorful, sassy, bawdy, funny evening out, I suggest you check it out.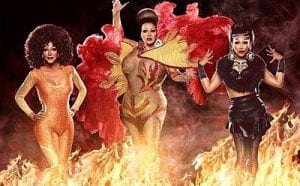 I went to the last Viva show, and have been to a few drag shows before. I have a couple of friends who do drag, and one thing they all have in common is big personalities and a desire to entertain. That's definitely the case with Viva. The performers do a great job in becoming the personas they're projecting on stage, with elaborate costumes, big stage moves and plenty of audience interaction.
The audience eats it up.
And it's a nicely diverse audience as well. You've got people of all ages, races, genders and sexual orientations, from twentysomethings out for a fun night to people attending birthday and bachelorette parties to older fans just looking to kick back and enjoy an over-the-top spectacle.
And that's what you'll get with Viva. Give it a try, you'll walk away with a smile.