There's Lots Of Fun To Be Had In Illinois And Iowa In Our New FUN10!
Looking for fun in Illinois and Iowa this week?
It's Sunday, and QuadCities.com proudly presents Fun10, a list of the top 10 things to do in the Quad Cities this week, and every week!
Every Sunday, we drop a new Fun10, to give you a head start on your week and a heads up on what's going on over the coming seven days. Check out Fun10 every Sunday for the details on ten awesome events happening around town. It's a cool read, and a great way to get started planning your entertainment for the week.
Fun10 — ten ways for you to have fun in the Quad-Cities, this week and every week, running every Sunday, only on your site for fun, free, local entertainment, QuadCities.com!
So what's on the Fun10 for this week? Read on…
Low Cut Connie Coming To Raccoon
Low Cut Connie is coming to Davenport's Raccoon Motel at 10 p.m. Aug. 3!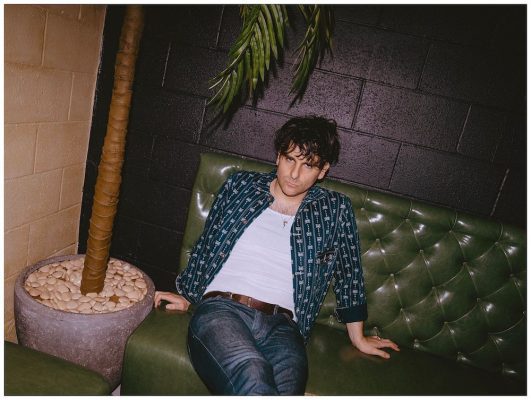 Their latest studio album 
Private Lives
(2020) was praised by 
Rolling Stone
, 
NPR Music
, 
WNYC's All of It
, 
InsideHook
, 
Paste Mag
, 
Magnet Magazine
, and many more including SPIN Magazine who included LCC in their 
50 Best Rock Bands Right Now
saying 
Private Lives
 is "o
n track to be the roots-rock album of the year." 
NPR's Fresh Air
 said, "Like Bruce Springsteen after he discovered literature, Weiner started bending classic rock to meet his ever more complex emotionalism. The result is that this new 17 track collection 
Private Lives
 is Adam Weiner's version of 
Born to Run
, filled with songs about losers and lovers and beautiful dreamers."
Tickets are available at the Raccoon Motel, and
here.
Celebrate The Art Of Pilsner Beers
When you have 5 different style Pilsners on draft at one time in Geneva, Illinois, you celebrate!
Celebrate the Art of Pilsner July 31!
Enjoy the following:
-$5 Pilsner Pours
-Keep the Glass Specials
-Pilsner Flights
-Live Music
-Food Trucks
-Free
-Family & Pup Friendly
-Did we mention Pilsners??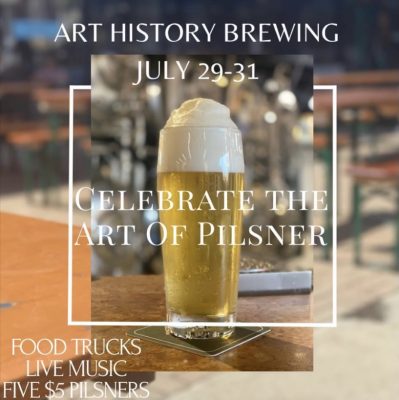 Learn more here: https://m.facebook.com/arthistorybrewing/
Bix Film Screening Today At Putnam
Bix Museum, Bix Society and Truth First Film Alliance present BIX: "ain't none of them play like him today from 1 to 3:30 p.m . at Davenport's Figge Museum, 225 W. 2nd St.
Tickets: $5. Tickets will be available at the doors the day of the screening. Members of the Bix Museum or Bix Society can get a free ticket at the doors the day of.
Location: 225 W 2nd St, Davenport, IA 52801 at the
Figge Art Museum
John Deere Auditorium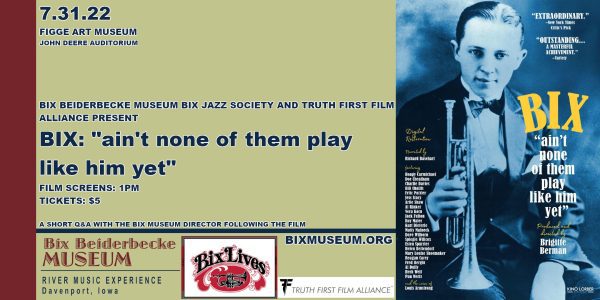 Join the Bix Beiderbecke Museum, Bix Jazz Society, and Truth First Film Alliance in watching for the first time in the
Quad Cities
since it's original release in 1981 BIX: "ain't none of them play like him yet" now recently restored.
Cornetist / pianist / composer Leon "Bix" Beiderbecke (1903-1931) was jazz's man who got away – the James Dean, Jim Morrison and Kurt Cobain of his day. Born in Davenport, Iowa into an upper middle-class family, Beiderbecke became a legend even in his short lifetime, bringing an amazing new energy and unprecedented maturity to the music and influencing generations of musicians. After years of battling alcoholism, Bix died in Sunnyside, Queens on August 6, 1931. The cause of death was given as lobar pneumonia. He was 28.
Using archival photographs and rare footage (including the three sole momentary fragments capturing Bix on film) and interviews with friends and colleagues (including jazz greats Hoagy Carmichael, Doc Cheatham, Artie Shaw, et al.), Oscar® winner Brigitte Berman's acclaimed documentary paints a vivid portrait of a vanished era and brings to life the only trumpeter Louis Armstrong regarded as an equal (the quotation in the film's title was once spoken by Armstrong).
Restored in 4K in 2020 by filmmaker Brigitte Berman.
"The best film ever made about a jazz musician."
– Bruce Goldstein, Director of Repertory Programming, Film Forum
*Ticket Disclaimer*
Tickets for this event are sold via Eventbrite and carry applicable transaction fees. Tickets can be purchased the day of event online and at the door (subject to availability). Ticket fees also still apply for admission at the door.
*Refund Policy*
Purchased tickets are nonrefundable, except in cases of rescheduled or cancelled shows.
*Further Questions?*
Please email contactbixmuseum@gmail.com
*More information about event Sponsors*
Circa '21 Opening 'A Disaster' This Weekend
Earthquakes, tidal waves, infernos and the unforgettable songs of the '70s take center stage in Broadway's side-splitting homage to classic disaster films in "Disaster!" opening next weekend at Circa '21 Dinner Playhouse in Rock Island!
​It's 1979, and New York's hottest A-listers are lining up for the opening of a floating casino and discotheque. Also attending is a faded disco star, a sexy nightclub singer with her eleven-year-old twins, a disaster expert, a feminist reporter, an older couple with a secret, a pair of young guys who are looking for ladies, an untrustworthy businessman and a nun with a gambling addiction. What begins as a night of boogie fever quickly changes to panic as the ship succumbs to multiple disasters. As the night turns into day, everyone struggles to survive … or at least escape the killer rats.
​Audiences and critics are wild for this hilarious homage to the era of bell-bottoms, platform shoes and the hustle. With larger-than-life characters, snappy dialogue and some of the most recognizable songs of the '70s — such as as "Hooked on a Feeling," "Hot Stuff," and "I Will Survive" — "Disaster!" will leave you dancing in your seat and rolling in the aisles.
The show runs through September 10! For details and tickets visit Circa.21.com!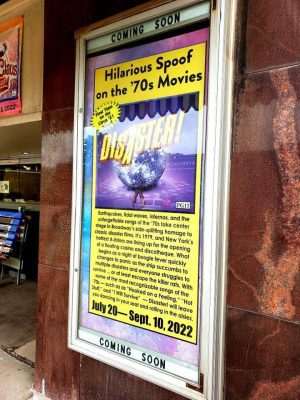 Looking For A Great Reading Program For Your Kids?
The Davenport Public Library's annual Summer Reading Program kicks off on June 1st and runs through August 31st.
Join the Davenport Public Library for our 2022 Summer Reading Challenge for all ages! Add some adventure to your summer with the Library's Summer Reading Program: Read Beyond the Beaten Path! Children are invited to be explore nature, get creative, try new things, and find beauty in diversity with the Library this summer.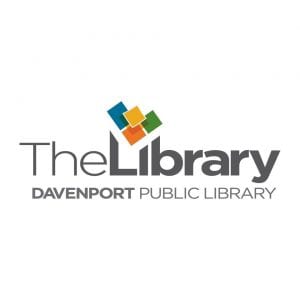 Participating couldn't be easier. Read books, attend a virtual or in-person program, or complete any of the fun activities from the reading log. Each thing you do earns a ticket into the grand-prize drawing(s) of your choice. Do a little or do it all! The way you Read Beyond the Beaten Path this summer is totally up to you!
To register, visit davenportlibrary.beanstack.com.
Make Mercado A Regular Friday Stop All Summer
Moline's Mercado On Fifth is back!
Bringing Back Mexican Cuisine, Culture And More Fridays through Sept. 10 from 5 to 10 p.m. at 432 12th Street in Moline, everyone can get the weekend started right with Mercado! There will be a variety of children's activities, delicious Mexican cuisine, and unique retail stands selling everything from jewelry to hand-sewn blouses and imported ceramics.
Mercado on Fifth is not just a market; it serves as a resource and catalyst for aspiring entrepreneurs. The weekly events bring Quad Citizens together to celebrate culture and community in an inclusive way. Educational programming at Mercado provides enrichment hours for children, and free nonprofit booth space gets helpful information to adults.
By addressing the specific needs of small businesses in the area, Mercado on Fifth and its partners have helped create and/or provide a platform for 30 new minority-owned businesses in the Quad Cities region. Most vendors have taken advantage of our free small business workshops (in Spanish and English) in partnership with the Illinois Small Business Development Center at Western Illinois University (SBDC). Through the management of the SBDC, we also started a micro-grant program for minority entrepreneurs to purchase equipment for their businesses. Over the past two years, Mercado founder Bob Ontiveros has given away over $62,000 to over 40 minority-owned businesses to purchase anything from food warmers to an industrial sewing machine.
Black Hawk College, another valued partner, also began offering the Food Sanitation Management class in Spanish at the request of Mercado leadership. Previously, Spanish speakers interested in becoming a kitchen manager or starting a food business had to drive to Chicago to take the class. Finally, Mercado on Fifth supported the creation of a commercial kitchen located within St. John's Lutheran Church just blocks away from the Moline event space, thus completing the entrepreneurial eco-system. Mercado vendors and other small businesses now rent the kitchen for a small hourly fee.
Go ahead and block out your Fridays because Mercado On Fifth is where you are going to want to be this summer.
Bettendorf Outdoor Concert Series Offers Great Tunes
The Bettendorf Public Library's wildly popular Summer Concert Series is back from its hiatus and is returning to Faye's Field on Thursday nights at 6:30 PM.
Faye's Field is located just south of the Library on 18th St in Bettendorf.
These free concerts will take place every Thursday from June 2nd through August 11th and will be held come rain, shine or oppressive heat.
In case of inclement weather, the backup location will be inside the Library at 2950 Learning Campus Dr. in the Bettendorf Room.
Attendees are encouraged to bring lawn chairs or blankets and are welcome to bring food and drinks to enjoy during the event.
The Summer Concert Series is funded by the Bettendorf Public Library Foundation.
This year's concert line-up includes:
July 28: Class of '82
August 4: David G. Smith
August 11: Soul Storm
ABOUT the Bettendorf Public Library Information Center: Located at 2950 Learning Campus Drive, Bettendorf, Iowa 52722, the Library's mission is "Committed to providing access to information and ideas for all." For more information, visit www.bettendorflibrary.com or call 563-344-4175.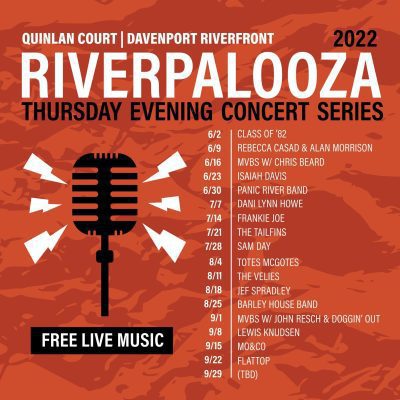 Check Out The Quad-Cities Latest Outdoor Music Venue
Free music from local artists will rock Davenport's newest riverfront venue, Quinlan Court every Thursday!
Front Street Brewery and local food trucks will be onsite for food and beverage purchases.
Food trucks and beverages at 6:00 p.m. with music starting at 7:00 p.m.
Learn more here: davenportiowa.com/riverfront
Featured artists upcoming include: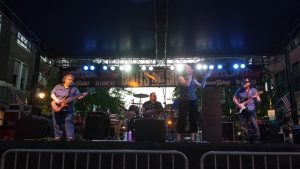 August 4 | Totes McGotes
August 11 | The Velies
August 18 | Jef Spradley
August 25 | Barley House Band
September 1 | MVBS w/John Resch & Doggin' Out
September 8 | Lewis Knudsen
September 15 | Mo&Co
September 22 | FlatTop
September 29 | TBD
River Music Experience's Live At 5 Rolls Out All Summer
It's that time of year, the 2022 season of Live@Five is taking place in Davenport's RME Courtyard Fridays at 5pm for FREE live music.
8/5 – Matt Fuller Band
sponsored by QC Foot & Ankle Associates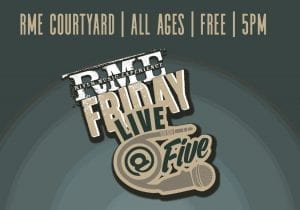 8/12 – Funk Sauce Brass Band
sponsored by Downtown Davenport Partnership
8/19 – Diplomats of Solid Sound
sponsored by The Echo
8/26 – Beaker Brothers
sponsored by Nelson Brothers Agency & West Bend Mutual
9/2 – Crooked Cactus
sponsored by Pierce's Promise
9/9 – Blues Rock-It
sponsored by Lobo's Salsa
9/16 – Flash In A Pan
sponsored by Wind Dancer Boutique
9/23 – Jordan Danielsen Band
sponsored by The Planning Center
9/30 – Orangadang
sponsored by Zeke's Island Cafe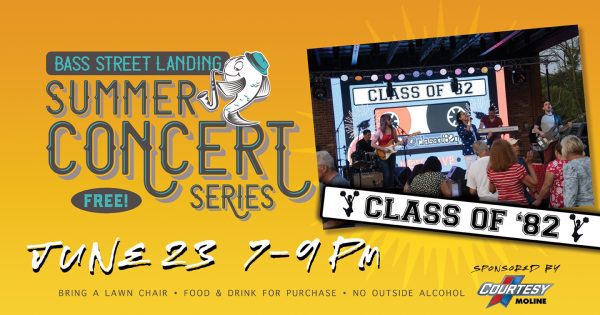 Check Out The Summer Outdoor Concerts At Bass St Landing
With summer comes the sound of live outdoor music in our downtowns!
Enjoy this free summer concert series every Thursday night through August 11th in Downtown Moline!
Moline Centre's Thursday Night Summer Concert Series takes place from 7:00 p.m. to 9:00 p.m. on the Plaza at Bass Street Landing.
All you need to bring is a lawn chair!
There will be food and beverages are available for purchase but no outside food or beverages allowed.