QuadCities.com Top Stories Of 2020: Part Three. April. Finding 'A New Normal'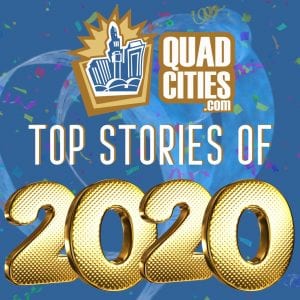 Welcome back to our look back at the strange and apocalyptic journey that was the arts and entertainment scene of 2020. It was a year unlike any other, that's for sure, and we at QuadCities.com are recapping it this year in a series of stories through Dec. 31, and then we're going to have the entire series of stories sent to a licensed shaman, a priest, an exorcist, and Oprah, in the hope that they'll bless the coming 2021 and put this year behind us.
If you want to check out our recap of January and February (the "normal" months), click here; if you want to read about March (when everything went completely upside down), dive in here.
Now we get into April, which, like March, deserves a spotlight of its own. After the chaos of March, people started to settle down a little bit and get used to the new normal in April. "Tiger King" and other Netflix shows became a talking point as people sequestered inside against covid and cold weather. Carry-out and delivery at restaurants was booming. Performers began to take their shows online for digital performances, and QuadCities.com began to host both digital performances by local musicians, and new digital shows by area talents like Tristan Tapscott and Andrew King.
And there was so much more, so let's get started on…
April
April began as March ended, with a ton of stories about things being canceled. Again, for most of the month, the stories were a never-ending array of announcements of things being postponed, put off, optimistically delayed and just out and out canceled.
Rock Island's Rozz Tox celebrated its ninth birthday.
QC Hive debuted, offering some glimmer of hope for the local arts scene.
Fran Riley, one of the most beloved members of the local media and a longtime favorite at KWQC-TV6, passed away after a battle with prostate cancer.
Riley had been retired from the local NBC affiliate since November, after a  25-year stint there, capping a 46-year career in broadcasting.
Riley was especially admired and loved for his Fran Riley Features, which told stories about interesting area people and places in his singularly beguiling way.
He was also a bright and sunny presence around the newsroom, always quick with a smile and hello and a kind word.
Quad Citizens raised $102,376 on Monday, April 6, during the 24-hour "United Quad Cities for COVID-19 Recovery" giving event spearheaded by KWQC TV6, United Way of the Quad Cities, and the Quad Cities Community Foundation. All contributions supported the Quad Cities Disaster Recovery Fund at the Quad Cities Community Foundation. Every single dollar donated during the event was matched dollar-for-dollar thanks to a challenge from First Midwest Bank, Sears Seating, Modern Woodmen of America, MidAmerican Energy, and Mike and Monique Gorsline.
In one of the most incendiary, perverse, and controversial masterpieces of performance art over at least the past eight days on the Quad-Cities social isolation scene, Khalil Hacker, a.k.a. Khalil Antonio, a.k.a. "you know, Khalil, from Circa," ate donuts live on Facebook.
Local author Jason Tanamor released his first children's book. Tanamor has written about sexual identity, prison relations and political humor, so it makes perfect sense that his latest book is for children. Tanamor's new and interesting path involves a new stalwart, Superhero Kid, who dons a cape, grabs a teddy bear and flies out into the city with his bedhead to find new adventures in his new novel, "I Heart Superhero Kid."
Quad-Cities museums began to go virtual, as everyone from the Figge to the Putnam began embracing more virtual programs.
Likewise, local theaters like the Spotlight, Circa '21, and more started staging online events and cabarets.
Local 'Lamp Enthusiast' Alan Vrombaut paved the way for the Quad Cities (and beyond) to step into the light, with the creation of Facebook group Lamp Enthusiasts. And while this endeavor was originally created for 'light'-hearted fun, it has beautifully blossomed into a source of positive entertainment to a growing number of followers every day.
MONSTER COOKIE won for the new Whitey's Ice Cream flavor for the year. Tremble before its magnificence, puny humans.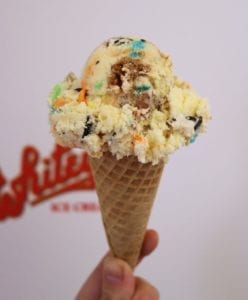 The Quad-Cities schools on both sides of the river just gave up and decided to cancel classes through the end of the year. Youth sports were likewise canceled through the end of the spring season.
Ballet Quad Cities, Genesius Guild, and several others canceled their seasons, and for the first time in 72 years, Quad City Music Guild canceled their year.
Local authors were in the spotlight, as people settled in to do some reading during the quarantine.
Four years ago this month, Lindsay Thul was diagnosed with a rare and aggressive type of breast cancer, at age 28. Less than 10 months later, she was dead. Lindsay's mother, Diane Koster – owner of the Grape Life Wine Store & Lounge, 3402 Elmore Ave., Davenport – honored her life and aimed to educate others in a new book, "Lindsay's Legacy: A Mother's Memories." "It's a story of hope and it's a story of courage,"
Koster said at the time of the book's release in April.
Local author Connie Corcoran Wilson is being honored among some pretty elite company. The area scribe's novel Khaki=Killer, third book in The Color of Evil trilogy, was named one of the 100 Best Indie Novels in a competition sponsored by "Shelf Unbound" magazine that drew more than 120,000 entries. All three books in the series can be purchased from Amazon in both paperback and e-book versions. The books are currently being considered for feature films.
Jason Platt was back, with a brand new book for tweens, Middle School Misadventures: Operation Hat Heist! The book is the second on Little, Brown for Platt's Middle School Misadventures series, and is available in online bookstores worldwide. The book follows a boy, Newell, on the cusp between tween and teen years, navigating his way through the strange and funny misadventures of junior high. It's an evolution of Platt's popular long-running comic strip Mister and Me.
On the awards side of things, Boetje's really knows how to cut the mustard. The world-reknowned Rock Island mustard company once more won the gold medal in the 2020 World Wide Mustard Competition. Boetje's announced the honor on their blog: "We are very excited to announce that Boetje's Mustard has
once again received a gold medal in the annual World Wide Mustard Competition! This year we entered and won gold in the Deli/Brown
category." Congratulations! Now how about some free samples?
There WAS some other good news during April, and some of it came in the form of people stepping up to help others.
Rock Island Milan School District 41 did an awesome job in helping to feed kids in need during the covid break — feeding both their minds and bodies. The district announced today that since March 23 they have served more than 13,000 meal kits to our students. That equates to more than 39,000 individual meals (based on the three-day meal packages in the kits).
The Quad-Cities Disaster Recovery Fund also surpassed $1 million in contributions to support the community's response to the COVID-19 pandemic. The fund was activated by the Quad Cities Community Foundation six weeks ago with lead contributions from the Community Foundation, United Way of the Quad Cities, and Regional Development Authority.
So, there was some hope to be had as we moved into April. That began to get a little greater in our next chapter, tomorrow morning, as we move into May and June, which started off climbing slightly upward and then erupted into more chaos again as the shutdowns were extended, social unrest and protests fired up, and the Quad-Cities reflected those larger trends. Tune in tomorrow for more…