Quad City Music Guild Board Members Look at New Ways for Show to Go On
Saturday In The Arts is a comprehensive weekly feature looking at a trend, personality, or major subject involving the Quad-Cities arts and entertainment scene.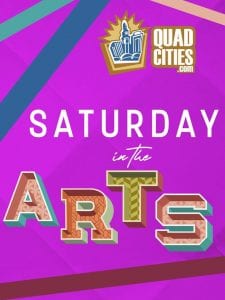 Many Quad City Music Guild (QCMG) board members haven't acted on stage in more than a year, but they have been acting in the best interests of the community as they navigate the scary plot twists of a treacherous Covid landscape.
Due to ongoing Covid safety protocols and continuing limitations on audience size, the QCMG board announced last month it would cancel the rescheduled April 2021 show. "The Secret Garden" was two weeks away from a March 27, 2020 opening when the board first chose to cancel last March, and later
shelved its entire 2020 season for the first time since it has performed in Moline's Prospect Park in 1949.
Instead, the nonprofit is replacing "The Secret Garden" with a streamed performance, "On With the Show: A QCMG Cabaret" – to be shown during the original "Secret Garden" dates, April 9-11 and April 16-18. Filmed from the Guild stage, the online production will feature the talents of some "Secret Garden" cast members, among other Guilders.
The plan is for the show to include 10 vocal selections (filmed separately) highlighting QCMG's history — interspersed with photos and stories from QCMG past and present, new board president Jennifer Sondgeroth said.
"It's our job right now to prioritize the safety of our whole community over what we as an organization would love to do, which is to go back to producing awesome musicals," she said last month, noting the board "has been committed from the very beginning of the pandemic to following the guidance of public health officials and government regulations."
"We would never want to do anything that made the jobs of healthcare workers harder or put our performers, patrons, or volunteers at risk," Sondgeroth said. "Gathering a large cast together along with a crew and a pit and all of the volunteers needed to put on a show just isn't safe.
"These decisions aren't easy. No one sits on the board of QCMG to cancel shows," she said. "They do it because they love what QCMG brings
to our community. But right now, the best thing we can do for our community is wait. And while I'm sad this is the decision we had to make, I'm really, really proud of our board for making it."
"As a board, we have to weigh the cost of the production with the ability to sell tickets to the production. And again, even more importantly, we have to consider the safety of the participants," she said of a spring 2021 musical. "Our board did not see things changing to the point that QCMG would be able to produce the show safely."
Sondgeroth (the former board vice president, who became president last month) loves the community nonprofit, which is entirely run and performed by volunteers. A speech therapist for the Moline School District, her first Guild show was "Jekyll and Hyde" in 2004.
When she and her husband Nathan moved to the Quad-Cities, they didn't know anyone, so Sondgeroth tried out for Music Guild to meet some people in the area and get back to performing as she had done in school.
"My favorite volunteer memories are working in the box office," she said recently. "I've been doing that for a long time, and have lots of great memories with the other box office workers. I've also loved all of my experiences on directing staffs and stage crews — I would encourage everyone who has been onstage to work a crew.
"It's really fun, usually very funny, and it gives you a real appreciation of all the work going on offstage to put on a show," Sondgeroth said. "Of course, I have a lot of really special on stage/cast memories as well."
She had fun with the casts of "Thoroughly Modern Millie" and "Oklahoma!" and loved getting to dance in a hoop skirt in "The King and I" (in the lead role of Anna) and sing with her sister in "White Christmas" – "both were dreams come true," Sondgeroth said.
Her most favorite role was the iconic sweetheart Mary Bailey in "It's a Wonderful Life," which she got to play twice – in 2006 and 2012.
"That is my very favorite Christmas movie, and I had the opportunity to play that part twice at QCMG. Mary is the unsung hero — in the end, she saves the day," Sondgeroth said. "It was really special and unique to get to connect with that same character at two really different points in my own life. That story I think, is so meaningful to so many people.  I just love it. And, both times the people I was with on stage and the people on staff and on our crews were just awesome."
Her favorite show that she watched at Guild was "You're a Good Man Charlie Brown." "I saw it with my husband right after we had our son, and it was so upbeat, funny, and touching," Sondgeroth said. They also have a daughter.
The last QCMG show Jen was in before the pandemic was August 2019's "Sister Act," and wasn't scheduled to be on stage last year, but was/is the producer for "Monty Python's Spamalot," which was rescheduled for this June. Decisions about the 2021 summer season will be made by the board at a later date.
"Many of my very close friends have been made through QCMG, and that's where we see each other. I miss being with them, collaborating with them, and seeing them do what they love," Sondgeroth said.
Even though the auditorium at Prospect Park has been closed to the public since December 2019, QCMG volunteers haven't been idle.
"There's still been quite a lot to do even though the stage has been dark," said Sondgeroth, who was the former board vice president. "I'm the chair for our website, a co-chair on our fundraising committee, and a co-chair for our pandemic response committee.
"None of that work has stopped, obviously," she said, noting the current board took effect in January and they meet virtually each month. "There's really something every day, especially as we examine our options in 2021. Fortunately, Sheri and I have a great team of board
members and volunteers right alongside us."
Music Guild veteran Sheri Olson is vice president, and they are recording a duet for the April cabaret, "Sisters" from "White Christmas."
"The performing arts enrich a community in a way like nothing else," Sondgeroth said. "Theatre can be a simple escape or a place to learn something new. I love all theatre, but musical theatre is just special.  Songs can tell a story or convey what a character is feeling or the point of a scene in such a unique way — whether it's through a gorgeous ballad or a high energy company number.
"I think it's especially meaningful in a community theatre setting — when patrons come to see art produced by their friends and neighbors," she said. "There is a real sense of local pride for Music Guild in the Quad-Cities, which is very special to get to be a part of."
Olson and other current board members also recently shared the joys and challenges of being part of Music Guild now, and through their Q-C theater career.
Sheri Olson

 Like Sondgeroth, Olson enjoys performing with the Quad City Singers – which includes many QCMG veterans. She has a longer history with Music Guild.
Olson works at Ascentra Credit Union in Bettendorf and lives in Davenport with her husband, Andy and daughter Evelyn, and said she's been part of QCMG for as long as she can remember.
"I started coming out with my Mom, Corinne Brown, and just hung out with my sister as Mom worked backstage on various productions," Olson recalled in an e-mail. "I auditioned for 'Annie' in 1985 but was not cast ( I was a very shy child). The first show I worked backstage for was 'Bye Bye Birdie' in 1987 and continued to work backstage at least once a summer until I was cast in 'Meet Me in St Louis' in 1994."
She has so many fantastic memories from spending time at the theater, it's hard to pinpoint one. "To me, Music Guild is family, friendship, camaraderie, and a vacation from everyday life every time I step into the theater," Olson said.
"One special highlight for me was in my first show, 'Meet Me in St Louis,' where I was able to perform onstage with my grandfather," she said. "I was lucky enough to be in two more shows with him. Those memories are irreplaceable."
Olson has been on stage in over 30 QCMG shows, and some of her most cherished roles are Mrs. Banks in "Mary Poppins," Fairy Godmother in "Cinderella," Eva Peron in "Evita," Lucy in "Jekyll and Hyde" and Mary Magdalene in "Jesus Christ Superstar."
Most recently, she was seen in Guild's 2018's production of "Shrek" as Mama Ogre/Mama Bear, and Olson worked backstage for 2019's "Sister Act."
She was scheduled to be in the ensemble for "Mamma Mia!" (last summer), which has been pushed back to this July. What she misses most
about theater in the past year and a half is "spending time face to face with so many amazing people doing what we love," Olson said. She also volunteers monthly at the QCMG Costume Shoppe.
She had served on the board from 2002-2007 and was honored to be asked to run for the board again, rejoining at the beginning of 2020.
"With Jennifer Sondgeroth as president and myself as vice president, it is an honor to be part of the 1st team of women to be in these leadership roles in the 73 years of Quad City Music Guild," Olson said.
Sean McGinn

Sean – a new board member whose father is Guild veteran Mark McGinn – is among many QCMG stalwarts whose families have been involved for generations. His grandfather Jack started with Guild within two years of its 1949 premiere, and was in dozens of shows.
The sole show of Music Guild's first season was Victor Herbert's "Sweethearts," which debuted June 22, 1949, at a ticket price of $1.50. With its benches, the Guild began with a capacity of 1,079 in the uncovered, un-air-conditioned building.
In 2000, QCMG completed a $1.4-million renovation of the theater, which today has 535 seats. The project included a new 4,800-square-foot lobby; new restrooms; handicapped accessible parking; a new roof, ticket office, concessions area, air conditioning and heating, and reupholstered/restored seating.
Sean, 39, said he's been involved with QCMG since birth – because his father Mark and his wife Connie met at Music Guild. Mark's first show was playing clarinet for 1972's "Fiddler on the Roof," and Sean has played drums in several pit orchestras.
"The first show I remember working on was 'Sweeney Todd' in 1988. I helped my aunt make meat pie props," Sean said recently. "I have too many great memories to name them all. Any time I get to work on a production with my friends and family is great. Seeing my son Aidan, 11, growing up at Guild and starting to be a real help to the organization is awesome."
The first orchestra Sean played in was for "Man of La Mancha" in 1994, where Mark McGinn was the lead. Sean sound designed "Damn Yankees" in 2004, with his brother Dan as the lead. "Will Rogers Follies" in 1996 will "always stand out as one of my favorite shows," Sean said, since he played in the orchestra and his father played the title role.
"It was a great cast and staff to be a part of, and a great show," he recalled.
Sean has participated in more than 30 shows at Music Guild. He most recently was the sound designer for "The Best Christmas Pageant Ever" (December 2019) and set designer for "Mame" (2018).
He has volunteered in a multitude of capacities including (but not limited to) working set crew, playing in orchestras, designing sound, designing and building sets, and assistant directing.
Sean was scheduled last summer to sound design "Mamma Mia!" and will provide that role for the new spring cabaret. "It will be great to be back in the theater working on music again," he said.
In 2019, he received the prestigious "Sam" award from QCMG — named for the late Shirley "Sam" Rowland, who was active in many areas of Guild, including that of director, set designer and performer.
Award winners are elected to QCMG's Hall of Fame, based on their multiple years of service spent working on various administrative and performing aspects of the non-profit community arts organization.
Mark McGinn, his wife, his sister and her daughter, and Mark's parents all have been recipients of "Sam" awards.
Sean said in the past 14 months, he has missed being with friends and family and creating with them. "Quad City Music Guild and all of the other community theaters are a great place for locals to show off their talents and a great affordable source of entertainment for our community," he said.
He works as director of technology and drumline instructor for Bettendorf Community School District. He lives in Bettendorf with his wife, Sunne, and son Aidan, both active Guilders.
Hillary Erb

Erb, 30, is also a member of an extremely active Guild family that goes back decades.
A general music teacher at Wilson Middle School in Moline, she is a daughter of Guild veterans Kevin and Valeree Pieper; a frequent actress, QCMG marketing chair and was recently appointed as a board member.
Erb's paternal grandfather Bruce first auditioned for Guild in 1954, for the chorus of "No, No, Nanette," and wound up with a lead. From then until 1998, he played 24 leading roles in the park, including Harold Hill in "The Music Man" in 1963 and 1976, the iconic part Kevin stepped into for the '98 production.
In July 2019, for the first time in 22 years, Kevin, Valeree and their daughters, Heather and Hillary, were on stage together for Guild's new production of the Broadway favorite, "42nd Street." The quartet last trod the boards together in a Guild show in 1997's "Crazy for You," when Hillary was 6 and Heather was 10.
"Crazy for You" was Erb's first show, and she said since each show is special, it's hard to choose a favorite.
"My favorite memories are always getting to meet new people and forming a family every time I am involved in a show," she said recently. "Being able to watch each performance, seeing friends on stage, seeing new talent on stage, and experiencing the entire cast/pit/crew's vision come to life, is extraordinary and my favorite highlight."
Among Erb's recent standout roles on stage were Bebe in 2018's "A Chorus Line," the lead Ariel in 2017's "The Little Mermaid" and Eve in 2016's "Children of Eden."
The last pre-pandemic show she did was "42nd Street," and she also started work choreographing "Matilda The Musical," which was to be the August 2020 show, postponed to this August. Her sister, Heather Beck, is to direct that one. Erb has choreographed three prior shows at QCMG, and was featured on stage in the dance-heavy "Billy Elliot" (as Mrs.
Wilkinson) at Moline's Spotlight Theatre.
In lieu of live theater, Erb has been busy the past year with her Drama Club at Wilson School, with whom she's met virtually to play theater games, interview area actors/theaters, and work on their theater skills.
"Instead of focusing on what I miss, I have been fortunate enough to use this time to continue teaching my students about theater history and cultivating the love for the arts in the next generation," she said.
"What I hope for in 2021, whatever happens, is that we continue to look forward and support all arts entertainment in the area," Erb said. "What I love most about theater is how it is a constant for me. If I'm feeling sad, happy, upset, I can always count on a great show to lift my spirits. Whether I see it in person, watch it on a streaming service – like 'Hamilton' or 'Newsies' — or just listening to the cast recording, theater is a place for me to feel most myself and where others can be accepted for who they are. It's such a beautiful art form and I personally believe nothing compares to it."
She wanted to serve on the board (in which was Kevin was very active for years) because: "I love QCMG so much, it's my second home. The biggest reason I wanted to serve on the board was so I can continue to serve my community through theater and help to continue supporting the arts for future generations," Erb said.
"My main goal as a board member is to work together as an arts community to provide as many opportunities for anyone who is interested in
learning about theater." She lives in Moline with her husband, John.
Katherine Zerull 

Another Q-C performer who hasn't done any theater for a long time is Katherine Zerull, whose last pre-pandemic musical was "Little Women" at Moline's Black Box Theatre in June 2019, when she played Marmee.
Her first production was in Moline High School's "Joseph and the Amazing Technicolor Dreamcoat" when she was in 5th grade. Zerull has been involved in several productions throughout the area including "Fiddler on the Roof," "The Wizard of Oz," "The Music Man," and "Crazy for You" at Countryside Community Theatre; "Hard to Believe" (as Sitis) at Playcrafters, as well as QCMG's "Mame," "Working," "The Sound of Music" as part of the pit orchestra; "Damn Yankees" as part of the stage crew; on stage for "Beauty and the Beast," "The Music Man," and "Children of Eden"; "West Side Story" as part of the stage crew, and "Shrek" as a shadow to the directing staff.
A mental health therapist at The Robert Young Center for Community Mental Health, Zerull's first Music Guild experience was as a member of the Youth Chorus (directed by Martha Taylor) when she was in elementary school.
"Martha always suggested I audition for QCMG shows and I was lucky enough to be cast as an ensemble member in 'Mame' in 2002," Zerull said. "My favorite memories working with QCMG always include the friends I've gained from my experiences. There are so many hilarious stories and so many people with a passion for creativity.
"I love to watch my friends in their elements. There's nothing better than watching your friends' hard work pay off in their performances, costumes, pit orchestra, stage crew, lighting, sound, etc.," she said.
One of Zerull's indelible memories at QCMG was embodying Mamma Noah in the biblical Stephen Schwartz musical, "Children of Eden," in August 2016. She noted an inspirational song she did with the entire chorus.
"It was a song called 'Ain't it Good?' — celebrating having seen the sun after all the flood rains. It's always a good reminder that there will be good again even when times are harder than you ever thought possible," Zerull said. "There will be good again. Another one of my favorite experiences was watching the 2016 production of 'Into the Woods,' directed by Colleen Houlihan. It was a moving theatrical experience in more ways than I could describe. I went so many times to see it again and again."
She was not scheduled to be in any 2020 Guild production, and said she misses everything about local theater. "Mostly, I miss being with passionate people and creating," Zerull said, noting she's looking forward to the new adventure of serving on the Guild board.
"QCMG has a long history of excellence in theatre and I have grown up being a part of this community," she said. "I look forward to being a part of its story now in a new way. As an organization, we are pursuing funding regarding organizational diversity and I look forward to being an ally and an agent for change in this area.
"One thing that is surely of note is that we have two women in the leadership positions of president (Jennifer Sondgeroth) and vice president
(Sheri Olson) for the first time in 73 years," Zerull wrote by e-mail. "I look forward to working with them and the rest of the board."
"There is a magic to theatre that is palpable," she said. "Theatre has energy. Theatre has moments that move you to tears and — in the next second — momentat will make you laugh through them.
"I don't know anything more magical than that," Zerull said. "I imagine that the first production I am involved in post-pandemic will evoke many emotions, but, more than anything, it will evoke a gratitude for closeness, creation, and the ability to stand next to my friends and sing without fear — – knowing what we have survived, together. Standing in that moment, well, there aren't words.
Creating a garden of delights
Erb is thrilled that in addition to the new board members (who next meet this Tuesday night), Luke Vermeire is the new house manager co-chair (with Mike Schmidt) — keeping the theater clean inside and outside — and is injecting fresh, enthusiastic new blood into the septuagenarian group.
"He does so much for Guild with Christmas lights and is an amazingly talented volunteer on and off stage," she said
Vermeire is just 23, but the Rock Islander already has been involved with QCMG for nearly six years. He has been onstage in six shows, on stage crew for two shows, hair consultant for three shows, and assisted with lighting design and set design for his first show in the spring of 2020, "The Secret Garden."
His day job as a hair stylist with Five Star Salon, Davenport, Vermeire has also been involved in different capacities both onstage and off at many other theaters in the area.
He began doing QCMG shows the summer after his high school senior year, since  his friends, stepbrother, and choir teacher had been doing Guild shows "and always talked about how much
fun they had. It was the logical next step in my theater life," Vermeire said.
"The most fun I've ever had with Guild has to be the cast outing we had after we got word 'The Secret Garden' was going to be cancelled," he said of March 13, 2020, two weeks before its planned opening.
"We sat in the theater and after 4 phone calls to different restaurants, I made the executive decision to go down to VIP's in Moline. We ate, drank, and sang karaoke to our hearts' content," Vermeire recalled. "It was one of the last memories I have before the world ended."
A stage highlight was the 2015 production of "A Christmas Story, The Musical,"  where Ralphie walks down the stairs in his bunny suit. "Every night it got a good laugh, but I'll never forget the performance that moment got applause. It was a short moment that our customers got to feel the audience recognition that actors feel during a performance," he said.
"It wasn't for the actor playing Ralphie, that applause was for the hours those ladies spent on that iconic bunny suit," he said.
"The thing I miss the most about Guild is the people and the escape," Vermeire said. "The family you make working together on a show for two months is special. You see most of your cast/crewmates more than you see your family some days. I use theater as an escape from what's outside the theater doors. It's an opportunity to let your problems go and get lost in the art."
Since last March, he said, "I've tried my best to continue giving back to the organization that has given me so much already. I decorate for the holiday season outside the theater every year. I also got appointed co-chair in charge of ushers. I'm lucky to have Wednesdays off when the costume shop is open. I stop in on my days off from time to time and help where I can be painting and fixing stuff around the theater while we have downtime."
The Costume Shoppe provides costume rentals to numerous area schools, community theaters, churches and other organizations for a small donation — featuring an extensive collection of costumes and accessories from every time and fashion period imaginable.
Vermeire will be part of the spring Guild cabaret and couldn't be more excited.
"I have been doing lots of backstage work, but I haven't been on stage since 'Annie' (2017). I really miss being on stage, so the cabaret is a
nice way to have a taste of normalcy," he said.
"I hope theaters can continue to do shows safely. The ability to perform and record shows virtually really opens up some possibilities," Vermeire said. "Sometimes it feels like most Music Guilders are teachers because they're the only ones that have the time in the summer, and that's good because they are the ones getting vaccinated right now and can safely rehearse and perform with some normalcy."
He loves theater because of its emotional storytelling power.
"Stories that make audiences laugh, cry, learn, and reflect," he said. Of the "Secret Garden" experience, which was his first solo set design role, Vermeire said: "It was a wonderful distraction from a lot of personal stuff I was dealing with at the time. I can't wait to design again. Ultimately, it was heartbreaking to have a show canceled two weeks before we opened.
"So much blood, sweat and tears went into the production. However there is something poetic about it," he said, noting the director Jeff Ashcraft always said that "it's about the process, not the product.'"
"It's a hard thing to hear, but it's true," Vermeire said. "It will go down as the mythical 'show that never was.' I had been saying to myself that the subject material alone was going to permanently cancel the show.
"Opening a show about a girl from India in the middle of the cholera outbreak while hundreds of people are dying of an infectious disease is timely, but hits all too close to home for many people who have lost loved ones due to Covid-19," he said. "Theater is an escape from the outside world and 'The Secret Garden' no longer seems like an escape from our world, but a reminder.
"Many people involved with QCMG had wanted to see 'Secret Garden' put on its stage but didn't know it was possible. I know it's possible," he added. "And one day it's time will come."
Going back inside the theater last month to take down the long-dormant "Secret Garden" set was actually therapeutic, Vermeire said.
"It marks the end of a show that had been in limbo for 9 months. It's always a hard thing to strike a set that eventually feels like home," he said. "All Music Guild sets eventually get struck but pieces here and there get salvaged and re-used in future productions.
"Bill Marsoun mentioned to me that some fake trees that I used in the Garden Set predates even his involvement with the theater," Vermeire said. "The mansion's windows, bookshelves, and garden door will be among a few things that will be repurposed for future use that were built
for 'The Secret Garden.' So in that regard, the show and my work will be seen for years, possibly decades."
"On With the Show: A QCMG Cabaret" will be a virtual trip through the 73-year history of Guild, with songs from some favorite productions – including "The Music Man," "My Fair Lady," "Carousel," "You're a Good Man Charlie Brown," "Children of Eden," and more. Its creative director is Christina Myatt and assistant music director Dave Blakey.
Over the years, QCMG producers and directors have used the skills of over 15,000 participants, and have welcomed well over 750,000 patrons to shows. To paraphrase a page from '"The Vagabond King" program (1950), "The actors, the actresses, the members of the ensemble on the stage,… the men and women backstage, in the orchestra, and those who have worked for many months on the multitude of details…these are your neighbors and friends."
In addition to classic Broadway musicals, Guild has expanded its repertoire – including adding holiday shows in 2000 (starting with "Nuncrackers") and spring shows since 2002 (starting with "Little Shop of Horrors").
Since 2000, the following shows have had their Music Guild premiere: Children of Eden, Jekyll and Hyde, Sugar!, Beauty and the Beats, The Drowsy Chaperone, Thoroughly Modern Millie, 9 to 5, All Shook Up, Dirty Rotten Scoundrels, The Producers, Aida, Young Frankenstein, Urinetown, Les Miserables, Mary Poppins, Chitty Chitty Bang Bang, A Chorus Line, Shrek, and many more.
There are some QCMG veterans performing for the collaborative Q-C theater Valentine's cabaret ("Let's Fall in Love"), which is available to stream Feb. 13-21. "Falling Slowly" (from "Once") will be sung by Bethany and Adam Sanders, and "As Long as You're Mine" (from "Wicked") will be done by Heather Herkelman and David Baxter.
The spring Guild cabaret video will be available for streaming April 9-11 and 16-18, with tickets going on sale March 9. At that time, you can purchase at www.qcmusicguild.com or by calling 309-762-6610.