Quad-Cities Mom Keeps Daughter's Memory Alive In New Book
Four years ago this month, Lindsay Thul was diagnosed with a rare and aggressive type of breast cancer, at age 28. Less than 10 months later, she was dead.
Lindsay's mother, Diane Koster – owner of the Grape Life Wine Store & Lounge, 3402 Elmore Ave., Davenport – honors her life and aims to educate others in a new book, "Lindsay's Legacy: A Mother's Memories."
"It's a story of hope and it's a story of courage," Koster said recently. "And it's a story of a relationship between a mom and a daughter, and it's very educational about that disease, the different steps Lindsay went through.
"She's very open about a lot of it," she said of her battle with inflammatory breast cancer (IBC), which comprises just 1-to-5 percent of all U.S. breast-cancer cases. "She's like very transparent, and it's pretty raw in places. We didn't try and sugarcoat anything."
IBC progresses rapidly, often in a matter of weeks or months, according to the IBC Network Foundation, and is typically diagnosed at stage 3 or 4. It is not commonly picked up by a mammogram; doesn't typically present as a lump in the breast, but rather redness or swelling.
Though Thul died on Feb. 1, 2017, her Facebook page is still active as a memorial. Koster wrote on April 18, 2020, quoting from Lindsay that same day in 2016 she was diagnosed:
"Inflammatory breast cancer is rare but more and more cases are popping up, especially in younger women. Sure, there are similarities between IBC and more common types of breast cancer: mastectomies, chemotherapy, radiation, hair loss, pink pink pink…
"Common symptoms of IBC are redness/swelling of the breast, inverted or leaking nipple, an orange peel texture in the skin, warmth and heaviness of the breast. It looks and acts like an infection, or mastitis. Please talk to your sisters, daughters, mothers, aunts, friends and even men about inflammatory breast cancer."
Life on the "write" course
A Bettendorf native with no family history of cancer, Thul majored in English at the University of Iowa. Her main job right out of college was marketing for Hotel Blackhawk, Davenport, including writing a lot of the 100th-anniversary book for the hotel. Right before she got sick, she worked for the Radisson in Moline.
Thul started her GoFundMe page the day she was diagnosed (stage 3 invasive carcinoma), and posted over 80 regular updates over the 10 months.
"Primarily, she wanted to keep everybody informed, in one location," Koster said of the website, which was shared by more than 18,000 people and raised $93,000 from 541 generous donors. "She also was hoping she would educate people along the way."
"Something that she wrote in one of her posts was she hoped that someday, maybe some woman who was going through the same thing she was going through would come upon her writing, and realize that they're not alone – that there's other people that have gone through this."
"She just felt like it would serve a purpose, either after she was cured or after she was no longer here," Koster said. "She kept the hope, obviously, through her illness that she would survive."
Thul had surgery at University of Iowa on Aug. 11, 2016, lasting seven hours, for a right breast mastectomy with full axillary lymph-node removal. But the cancer spread throughout her lymph system and spread to her major organs, bones, and spine, Koster said.
Based on Thul's finding and e-mailing an IBC specialist at Northwestern University, they had a two-day visit there in mid-October (when she was at stage 4).
"Like she says in the book, she didn't want to leave any stone unturned," Koster said, noting the book includes Lindsay's posts and her mom's commentary on each of them.
"Pretty much what we found out, he wouldn't recommend us doing anything differently, but at that point it was almost like, we found out it had spread into some of her major organs."
A mysteriously elusive disease
The average age for IBC diagnosis is 57, but that is getting lower, Koster said of the frustratingly mysterious disease.
"It doesn't make any sense," she said. "They did so many tests on her, and genetics, and they could never come up with any reason or any ideas about the gene makeup, or anything.
"That's really our purpose now, us left behind – keep educating about it, keep getting money for research. Because there are so many unanswered questions about this disease."
"It is very aggressive. Depending on the factors within the blood tests, what kind of receptors, what might respond to certain therapies. She didn't have any receptors, so there was nothing for them to target," Koster said. "That's what made it so difficult to treat her. There was nothing to tell the doctors what to do."
The Q-C hospitality community rallied around Lindsay, and held many benefits for her, as did the Grape Life.
"She was beside herself with gratitude and she was so overwhelmed by the outpouring of love from everybody," Koster said. "She had a house and a mortgage; she lost her job, which happens a lot."
The hardest part was not having the chance to have kids, her mom said, noting Lindsay's brother Nick and his wife had a daughter right before Lindsay got sick. She was determined to make it to her niece Audrey's first birthday (Jan. 24, 2017), which she did.
"She always wanted children," Koster said.
She started writing her self-published book (through Amazon) Feb. 1, 2019, two years to the day of Lindsay's death.
"It was so scary to go back there and I had to overcome my fears in order to take this step," Koster wrote in her introduction. "Overcoming her fears was something Lindsay was good at. Fear of heights, fear of failing, fear of being alone, fear of death. She overcame them all. So, if she could do it, so could I."
Finding faith to overcome fear
Where did Lindsay's source of strength and courage come from?
"She had really strong faith," Koster said, noting they're a Catholic family. "She really dug in deep with her faith when she was sick. She read the Bible every day, and she believed this was God's plan, and she just figured He picked her because she was strong enough to handle it and would make the most of it, as far as helping other people because it was such a rare disease – and educating people, getting the word out, using social media, and using the GoFundMe platform."
Koster and Lindsay's father divorced when she was 12, and Diane runs The Grape Life with her husband, Kevin.
Lindsay's faith deepened after she was diagnosed. "It's very clear in what she writes, in how that morphed as she really realized this was her fate and this was God's plan for her," she said. "She accepted it and she took it on and she remained hopeful through the whole thing, and knew whatever happened was God's plan."
"Her disease just went so fast," Koster said, still amazed. "Every day, things changed. Whether it was treatment, all of a sudden she had to have surgery within a two-day period. Things just happened so quickly, and it progressed so fast."
At the end of the book, she wrote what's happened since Lindsay died. They have an annual golf outing at Glynns Creek in late September, to raise money for IBC research, which has generated a total of $35,000 so far.
Proceeds from the book will go towards a new Lindsay's Legacy fund at the Genesis Health System Foundation, Koster said. It will be used for women who have financial barriers and are affected by IBC. The money will go towards testing (such as biopsy or MRI), since there currently are no programs that pay for those exams.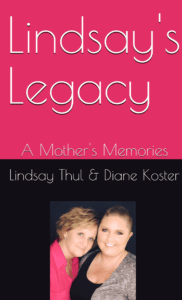 "The health care here is awesome, and cancer center here is awesome, but they do not see inflammatory breast cancer on a daily basis," Koster said. The national centers for IBC are MD Anderson Cancer Center in Houston and Dana Farber Cancer Institute in Boston.
Koster started working for Genesis last October, overseeing the program that provides free cancer screening for women who can't afford it, including Pap smears and mammograms. "I really felt I needed to be doing something more than slinging wine," she said.
A lump of Christmas coal
Right before Christmas 2019, a friend of Lindsay's reached out on Facebook, saying her husband's cousin was diagnosed with IBC, 32 years old, in Minneapolis. Koster was connected with her mom, who asked how Lindsay was doing.
"I had to tell this woman my daughter had died 10 months after being diagnosed and here she has this daughter with the same disease," she recalled. "And they know nothing."
"I said again, if I had to do all over again, I'd get her on a plane and get her down to Houston to MD Anderson and get her assessment there," Koster said, adding the family did that, but she hasn't heard what's happened with the woman.
"I want to help to save a life if I can," she said.
"Lindsay's Legacy" is available (for $15.99 paperback) at Amazon.com. For more information on IBC, visit theibcnetwork.org/.
The Grape Life (currently closed, and a longtime home for live music) continues to offer curbside pickup for wine and gift cards, by calling 563-355-7070.