Quad-Cities Downtowns Take Differing Steps to Welcome Back Customers
Saturday in the Arts is a comprehensive, in-depth feature on a topic, trend or personality impacting the Quad-Cities, posted every Saturday morning on QuadCities.com. This week we look at the various downtown businesses of the Illinois and Iowa Quad-Cities and how they've been impacted by, and have adapted to, the covid-19 pandemic.
The popular Rock Island Brewing Company (RIBCO), in the middle of The District at 1815 2nd Ave., has been through a lot since it opened in 1979.
Hailed as a leader in Q-C live entertainment (its starry roster of guest acts includes Bo Diddley, The Wallflowers, Delbert McClinton, Robert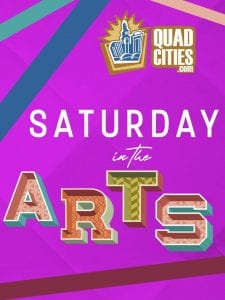 Cray, Tracy Chapman, and Barenaked Ladies, among thousands of others), RIBCO used to host 170 concerts a year. But this unprecedented year of Covid-19 not only shut down the bar and restaurant this spring (along with the rest of the nation), as downtown businesses have reopened, RIBCO is a shell of its former self – not able to bring back live music and a kitchen that remains closed.
"It's brutal," Terry Tilka, owner of RIBCO since 1991, said recently. "There's no bands out touring. Ninety percent of bands we book are from out of town. They're not out touring. It's proven to be correct because some of the other states have re-shut down. And you can't book a band that's touring at 25 or 50-percent capacity. No one wants to perform that way, and the expense of doing it, it makes no sense."
While Illinois outdoor dining was permitted in late May and indoor dining in late June, RIBCO hasn't reopened their kitchen, and with employees on unemployment, "they're making more money sitting at home," Tilka said. "That doesn't help anything. It didn't make sense to reopen for them."
Compared to many area restaurants that offered curbside or takeout dishes during the shutdown, he didn't because of the staff cost.
"By the time you paid a couple of cooks, someone to be here for the amount of hours, there's no money in it," Tilka said. "It's not that we wouldn't have appreciated everyone's business; it just made no sense."
"A lot of people in the industry, with the Covid outbreak, being in contact with the general public, not too many employees we contacted had any interest in doing it, so we chose just not to do it," he said. "A lot of people reached out to us, wanted to buy a six-pack of beer. Most of our employees are college students, and a lot of them were sent home. It's not like there was a lot of them floating around."
RIBCO ended up shipping a lot of unopened beer back to distributors, and they re-sold it to grocery store chains and gas stations. In previous years, they would sell to-go beer, but not many people bought that way. "It's way cheaper in the grocery store," Tilka said.
Also like many businesses, he received some help from the federal Paycheck Protection Program.
"The second round was a huge help; the expenses alone ate up a third of what we got – paying utilities, insurance, just the day-to-day cost of the business and maintaining the building eats that up, without even being open," Tilka said.
In late June, they opened inside, but not many people come in with no music, and want to sit outside if it's nice, he said. They're open Thursday through Saturday, but the new 2 a.m. curfew instituted July 1 by Rock Island Mayor Mike Thoms has made life even harder for bars that were licensed to close at 3 a.m.
"I don't think it's fair the way it was done," Tilka said. "Putting everybody in the same category, whether Circa '21, a tap on the neighborhood corner, or a nightclub, I don't think it's right. You're putting everybody together and it's night and day. I understand why they did it; I don't agree with it. That's not up to me."
"When you apply for a 3 a.m. license and it's taken away from you, why did I do this?" he asked. "A lot of times, when things happened in the downtown, the businesses are the ones that pay for it, when it has nothing to do with the businesses."
Tilka's 2nd Ave. dance club next door has remained closed, because it would be impossible to enforce social distancing, he said. "It doesn't make sense – people go to a dance club to get next to each other and dance. If you have to have six-foot distance, it makes no sense. We run the club as a college-oriented bar, and that crowd is not here."
The Rock Island curfew decision stemmed from the city wanting to be a regional player with the rest of the Quad-Cities, such as Davenport and Moline, where bars and restaurants close at 2 a.m.
"Growing concerns of Covid-19 also played a part in the decision as larger crowds tend to gather past the hours of 2 a.m.," according to the city, which is closing parts of certain streets downtown at night to provide more space for gathering areas to aid in social distancing.
"Beyond my duties as Mayor, I am also the city's liquor commissioner. This action has been on the table before and we feel it's time to be in lockstep with the rest of the Quad-Cities," Thoms said at the time. The city council is expected to revisit the issue at its July 27 meeting.
Navigating uncharted waters
While Q-C downtowns reflect the heart and identity of each community, their very survival has been rocked by the coronavirus crisis, hurting bars, restaurants and performance venues. Not only do state reopening regulations differ between Iowa and Illinois, the process of how each business has weathered the storm – during closure and reopening – has been unique and complex.
"The Quad-Cities downtowns are the heart and soul of our region," Paul Rumler, Quad Cities Chamber president and CEO, said recently. "The businesses, cultural amenities, and recreational opportunities located along the Mississippi River are integral to the Quad-Cities' quality of life. Many of our downtown businesses have been hit hard in the past two years and need support now more than ever."
"This is an extraordinarily resilient group of people," Kyle Carter, executive director of the Downtown Davenport Partnership (a division of the Chamber), said during the virtual annual meeting of the DDP June 30. "It's not lost on me or anyone in the office how much suffering has gone on the last two years. With the flood and the pandemic, I know people are on the edges of their chair every day, wondering 'Are we going to make it?'"
"There was a pandemic in 1918 and a farm crisis in the '80s. There have been numerous crises over the years, not to mention floods," he noted, "This community of downtown and the people who make it, have always been able to stand up and move forward. I have no doubt we will be able to overcome this and move forward."
"We're experiencing the biggest hiccup in history," said Dave Herrell, president/CEO of Visit Quad Cities. "When you go through these situations, they are extreme challenges, but extreme challenge creates opportunity to think through how you can reimagine. If you're an entrepreneur, you're thinking about going down this path.
"This is challenging all of us to think through, what do we want out of our community, out of our lives?" he said. "You're in survival mode; if you want to survive in this current situation, as a business owner, you've got to think how to be agile. A lot of these businesses have learned how to do that, adapted quickly, to make sure they can still serve customers, put their business in a position to be successful."
Just down the street from RIBCO, Daiquiri Factory owner Kyle Peters tried to adapt, to make it through.
When he reopened May 29, it was with patio seating, spacing the tables out. On June 26, Daq Fac allowed 25-percent standing capacity inside, according to state rules, but they haven't turned on TVs or had music inside, to encourage patrons to stay outside, where virus exposure is lower.
Earlier in June, a new to-go drink option was introduced, after Peters worked with the mayor, Brian Hollenback of Development Association of Rock Island (DARI), plus state Rep. Mike Halpin and state Sen. Neil Anderson to change the state liquor packaging rules.
"We joined an existing movement in the state, and we joined in to push the to-go products through," Peters said. Since June 5, there are 15 flavors of daiquiris they sell (32 oz. for $17 and 59 oz. for $25). "That's real relief for us, so we can get back to work," he said.
"It's been great; they have gone over really well," Peters said. "We encourage customers to bring a little cooler. We can ice it down for them."
"By default, it seems like more people want to be outside rather than inside," he said. "We've created that ambience where the hospitality part, the lighting is more conducive to outdoor seating. We are wanting people to be out, with the current stage of weather the way it is."
They have extra hand sanitizer available. "Everybody's doing what they can to accommodate today's climate and keep everyone safe," Peters said, noting servers usually have face coverings.
On weekends, they have acoustic live music and a DJ (one each night). "The demand is high for live entertainment, across the board," he said. "It'll be interesting to see how we go from here."
Billy Bob's QC (1722 2nd Ave.) is back to hosting live music on weekends, with DJ and karaoke, as well as Wednesday night bike nights, with drink specials.
More Rock Island moves
 Stacey McIntosh, the new DARI program manager, said her city is unique since it has the pedestrian plaza area (on 2nd Avenue between 17th and 19th streets). They worked with Shive-Hattery to maximize outdoor seating throughout the city, including other downtown restaurants like Huckleberry's.
"The public wants to be out and doing things as well," McIntosh said. "People got creative, like Circa '21 and their marquee event. That was amazing; I hope they continue to do stuff like that, for people's mental health."
"We're fortunate that the bars and restaurants across Rock Island are getting creative. They're finding ways they can adapt during this time, and ways they can still provide service to the community," she said. "We all want to get out and do things."
"This is a new norm. We have never had to deal with this," McIntosh said. "I am so proud of the resiliency of the Rock Island community – the bars, restaurants, its residents, the schools. Everything that has gone on, just how resilient they are. The idea of coming together and working together, getting through this together."
The city and Stecker Graphics helped restaurants to create signs promoting themselves during the shutdown.
The city and DARI also offered emergency grants of $2,500, to help bridge the gap, to small businesses throughout Rock Island, totaling $129,000. They included QC Coffee and Pancake House and Daiquiri Factory, and people can still apply for it (for 10 or fewer employees).
The District should also benefit by the city's downtown recently being named to the National Register of Historic Places, Herrell said, driving more visitors there.
"Establishing this designation offers many benefits to property owners and the community," Mayor Thoms said. "Projects will be easier to fund with access to tax credits and provides an opportunity for Rock Island to showcase heritage tourism, as a means to advance and encourage historically appropriate development."
When Gov. J.B. Pritzker announced Phase 4 reopening June 26, Illinois Restaurant Association CEO Sam Toia said:
"As one of the most highly regulated industries when it comes to health and sanitation standards, restaurants are ready and equipped to safely welcome guests back for dine-in service, and with the world-class hospitality diners have missed. These guidelines will also greatly help restaurants begin to recover from this catastrophic business period.
"We commend Governor Pritzker and his team on a well-informed approach that keeps public health the priority while acknowledging restaurants' expertise and giving our industry hope for a rebound," he said.
Illinois allows restaurants with groups of 10 or less at tables spaced 6-feet apart in seated areas and with standing areas at no more than 25% of capacity.
Moline was prepared for outdoor dining
Geoff Manis, Moline Centre Main Street manager, said that in 2009, the city created an outdoor dining guide, with rules for restaurants to open outdoors. That came in very handy in May.
"What I think was pretty creative and assertive in terms of creating opportunities for our businesses downtown, to allow them to interact with the streetscape, to create opportunities for outdoor dining," he said recently of eateries that expanded to fenced-in areas on sidewalks and parking lots.
"There's something about when you go to a downtown, when you see people outside, eating, interacting with each other, and enjoying some of the fine cuisine, it creates a sense of security," Manis said. "It makes people want to stop and check out what's going on in the downtown."
"When then pandemic started, we were all in that phase one, everyone was essentially shut down. Some of the downtown businesses were really creative, providing opportunities for curbside or carry-out options," he said. "They tweaked their menus to make it more conducive to food that travels."
One fine-dining restaurant, Bass Street Chop House (at 17th Street and River Drive), closed April 18 after 14 years in business, due in part to coronavirus. Jeff Harrop, managing partner of the steakhouse, said in a press release that fewer customers due to construction on the I-74 bridge combined with the coronavirus pandemic "forced this very difficult decision. It just isn't feasible to reopen."
Bridge construction has slowed traffic to downtown Moline, Manis said. "It's significant; even though it doesn't take that much longer at all with the construction, perception is reality. They see all the cranes in the air, diversion of traffic routes, and some folks see that as an obstacle and prefer not to travel in that corridor."
"Undoubtedly, that's going to affect business revenues," he said.
Many restaurants have a lot of "loyal and dedicated customers, who understand the complexity of, essentially, existing in what was an economic crisis," Manis said. "These are our friends' businesses, and we want to support them, especially in times of need."
"What I've seen has been nothing short of absolutely inspirational, on how the Quad-Cities community has rallied around to support these businesses," he added. "This pandemic has affected every Main Street across the country."
It wasn't ideal, but it was enough community support that helped sustain them before they could open for outdoor dining and now indoor dining as well.
"The general public, given the option, while attempting to be vigilant and trying to slow the spread of Covid-19, I think the average person is going to want to be outside," Manis said. "Our downtown bars and restaurants did a wonderful job accommodating and creating situations where people were able to feel safe."
The shuttered TaxSlayer Center provided event fencing to section off areas in downtown for restaurants, like Café Fresh at 1514 5th Ave. "She planted flowers…It's completely charming, wonderful," he said of owner Amanda Bautista. "Given the option, pandemic or not, at Café Fresh I'd prefer to sit outside, because you get views of our beautiful downtown and she's got it decorated with a lot of class and style."
Bautista said during the shutdown, she got permission to sell sangrias to go, then reopened with a no-contact set-up in late March, with a few items. They put a shelf right outside the front door, and started outdoor dining in early June. The takeout business totaled 15 percent of normal sales.
"We appreciate everybody's effort, but we need 100 percent of our sales for it to be worth it," she said. "It's an expensive business to be in, and we need to be able to operate at capacity to survive and have a business."
With outdoor dining, Café Fresh has come up to 30 percent, since they have to deal with weather. They lost a lot of staff during this. "It's really been hard to hire," Bautista said, noting they got PPP loans and opened June 26 for indoor dining.
"That was a flop, since that was the time Davenport was announcing some restaurants were closing due to cases," she said. "That Friday and Saturday, we were fully staffed because I imagined after four months of not being open, we would be busy, and we weren't. We're only getting some days, two tables of diners inside. Some days, we get four per shift."
"As soon as we were able to open inside, it seemed like a number of restaurants were announcing they were closing their dining rooms," Bautista said. The perception among the public when they see cases rising, they don't want to go out, she said.
They're closed now Sunday and Mondays. Her sales on Mondays and Tuesdays have been very low. "As things have changed, with outside dining, what are we supposed to do – work 24 hours to do what we used to do?"
"I knew when this happened in March that this screwed our business until next March, for sure," Bautista said. "In the restaurant business, we needed spring and summer to get through fall and winter. By taking away spring and summer, it put us right back into the bad season. I have no idea what the aftermath will be, how long it will take to recover."
She's working with a quarter of the staff she used to have. Customers are still getting contact-less carryout and they will keep that.
"We just continue to keep showing up; we'll see how it all shakes out," Bautista said. "For us, downtown Moline, we've dealt with bridge construction two years. There's vacancies downtown from businesses that have gone to Iowa or relocated, so we really didn't need one more, you know what I mean?"
Manis credited Johnny's Italian Steakhouse (at John Deere Commons), for a major cleaning and restoration during shutdown, since they didn't offer take-out. Managing partner Jack Viviani spent over three months (practically single-handedly) to clean, paint, touch and refresh every last square inch of his restaurant, part of Heart of America Group.
"The way their business operation works, they made those internal decisions, on the Illinois side of things, to keep a fine-dining establishment like Johnny's closed throughout," Manis said, adding they reopened late June.
As Covid cases have surged nationwide (passing 3.1 million by July 10 and 133,000-plus deaths), the Q-C has seen its own numbers rising as well. Compared to June 26, when there were 861 positive cases in Rock Island County and 545 in Scott County, by July 10 there were 1,139 in Rock Island County and 935 in Scott (with 40 deaths between the two counties).
Iowa opens earlier, more Davenport businesses planned
 Mike Poster, Downtown Davenport Partnership board chairman, thought his tenure this year would be easier than his predecessor, who had to deal with the record-setting flood of April 2019 and the aftermath.
"Little did I realize that in 2020, we'd be dealing with a worldwide pandemic, and downtown Davenport would be brought to a standstill," he said, noting he couldn't be prouder of the DDP staff, with the complexity of filing for federal and state aid, working with the city on a new downtown master plan, and facilitating still continuing development. "I know dealing with this pandemic will be one of the greatest challenges I'll have to deal with."
Carter said recovery depends on the bar or restaurant; some are more able to adapt than others. Some have done very well, noting LoPiez (the pizza by the slice business at 429 E. 3rd St.), really upped their to-go game, and opened a second location in late June at Brady and 29th streets.
"Others are not as tailor-made for that," Carter said. "We have managed it about as well as we could," he said. "It just depends what industry you're in. Pizza delivery is killing it. LoPiez is so busy they can barely keep up."
"Other places that are bars that don't serve food, were closed for 15 weeks straight, and have reopened and have done pretty well. Now, there's a spike in cases that reduces the number of people going out. It just depends. There are people that are doing gangbusters business, and people that have barely made a dime."
"People are working from home, so that affects foot traffic," Carter said. "These are issues that are universal; they affect downtown in a unique way. It's been a hell of a couple years."
"Analog can't do to-go arcade games," he said of the arcade bar he co-owns at 302 Brady St. "There are some businesses more easily tuned for this environment, but everybody – now that you can at least be open – there's pretty good foot traffic on average, all things considered."
"Curbside and to-go is going to continue to be popular, long after Covid is over," Carter said. "You'll see changes in civic infrastructure, took, whether it's permanent locations for curbside pickup or different rules for parking, you'll see all that stuff change."
In early May, Iowa allowed restaurants to reopen at half capacity, bars at the end of May, and capacity limits lifted by mid-June (with social distancing and sanitation requirements like Illinois).
Flood-damaged businesses like Front Street Pub & Brewery, 208 E. River Drive, were still recovering from last year when the pandemic reared its ruthless head. After much cleanup and repairs, the historic Front Street (Iowa's oldest brew pub) had a grand reopening last Dec. 4, with its Raging River IPA beer poured for free until the keg ran out.
It was the second time the building recovered from severe flooding damage, after the Great Flood of 1993 put it in a similar situation. This spring, while closed, Front Street sold a ton of take-out meals, according to its Facebook page.
"We were just starting to see routine traffic and attendance return to events and businesses here when Covid hit," Carter said of the slammed downtown (which forced Great River Brewery, Ragged Records and Trash Can Annie's to continue their closure into this year; Bucktown Center for the Arts closed earlier than its planned March 31 departure). "We really felt like we were entering a legitimate recovery phase after the flood when we got hit with this."
Great River "has come back like a phoenix from the ashes," he said, as the planned Great Revivalist Brewery, with a new owner and renovated, expanded facility to open later this year at 332 E. 2nd St.
The Q-C craft brewing craze has continued with the July 1 opening of Stompbox Brewing, next to Front Street in the space formerly occupied by Roam.
"We have set up our space to meet the social distancing standards and our staff wear masks," partner Matt Erickson said. "We have hand sanitizer available to everyone and sanitize tables after customer use. We have outdoor seating as well.
"We've been working on this project for quite a while and signed a lease before Covid was a thing," he said. "Our build-out took a bit longer than expected which actually helped us since bars weren't allowed to have indoor sales yet.
"Obviously, this a trying time to open a business, but you try and make the most out of the current situation," Erickson said. "We wanted to be part of the downtown area when we were first looking for spaces. Our current space became available once it was determined that the previous tenant wasn't going back in and felt it would work for us. The oldest brewery in the Quad-Cities is our neighbor, so we figured if they could do it, so could we."
Stompbox is just one of a number of new bars and restaurants that are moving forward downtown in the midst of this uncertainty, Carter said.
A new breakfast restaurant will go into the small green building next to Forrest Block – Yolked, 118 4th St., Davenport. It will be a sister restaurant to Baked Beer & Bread Co., in the Village of East Davenport, and will feature a full brunch bar, private rooms, event space, an indoor and outdoor patio. Unimpaired, a new nonalcoholic bar, will be opening at 246 W. 3rd St., and Miss Phay Café, a Thai-Vietnamese restaurant, is coming to 512 Brady.
"It's consistent with everything else going on in America – that everyone's trying to figure their way through this the best they can," Carter said.
Customers have been supporting the open businesses. But, "With Covid being so unpredictable, it's difficult to know the sustainability of all that," he said.
Me & Billy, 200 W. 3rd St., also survived not doing take-out during the closure, reopening May 22 at 50-percent capacity.
"It just wasn't our strong suit," owner Bill Collins said recently of carryout. "It didn't seem cost-effective for us to have staff here for the small amount of carryout and curbside we would do," he said. He has a staff of 40 employees, let go during the shutdown.
Outdoor dining is limited and has been full. "The first three weeks of us being reopened, everything went very smoothly," Collins said noting the week of June 29, they had to close for a week since staff had been in contact with someone who had Covid. Everyone was tested (two employees have yet to get test results) and have returned to work.
They opened inside in early June. "We've done several deep cleanings, made sure the filters in the air conditioning system were changed. We always do a lot of cleaning," Collins said, noting servers all wear masks.
They removed half of the restaurant tables, so all tables are at least six feet apart. "Lunch hours have been slow, because not everyone is back to work in their offices downtown," he said. "Evenings have been pretty darn good. It's been really fun to see people's reactions on coming back out. They were ready to come back out."
Me & Billy started to-go alcoholic drinks in mid-April, with curbside, and Collins' daughter Fran has delivered too, in her Mini Cooper. You can see the selection on meandbilly.com.
"The state law was changed to allow that," he said. "That had never been done. That was a big surprise. That was maybe late March, they made those rule changes and I was pleasantly surprised."
Downtown Davenport also got a boost with drive-thru events in May and June, to get people to shop online and pickup downtown. "It drew pretty good numbers; there was a lot of traffic down here," Carter said. Of the second one Father's Day weekend, "We had some people who had the best numbers they had all year that day, retail in particular, and bars and restaurants saw a boost as well."
"That was a creative thing that's an example of what you can do during this time, and that's what we're gonna be looking for – more opportunities of what we can do," he said. "If we can't do a large festival, maybe we can do smaller block parties or more drive-thru events."
Staying busy in the Village
LaTisha Howlett, co-owner of Bayside Bistro in the Village of East Davenport, has just been open since August 2018. They've increased sanitizing, staff wearing gloves, trying to maintain six feet between patrons. Inside, they still operate at 50 percent with spacing of tables and removing of tables.
"When you come in, you see where you can sit. We maintain our outdoor seating, which is pretty nice," she said recently. "People enjoy sitting outside. Based on coronavirus research, we understand that outdoor seating is much better."
The outside tables are eight feet long, with room for 60 people outdoors and 25 indoors. "Our customers have a sense of safety in mind. They space themselves pretty well outdoors; they're cognizant of that," Howlett, who owns the restaurant with her husband Darryl, said.
They already had done takeout before Covid, but added a new delivery service.
"One of the issues for restaurants as a whole nationwide, when a customer calls and places their order, the cost is higher, to process that credit card, since you're not there in person," she said.
"There's this whole gamut of things that have been happening, every restaurant has had to endure more costs that way," Howlett said. "Then you've got the additional cost of these takeout containers, so many restaurants have had to change their pricing format to adjust, but we did not. We didn't raise prices at all."
"We also did not close, so when it happened, because we're a family-owned business, we made a decision, we were in business under two years, so for us it was imperative to stay open," Howlett said.
They went from zero delivery to about 40 percent of their takeout business before patrons were allowed back. "That's another hidden thing, the entire industry was hit all at one time, and every part of that industry had to adjust, including the delivery services, and having to staff that," she said."
"What was happening, even if you were slower, you were busier, and the reason why was you were working with less people," she said. "Fewer people were doing more work. You were tired all the time."
"The trouble with all this is, we don't know when this is gonna be over – we don't know when and if another change will come," Howlett said.
"People don't really understand the tribulation restaurants are going through right now. They have yesterday's expectation, while today we're working with less employees, and working in a very uncertain time," she added.
"There's so much uncertainty, we have to work in that atmosphere," Howlett said, noting normally they have 12 staff and are down to seven. "It's not an easy time to be in the restaurant business, because it's ever-changing. We're all listening and waiting every day to what the governor has to say, what the local health department has to say. Things can change again at a moment's notice."
Downtown Bettendorf now under Chamber umbrella
For less than a year, the new Downtown Bettendorf Organization (DBO) has been under the chamber, like DDP.
The downtown Davenport group manages the Self-Supported Municipal Improvement District, the first one established in Iowa (in 1977), and downtown Bettendorf now has its own such district, to provide leadership and advocacy for downtown economic development, planning, cultural vitality, events, marketing and clean-and-safe initiatives.
"Downtown Bettendorf is in the middle of a major transition," Ryan Jantzi, executive director of DBO, said last fall. "Understanding the trends and having data to support our development needs is crucial to attracting investors and developers to downtown Bettendorf."
The new district – to which property owners pay an additional property tax to fund improvements and enhanced services within the district — extends from Bettendorf's west end along the river, to about 27th Street. During the spring shutdown, Sports Fans Pizza (1723 Grant St.) had a pretty strong to-go operation, and could better weather the storm, Jantzi said recently.
"Some like Purgatory's had to close down and have slowly reopened, Riverside Grille had some growing pains," he said, noting Riverside (1733 State St.) is under transition where they're moving into the old Ascentra building across from Sports Fans, by late December.
"Covid still affected their business," Jantzi said. "They are now back open and trying to work through. We're at the point where it's due to customer confidence, right? Customers, some feel safe, and some don't. Friday night, you'd be hard pressed to find a seat at Sports Fans, but they have a patio so that has helped them quite a bit, able to have outdoor seating, and I know the casino was shut down for a long time and they're gearing back up."
The Isle Casino reopened June 1, and requires face masks of all guests. There were a lot of people coming from Illinois to gamble at the Isle, Jantzi said.
The bar Harley Corin's (1708 State St.) is back to having live music, he noted, and Bettendorf's third-annual "Be Downtown" festival was rescheduled from June to the Alternating Currents weekend at the end of August, which is the fourth year for AC.
"The model with Alternating Currents is to kind of be like South by Southwest, with a lot of different things – art, film, live music," Jantzi said. "This is the first year we're going to expand the model outside of Davenport in the hopes of making it a regional-type festival. That being said, with the virus numbers going up, we are monitoring very closely what Covid is going to do. We want to make sure we're hosting a safe event."
"As we continue to evolve, with the new bridge being complete, the new urban park under the bridge, the city's adding parking down around that area, the festival will move to a central location downtown, where we can draw people from the east and west sides of the bridge to support those businesses," he added.
Downtown festivals and live music
Alternating Currents (with 100+ performances/events), which was originally planned for 25 indoor and outdoor venues in downtown Davenport Aug. 27-30, is being adjusted to focus more outdoors, throughout the Q-C, said Jason Gilliland, DDP director of events.
"Obviously, we're monitoring what the state and country officials are telling us. We're going to follow those, recommend those for all the attendees," he said. "We want to give people more space to spread out. We can't do everything outdoors. We're going to recommend people wear masks where they can, social distance, wash their hands. We'll just monitor everything closely, and we'll take the appropriate actions based on the health requirements of the time.
"Alternating Currents is taking a regional approach this year," Gilliland said. "The big, broad overview of this, this would become a regional event. With other downtowns having events that are canceled, we thought this would be a good time to take some of those events, maybe put those in Alternating Currents weekend, and make it a regional event."
"These are small group events, so we think it functions well under Covid, and as long as things are reasonably under control, we think we can move forward with it and have a little fun this summer," Carter said.
Peters of Daiquiri Factory plans to have his Urban Street Games – a CrossFit competition – part of the weekend, in the bar parking lot. It will be free for spectators to view, he said.
Festivals are "definitely a vital part of your business for the year," Peters said. "They have a huge impact; there's a reason we program those. It's an interesting year – we'll make it, but it's had a huge impact, not just the day the event occurs, but bringing awareness of the businesses that are there. At the end of the day, it's not like we're the only ones. It's all over the country. We're not alone."
"I love the fact it's going regional — that makes a lot of sense," Herrell of Visit Q-C said of Alternating Currents. "The more times we can build a collaborative process for events, that's beneficial. Ones that can have a regional impact, showcase the diversity we've got in all our communities, that's positive.
"We need to continue to build consumer confidence, and also need to build a narrative that downtowns are critical to not only our economy, but our overall experience," he said.
"Whether you're a Quad Citizen, or a visitor, people like consuming downtowns, love the downtowns," Herrell said. "You can elevate that through a special event, that can really set you apart from other communities that are doing events, drive activities to our downtowns.
"Arts and entertainment, and the creative class have suffered so much through this process. The domino effect of that is really broad," he said. "When people get focused on the economic ramifications of a crisis, something like this impacting our community, the quality-of-life factor gets missed. That is what helps differentiate our brand. It's what helps build some uniqueness in our community as we're trying to market and sell a destination. If we don't have a thriving arts, entertainment and music culture, that's put in a position to succeed, it's a difficult pill to swallow."
Canceling outdoor festivals has taken away lots of traffic from downtowns this spring and summer.
"It goes to show how important this whole structure is, how everybody leans on each other – whether it's festivals or shows," Carter of DDP said. "It brings foot traffic that eventually finds its way to other parts of downtown."
Schwiebert Riverfront Park in Rock Island will resume its annual Thursday night concert series in August, to run Aug. 13 to Oct. 1, sponsored by Happy Joe's – Rock Island, It will feature pizza, grilled food, popcorn, and beer for sale from Bent River Brewing Company. Each week, the night kicks off with 6:30 p.m. dance lessons from QC SoDa, followed by live music from 7 to 9 p.m.
Moline Township Activity Center (620 18th St.)  started their Concerts in the Park on July 6, with the 6:30 p.m-8:30 p.m. outdoor events every Monday night through July 27. Due to the Covid-19 health concerns, there will be no dancing on the dance floor this season. The band will be set up in the middle of the outdoor floor to discourage dancing.
Hot dogs, brats, chips, bottled water and soda will be available for purchase from 5 p.m. until sold out. Parking is available at Bethany's or the old Dispatch parking lot, located at 1720 5th Ave.
While the River Music Experience Live @ Five concerts at their outdoor courtyard were shelved this summer, RME has shifted to offering 30-minute Curbside Concerts, for private groups, at $60 each. Some Redstone Room shows are on the calendar for September, but all shows are moving targets – "especially those with touring bands that have to make their own decisions about the feasibility of a tour with multiple states," executive director Tyson Danner said recently.
"We don't yet have a set date for the re-start of shows," he said. "The music industry remains one of the most hardest hit by the pandemic, and likely will be for a long time. While other industries and institutions are reopening to the public, music venues face a long, hard road ahead.
"The very nature of most live music performance brings large groups together in tight quarters, and most music venues can only operate if they also benefit from bar sales," Danner said. "Live music – like theatre – depends on audience numbers to remain financially feasible.
"Some bars and restaurants are featuring live music again, which is encouraging. Since those venues rely more on food and bar sales, I think they have more opportunity to present live music as an added draw," he said. "Those venues don't rely on ticket sales to stay in operation. This is a great opportunity for local musicians to secure gigs, which are of course hard to come by right now.
"I see several bars and restaurants doing their best to make use of outdoor spaces for live entertainment. But there are also bars that are packing people in with little regard to public safety," he said. "I worry about what we'll all do when the weather is no longer conducive to outdoor concerts, if the risk level remains as high as it is now.
"It's important that people realize the greater impact this has on our community," Danner noted. "It's not just that we have fewer concerts happening. As sad as it will be to see musicians give up their musical pursuits for financial reasons, or to see venues close, the problem is much bigger. The people who would be attending those now-cancelled concerts would have gone out to dinner at a restaurant or shopped at a locally-owned small business before the show.
"They may have stopped at a downtown bar for drinks following the concert. The venue staff (bartenders, servers, audio engineers, door personnel, security, accountants, custodians, etc.) are not being paid their usual rate (if at all), which also means they aren't spending to support our regional economy," he wrote by e-mail.
"The RME alone generates more than $2 million in economic impact in our region. (Americans for the Arts economic impact calculator)," he said. "Multiply that times all the other venues in our region, and that's many millions of dollars of restaurant revenue, state and local tax revenue, salaries, and retail income that isn't being generated right now.
Federal grants have scratched the surface in meeting the fiscal challenge. In contrast, some European countries have been much more generous in supporting the arts, Danner noted.
The UK is promising $2 billion, while Germany has pledged over $1 billion, while "our country's support for arts and culture has been almost non-existent, and even that minimal financial support was met with tremendous resistance," he said of the U.S. government. "Without further support for nonprofit and for-profit arts, we could be facing a decimation of our cultural landscape – not to mention the massive economic impact that arts and culture generate."
On the bright side, this week the Quad City Symphony Orchestra announced it would continue the popular Riverfront Pops concert, moving to Sept. 12 at LeClaire Park, Davenport, under strict health, safety, and social-distancing guidelines.
And Pub 1848 at Moline's Bass Street Landing is back to having open-mic nights on Monday nights. While not in downtowns, Kavanaugh's Hilltop in Rock Island is having live music every weekend, as well as Crawford Brew Works in Bettendorf every Saturday night, Davenport's Grape Life Wine Store and Lounge, Gypsy Highway, and Bent River Brewing in Rock Island every Wednesday has an open jam hosted by the Channel Cats.
The Adler Theatre in downtown Davenport had a slew of cancellations and postponed events this year, with the first rescheduled concert this Sept. 23, with Postmodern Jukebox.
The Bass Street Landing concert series (on Thursday nights) in downtown Moline was canceled this summer until further notice. It grew over the years, to draw up to 1,500 people each week for free music, Manis of Moline Centre said.
"It's just impossible to socially distance people," he said. "And they're free; they're not ticketed events. So, we have decided to step back until the opportunity safely presents itself to reactivate those events."
Live music has been "a huge driver of traffic downtown for a number of years, the same as it is in Nashville or Austin," Carter said. "There's only so much you can do to deal with it. It will be very difficult for the entire live-music ecosystem to survive this timeframe. River Music Experience has been very nimble in doing the curbside concerts, which was really smart, and they've been doing virtual programming every day.
"Live shows in general are still the lifeblood of a lot of tourist economy  and visitors," he said. "It's terrible having that shut down – the people that play the music are suffering; the people who book the music are suffering; the venues are empty. and there's really nothing you can do about it."
The Spotlight Theatre in Moline and Center for Living Arts in Rock Island have cancelled productions, but both are continuing smaller student summer camps.
The Center for Living Arts, 220 19th St., Rock Island, is only opening for two weeks – to July 17 – for its high school camp of "Something Rotten," director Dino Hayz said. "We've removed all of our seating, will be rehearsing while physically distancing, wearing masks, using both theatres to rehearse to keep numbers low, then filming in small groups to stream our show later this summer. A great theatrical experiment!
"Then we close back down until the fall," he said. "We have a cast and crew of 43, which falls under the capacity limit." Their fall semester is planned to start Sept. 8.
"However, we've lost so much revenue that 100% of the one summer camp is going straight to the business of maintaining our properties, not paying for fall rights, or our salaries, etc.," Hayz said. "But we are grateful that we have the chance and the people to put up a show without a real performance."
Resilience is THE word
With epic disasters befalling the Q-C two straight years, it takes tremendous perseverance and drive to survive, and the area has that in spades, the local leaders said.
In the Illinois Quad-Cities, "we're a very tight-knit, resilient community and organization. I know the best is yet to come," Manis said. "We just have to be vigilant about taking all the safety precautions and measures to flatten the curve and to mitigate the best we can the spread of Covid-19."
"Resilience is the word of the day, and the fact that businesses suffered last year and still be on two feet this year. Obviously, this isn't done yet," Davenport's Carter said. "There will be a toll for businesses that don't make it. It depends how long this drags out, how the federal government provides aid or doesn't."
"We've got a great structure; how do we come out of this thing, knowing there's been significant loss?" Herrell asked. "I'm excited with where downtown Davenport is going with their master plan, what Renew Moline is doing with their public art master planning. It's unbelievably exciting to see more public art, and Rock Island's success on historic preservation."
"Our resiliency as a community is such a powerful word," he said. "The fact that we've had to endure a lot as a region, I think if we can get through this, put together the right strategy and direction, as one collective Quad-Cities, we can achieve a lot together.
Rock Island recently took the resilience theme and ran with it, producing a new six-part video series (#RIResilience) in a partnership of the city government, DARI and dphilms, the Rock Island-based media production company.
Launching last month with "Celebrations" – showcasing all Rock Island schools, from elementary to college – the series reveals how different entities in Rock Island have responded to the pandemic's challenges.
The fourth video (on bars and restaurants) just posted on Friday, and they're available on the three partnering organizations' Facebook pages.
"Activate and support your own resiliency for our Rock Island community by making an effort to support the people and businesses that call it home," the city posted Friday with the new video.
"Our Rock Island restaurants, bars, and coffee shops have shifted and transitioned. They've opened. They've made it safe. They've made it possible. They are ready to welcome you. All we need to do is be there. Support them. Make it better together," the post says. "It's times like these we show our #RIResilience by supporting our own first."
"DARI's partnership with the city of Rock Island really strengthened our efforts in uniting the Rock Island business community by offering Covid-19 recovery resources through FORWARD, and also being a point of contact to assist them in any way," said DARI board chair AJ Loss.
The resilience program is "our effort to show how our businesses have been resilient and moving forward despite the restrictions placed by Covid-19," he said. "It showcases the good stories and will give people a sense of pride when viewing the video series."
"We have a strong and resilient business community in Rock Island," Mayor Thoms said. "We recognize that this is the most uncertain time for them, and we wanted to put out a great message on how our community has come together through these trying times. There are too many great stories on what our schools, businesses, organizations, and residents are doing to remain resilient."
The series includes community centers, daycare facilities, essential businesses, parks, recreation, and mental health.
"We are excited to tell the resilient stories of our community and shine a light on the good things the citizens in our community are doing to get through this pandemic," said Jennifer Verscha, dphilms executive producer. "We are strong, we are proud, we are resilient and together we will continue to move our community forward to brighter days."
You can see all the videos HERE.
"We've been hit hard, but it's how you respond to that left cross — whether you're willing to get off the mat, make your community a better place to visit, live, work and invest," Herrell said, "and that's a community you want to be part of."