Price Is Right Many Ways In Benefit Live Set From Ryman
On this Memorial Day, it's important to not only remember those who've paid the ultimate price while serving our country, but it's vital to recall other crucial parts of our lives, also gone.
Remember in the "before times," when going out to hear live music – packed in with hundreds or thousands of other boisterous fans – was a thing we could do? Seeing a favorite artist perform live is a thrill like no other (for me, Paul McCartney last June in Moline is but one example).
Hearing that performer's live album is a special, satisfying memento that attempts to capture that uniquely electrifying joy and passion, like lightning in a bottle.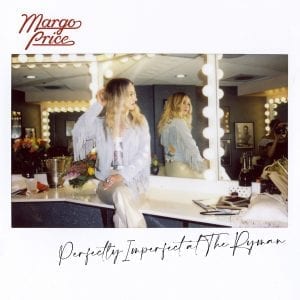 Since major live concerts are a longed-for wish that hopefully will resume at some point, we have the pleasure now of hearing a Quad-Cities native – Margo Price – living her dream. After playing a sold-out, three-night run at the hallowed, historic Ryman Auditorium in Nashville – two years ago this month — the 37-year-old Aledo native recently released "Perfectly Imperfect at the Ryman," exclusively on bandcamp.com.
The 11-song live collection includes three duets, with Jack White on the 2007 White Stripes song "Honey, We Can't Afford to Look This Cheap," Emmylou Harris on "Wild Women" and Sturgill Simpson on Rodney Crowell's "Ain't Livin' Long Like This."
"Perfectly Imperfect" is an unbridled, emotional tour de force throughout – ranging from wistful melancholy, to aggressive delight.
The surprise package comes at the perfect time, since Price had to postpone the release of her third studio album, "That's How Rumors Get Started," (co-produced by Simpson), due out May 8 on Loma Vista Recordings, as well as halting tours until further notice.
Upon the Ryman's May 21 release, Price announced: "I am so excited that we are releasing it today. The recordings are rough and the performances are raw, but there was a magic there and the band was on fire. We played unreleased songs, alternative album versions and had lots of special guests. I hope it moves you."
It certainly does, as Price consistently shows energy, grit, and childlike wonder, in her ringing, radiant voice.
Before the mesmerizing "A Little Pain Waltz," which kicks off the set, the humble, winning artist said, though it was her second night at the former home of the Grand Ole Opry, "It's still very surreal to be standing here in front of you."
The Ryman stage (in the much-renovated 1892 building that began as a gospel tabernacle) is "holy ground for an artist like Price: a young country singer with an old soul, who counts icons like Willie Nelson, Loretta Lynn and Kris Kristofferson not only as heroes, but also now as friends," wrote Nashville's Tennessean after the first of those three 2018 shows.
"I feel like I'm dreaming," Price said two songs into that Ryman debut concert. On the recording, you can tell this is a really big deal for her, and by extension, for us.
Price came to Nashville in 2003 and spent the next 13 years paying her dues in clubs all over town — and on the road — before breaking through in 2016 with her solo album "Midwest Farmer's Daughter," the Tennessean wrote.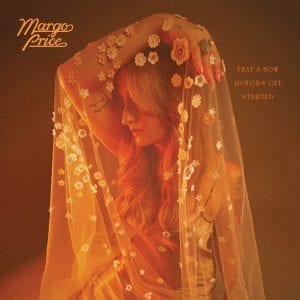 A December 2019 interview with Rolling Stone noted she went from being a waitress to playing SNL (among many national shows) in 2016. "It's been absolutely a complete turnaround from what was going on. I couldn't pay my bills; I was overdrawn in my bank account," Price told the magazine. "Then Third Man (Jack White's label) signed me and I really owe everything to them, because I could have slipped through the cracks."
"That's How Rumors Get Started" will follow her 2017 disc "All American Made," which was named the No. 1 Country/Americana album of the year by Rolling Stone, and one of the top albums of the decade by Esquire, Pitchfork and Billboard, among others. She also earned her first Grammy nomination for Best New Artist.
The Pitchfork review of "All American Made" said:
"America, in Margo Price's country music, is not majestic, sprawling, or inviting. It's broken. It's oppressive. It's stolen. Her second album, 'All American Made,' plays out like a realist, modern Western film, offering a stark survey of a country whose 'cowboys' are city-dwelling music industry vampires; whose farms are bankrupt and acquired by corporate overlords; whose citizens are treated like dirt because of their gender.
"The album's loaded three-word title — a phrase that peers like Kacey Musgraves might sell with a sharp irony or Jason Isbell with a writerly wistfulness — ends up feeling more like an admission of complicity. Throughout the LP, Price tackles Steinbeck-sized issues with a no-bullshit humility in search of answers," the review said.
On "Perfectly Imperfect," after a less than rollicking (while still deeply meaningful) cover of "Proud Mary," Price's rendition of "All American Made" is a withering, cathartic lament that seems to be the record's centerpiece (it's also the longest track, at 7:46).
It's an elegiac, reverent eulogy for a country that could have been and still could be; a Memorial Day anthem, for sure. Weaving in personal experience, Price grieves Midwest farms being turned into plastic homes, an uncle lost in booze, and driving to Nashville in a rusted pickup truck.
She's certainly no stranger to tragedy.
Price and her husband, singer/songwriter Jeremy Ivey (who plays guitar in her band) have two children. Their first, Judah, was born in 2010 with Ezra, his twin brother who died two weeks later from a heart condition. Their daughter, Ramona Lynn, will turn one year old June 4.
The eclectic live album – which features some sweet, soulful strings – sounds like nearly all highlights. The first two duets, with 70-something Harris on "Wild Women" and Grammy winner Simpson on "Ain't Living Long Like This" are just triumphant, urgent fun. Price and Ivey make beautiful harmonies in their duet of his mellow, meditative "Revelations."
One of her signature songs, "Hurtin' (On the Bottle)," is part of a medley that includes two other alcohol-themed classics, Merle Haggard's "I Think I'll Just Stay Here and Drink" and Willie Nelson's "Whiskey River."
The record closes with another haunting waltz, "World's Greatest Loser."
Price generously decided to donate all the album profits (you can buy the digital version for $10) to MusiCares, the charitable arm of the Recording Academy. Its COVID-19 Relief Fund is helping those who make their living by music and have been hurt by the coronavirus pandemic.
\MusiCares announced April 30 that its COVID-19 Relief Fund was depleted and that it has been forced to stop accepting new applications.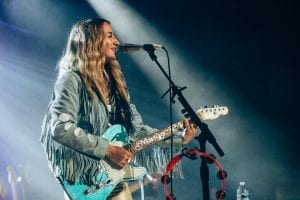 "Unfortunately, until we can raise more money for our COVID-19 Relief Fund, we can no longer accept new applications from those seeking assistance. While our goal is always to provide support to everyone in need, we are currently bound by the funds available," the foundation said in a statement.
Since forming in March, the fund raised nearly $14 million to aid thousands of music industry professionals affected by the pandemic, according to MusiCares.
"It is the largest amount of money raised, with the most recipients helped, for any single event in our history," MusiCares continued. "To date this year, we've vetted and approved 20,200 individuals to receive assistance. For context, that's more than double the number of music people we typically serve in one year. But, there's still so much work to be done.
"We aren't giving up and continue to work relentlessly to raise additional funds, while furthering our commitment to provide leadership in other ways. These initiatives include continuing our advocacy work in Washington D.C., providing guidance for artists as they navigate this new territory, and fostering discussions with a broad group of leaders about the future of our industry."
Recipients can get grants of up to $1,000 to compensate for canceled work and basic living costs for rent or mortgages.
Bless Margo Price for not only feeding our need for new music, but feeding the wallets (and souls) of those devastated by this deadly disease.