Have A Spicy Fat Tuesday With Figge Cajun Cook Off At Rhythm City Casino
Kick off Mardi Gras right here in the Quad Cities, with the Eighth annual Cajun Cook-Off to benefit the Figge Art Museum!
The spicy gig will be held at the Rhythm City Casino Event Center on Fat Tuesday, February 25, from 5-8 p.m.
Eleven local chefs will be stationed around the Event Center at the Rhythm City Casino. Each chef will be cooking Cajun-inspired dishes for guests to sample and vote for their favorite. Participating chefs include Chef Aaron McMahon from Davenport Country Club, Chef Gary Ames from Rhythm City Casino, Chef Shawn Timmerman from The Tangled Wood, Chef Mark Thompson from Thunder Bay Grille, Chef Latisha Howlett from Bayside Bistro, Chefs Mike and Shill Hunter from What BBQ & Bar, Chef Jason Stewart from Zeke's Island Café, Chef Michael Guerrero from Blackhawk Hotel, Chef Matt McDonald from Front Street Brewery, and Pastry Chef Janice Hubbard from Small Town Pastry.
Each ticket includes a coin to vote for your favorite dish of the night, free valet parking, coat check, Mardi Gras beads, a selfie station with Mardi Gras-themed costumes, and food from all eleven chefs. A variety of silent auction items including a crawfish boil for ten, a private plane ride with lunch, John Deere Classic tickets, in-home dinners from participating chefs, Hawkeye football tickets, hotel packages, and more will be open for bidding throughout the night. All proceeds will benefit art acquisitions and special programs at the Figge.

"This is the eighth year this event has benefited the Figge Art Museum, and we are so grateful for the chefs who participate and make it successful year-after-year," says event organizer Natalie Dunlop. "They get to showcase their talents and create dishes that are not typically available in this area."
Some of the dishes guests will be able to sample this year include smoked alligator gumbo, cheesy grits and shrimp, Cajun jambalaya, smoked pork tacos, gumbo, crawfish fettuccini, and mini king cakes.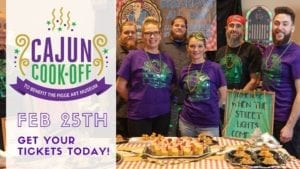 "While the star of this event is the tasty food, all ticket proceeds and silent auction bids will help the museum grow the collection and provide needed resources to continue bringing exceptional museum programs to the community," said Michelle Hargrave, Figge executive director and CEO.
Tickets are available for $35 in advance at www.figgeartmuseum.org or $40 at the door.
About the Figge Art Museum:
The Figge Art Museum is located on the Mississippi River in downtown Davenport at 225 West Second Street. Hours are from 10 a.m. to 5 p.m. Tuesday through Saturday and Sundays noon to 5 p.m. On Thursdays, the museum is open until 9 p.m. Admission to the museum and tour is $10 for adults, $6 for seniors and students with ID, and $4 children ages 4-12. Admission is free to Figge members and institutional members, and always free to all on Thursday evenings from 5 p.m. to 9 p.m. The Figge Café is open 11 a.m.-2 p.m. Tuesday-Friday. To contact the museum, please call 563.326.7804, or visit www.figgeartmuseum.org.