'Grumpy Old Men' Shuffles In At Rock Island's Circa '21
Continuing its 46th season with the return of a fantastically popular musical comedy based on a movie smash, the Circa '21 Dinner Playhouse will treat patrons to the fighting and frolicking of GRUMPY OLD MEN: THE MUSICAL. Running through May 6, this audience favorite was deemed  "sometimes touching, sometimes raucous, and at all times enticing" by the City Journal-Tribune and is being brought to life by a sensational group of professional actors!
 GRUMPY OLD MEN: THE MUSICAL will be presented on Wednesday, Friday and Saturday evenings at 7:30 p.m., Sundays at 5:30 p.m. and Wednesday matinées at 1:15 p.m. Pre-show entertainment featuring the theatre's wait staff, the Bootleggers also will precede all performances. Ticket prices are $60.55 for the evening dinner-and-show productions and $53.73 for the matinées.
 Reservations are available through the Circa '21 ticket office. For reservations, contact the theatre at 1828 3rd Ave., Rock Island or by calling 309-786-7733 ext. 2.
Based on the beloved 1993 movie starring Jack Lemmon, Walter Matthau, Ann-Margret, and Burgess Meredith, GRUMPY OLD MEN: THE MUSICAL tells the story of two aging neighbors, Max and John, who have been feuding for more than 50 years. But when the beautiful and charming Ariel moves in across the street, the bickering neighbors' rivalry is raised to new heights, and this theatrical delight raises the question: Can her love and compassion reunite their friendship? The answer comes in an endearing, riotous entertainment by composer Neil Berg and lyricist Nick Meglin, and a show that led Broadway World critic Dan Morois to state, "With a well-written, fun script laced with comic one liners, loveable characters, and a lighthearted musical score, GRUMPY OLD MEN exceeded all my expectations."
Directing GRUMPY OLD MEN: THE MUSICAL is Curt Wollan, a Circa '21 veteran of many years whose previous musical comedies for the dinner theatre include "Ring of Fire," "Southern Crossroads," The Church Basement Ladies in "You Smell Barn" and the theatre's 2019 production of "Grumpy Old Men."  Gifted area musician, Ron May, serves as music director, having also lent his talents to such recent Circa '21 productions as "We Will Rock You," Irving Berlin's "White Christmas," and Disney's "Beauty & the Beast."
Max, John and Ariel are respectively portrayed by longtime Circa '21 favorites Tom Walljasper (Shear Madness) Brad Hauskins (Disaster!) and Kimberly Vanderginst (The Savannah Sipping Society.) Additional members of the GRUMPY OLD MEN: THE MUSICAL ensemble, meanwhile, include Derrick Bertram, Elsa Besler, Kim Bogus, Sydney Dexter, Bradley Heinrichs, Janos Horvath, Doug Kutzli, Anthony Milfelt, Andrea Moore, John Payonk, Savannah Strandin, Tristan Tapscott and Shelley Walljasper.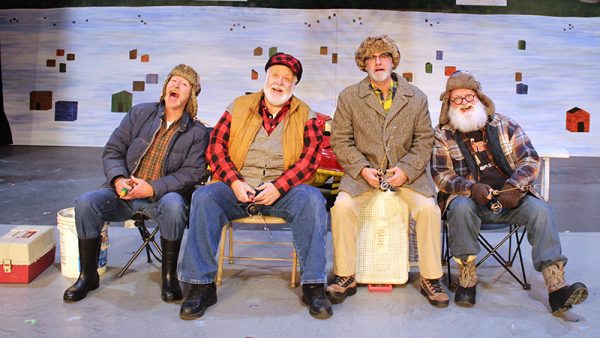 Circa '21's entire staff is thrilled to be continuing their sensational 46th season with this charming, eagerly awaited musical, and urges audience members to reserve tickets for what is certain to be a spectacular stage trip to Wabasha, Minn!  Call the Circa '21 ticket office at 309-786-7733 ext. 2 for reservations and share in the grouchy hilarity of GRUMPY OLD MEN: THE MUSICAL!