Find Some Fun In Illinois And Iowa This Week In Our Latest FUN10!
Looking for some fun in Illinois and Iowa this week?
Well, if you're on the prowl for cool things in the Quad-Cities area and beyond, check out our Fun10!
Fun10 — ten ways for you to have fun in the Quad-Cities, this week and every week, running every Sunday, only on your site for fun, free, local entertainment, QuadCities.com!
Every Sunday, we drop a new Fun10, to give you a head start on your week and a heads up on what's going on over the coming seven days. Check out Fun10 every Sunday for the details on ten awesome events happening around town. It's a cool read, and a great way to get started planning your entertainment for the week.
So what's on the Fun10 for this week? Read on…
Made Market Makes Town This Week
Made Market QC is a handmade + vintage makers market featuring over 150 vendors with trendy boutiques, vintage finds, and the best handmade goods in the Midwest!
Shopping, Live Music, Food + Drinks, too! We intentionally host 3 markets a year in three different seasons- Spring, Summer, + Holiday- in hopes to bring you the BEST shopping experience year round!
MADE MARKET: Spring
Friday, April 7, 5-8pm
Saturday, April 8, 9-3pm
The Bend XPO
East Moline, IL
​ADMISSION:
$5 online
$7 at the door
Learn more here: Made Market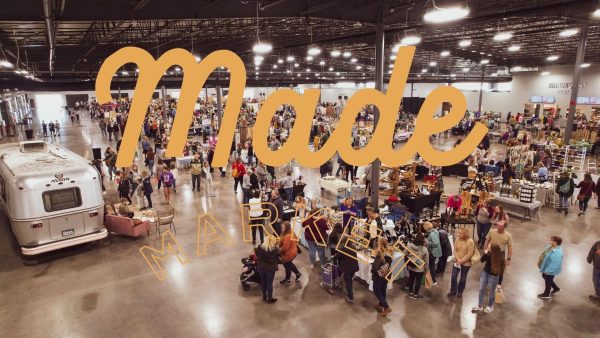 Cinephile Cinema Comes To Rozz Tox
Rozz-tox & Death Stitch Custom Clothing presents Cinephile Cinema: April Edition on April 8 at 7pm!
Featured films include Christopher Nolan's "Memento" which has a runtime at 113 minutes and is rated R and Ken Russell's "Altered States" which has a runtime of 102 minutes and is rated R.
As always this is a FREE admission event hosted by the 365 Horror Film Club.
A note from the presenter: Some of these films are rated R, so we ask that all attendees be 17 years of age or accompanied by an adult. We try to present these films in a very relaxed setting encouraging conversation at these events, that being said if you have trouble hearing the film just let staff know, and we will turn it up for you. Attendees are also welcome to bring their favorite lawn chair. No outside food or drink is allowed at the Rozz-tox, but there will be a wide selection of food and drink available for purchase. There will also be a wide variety of horror merchandise available from 365 Horror Films and Death Stitch Custom Clothing.
Learn more here: CINEPHILE CINEMA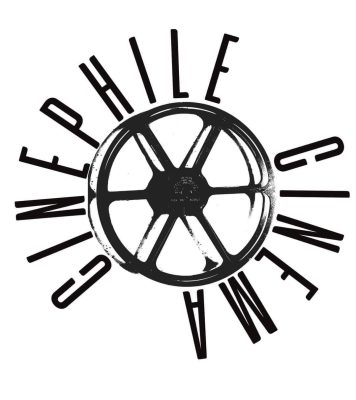 Black Box Debuts A Mystery Next Weekend
Black Box Theatre in downtown Moline is bringing the penny dreadful "The Mystery of Irma Vep" by Charles Ludlam to their stage April 13-22. Shows are Thursday, Friday, Saturday at 7:30 pm and the first Sunday at 2:00 pm.
"The Mystery of Irma Vep" is set in the English country estate of Lord Edgar Hillcrest. He's a widower, having lost his beloved wife, Irma Vep. He's recently remarried Lady Enid, an actress not quite settled into her new role as Lady of the manor. Indeed, her maid, Jane, doesn't think she'll ever measure up to Lady Irma.
Meanwhile, Lord Edgar is disturbed by strange happenings out on the heath, including the monthly disappearance of his groundskeeper, Nicodemus. In an effort to explain all of the strange happenings at the estate, Lord Edgar goes on an expedition to Egypt to discover the secrets of what truly lies behind the mystery of Irma Vep.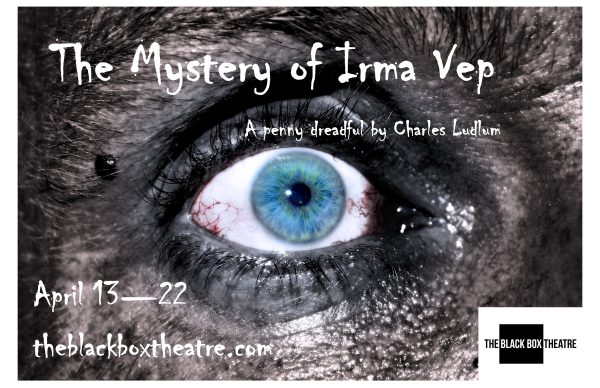 A penny dreadful is described as "a cheap paperback book, particularly those concerning lurid depictions of crime in the Victorian era" and "The Mystery of Irma Vep" draws on everything from satire to films like "Wuthering Heights" and the Alfred Hitchcock film "Rebecca" (1940). The title refers to the name of a character in the 1915 French movie serial "Les Vampires" and is an anagram of the word "vampire."
 The play is directed by Max Moline and features actors, T Green and Max Robnett playing nine roles. Set and costume design by Lora Adams (Black Box co-founder and artistic director) and lights by Roger Pavey, Jr.
Join The Adult Easter Egg Hunt At The Current
Join UP Skybar & The Current Iowa for the BEST Easter Egg Hunt in the Quad Cities!
Saturday April 8th from 3:00PM – 5:00PM we will be hosting an ADULT EASTER EGG HUNT.
That's Right, 21+ ONLY…
Prizes will include:
Candy (Who doesn't love candy)
Booze (Airplane bottles & full-size bottles)
Gift Certificates (City loafers & Rise Neighborhood Cafe)
A Free night's stay at The Current Iowa.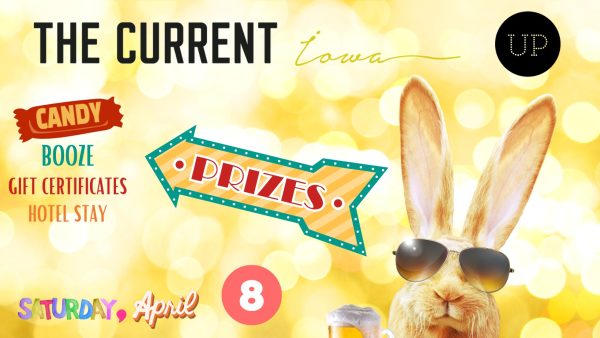 'Step Brothers' Trivia Stepping Up Tuesday Night
"Did we just become best friends?"
Step Brothers Trivia Night
Tuesday, April 4th @ 7pm
Old Chicago (
Bettendorf
, IA)
FREE To Play
Up To 8 People per Team
Win House Cash!
ALL AGES
Get there EARLY to get a table!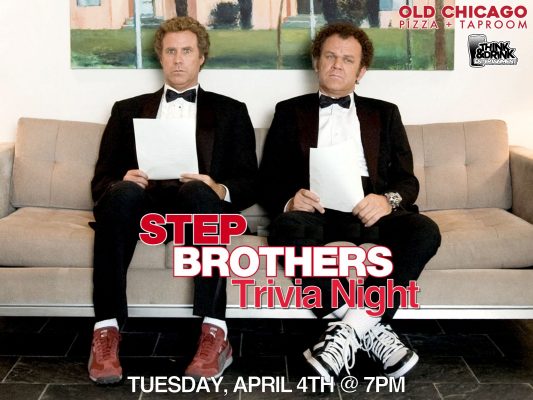 Learn Libby At Library This Wednesday
Bettendorf, IA – Bettendorf Public Library cardholders have immediate access to thousands of online books, audiobooks, and magazines through the library's subscription to Libby. Cardholders can use this digital library for free on a myriad of handheld devices or a computer. On Wednesday, April 5th at 6:30 PM, staff at the Bettendorf Public Library are offering Learning Libby. This hands-on program will teach participants how to use the Libby app to access the Library's virtual collections. The class will be held at the Bettendorf Public Library located at 2950 Learning Campus Dr. in Bettendorf. Registration is required for this free event and can be made by visiting https://events.bettendorflibrary.com/event/8064063 or by calling the Library at 563-344-4175.
Registrants are asked to bring their device, library card, and app store log in information to the class. Learning Libby will take participants through the process of downloading the Libby app, searching for materials, checking out, reading or listening to an item, and returning a digital title. The event will end with a question-and-answer period. More information about this and other Bettendorf Public Library events can be found at www.bettendorflibrary.com or by calling 563-344-4175.
ABOUT the Bettendorf Public Library Information Center: Located at 2950 Learning Campus Drive, Bettendorf, Iowa 52722, the library's mission is "Committed to providing access to information and ideas for all." For more information, visit www.bettendorflibrary.com or call 563-344-4175.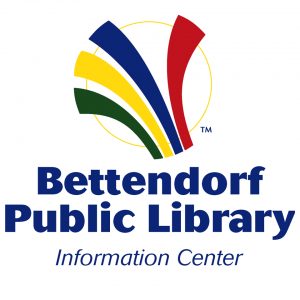 Junie B. Jones At Circa '21
Described by the New York Times as "effervescent and entertaining," and by Online America as an all-ages show that delivers "fresh bursts of energy," JUNIE B.'S ESSENTIAL SURVIVAL GUIDE TO SCHOOL opens the 2023 season of high-spirited family musicals at Rock Island's Circa '21 Dinner Playhouse. Running through April 22, this energetic delight is adapted from Barbara Park's beloved children's-book series about the riotous and winning young Junie B. Jones and is being staged by a sensational cast and crew of professional talents.
Circa '21 will present show-only performances of JUNIE B.'S ESSENTIAL SURVIVAL GUIDE TO SCHOOL on scheduled Tuesday-through-Saturday mornings and afternoons from March 30 through April 22. Morning productions, with the doors opening at 9:30 a.m. and the shows beginning at 10 a.m., will take place on March 30 and 31, as well as on April 1, 4, 6, 8, 11, 13, 14, 17, 18, 20, 21, and 22. Afternoon productions, with 12:30 p.m. doors and 1 p.m. show times, are scheduled for the Saturdays of April 1, 8, 15, and 22. Many of the weekday performances are already sold out.
Ticket prices are $10 per person. For tickets and information, contact the Circa '21 Dinner Playhouse at 1828 Third Ave., Rock Island, or by calling 309-786-7733, ext. 2.
Bootleg Hill Open Mic Showcases Local Talent
Looking for a spot to showcase your talents?
How about the Bootleg Hill open mic night?
The musical open mic night is back. Happening weekly at Bootleg Hill Honey Meads in downtown Davenport. All are welcome. Hosted by Dan Fennesy and starts at 8 p.m.
Rock Out With Bingo!
It's time to rock out with rock star bingo!
Think you know your music trivia? Time to test your skills!
Think you know your music?
If you know what song contains these lyrics, you would probably love Rock Star Bingo!
"And she's watching him with those eyes,
And she's loving him with that body, I just know it,
Yeah 'n' he's holding her in his arms late, late at night."
What is Rock Star Bingo?
Just like "regular" bingo, but we replaced bingo numbers, like "B16", with parts of songs. If you know the song title (no phones, devices or apps – basically no cheating), then place a bingo chip on that square. Get 5 squares in a row and you're a winner!!
It's the most fun you will ever have playing bingo!
According to the folks involved, here are the deets:
**NEW Start Time of 7pm**
Rock Star Bingo
EVERY Wednesday @ 7pm
The Tangled Wood (
Bettendorf
, IA)
B-I-N-G-O +
Name That Tune +
Sing-a-longs
Rock Star Bingo
FREE To Play
Win FREE drinks!
Music changes EVERY week!
Music from the 50's through music that came out in the last month!
#ThisAintYourGrandmothersBingoNight
Trivia Night Hits Bettendorf
Trivia Night Live is rolling into The Tangled Wood in Bettendorf every Tuesday at 7 p.m.!
It's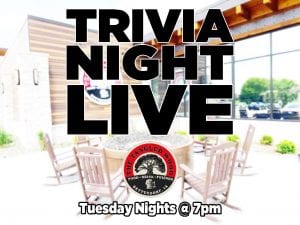 Free To Play, with up to eight people per team playing in various categories.
What is Trivia Night Live?
Trivia Night Live is a live interactive team trivia game played at your favorite restaurants and bars. The game consists of four rounds of questions of increasing difficulty and point values. Categories range from current events, history, geography, science, sports, and more….
Trivia Night Live is free to play, and you can have up to 8 members on a team.
Prizes are awarded for the winner of the 1st half and the overall winners win a $25 gift card for 1st Place, $10 for 2nd Place (cannot be used the same night).
We ask a question, and then play a song. Your team has the duration of that song to turn in your answer. No cell phones. web devices or smart watches can be used, just the useless trivial knowledge contained between your ears.
#LiveFromDavenportItsTriviaNight