Find Fun Events In Illinois And Iowa This Week In The Weekly FUN10
Looking for some fun things to do in Illinois and Iowa this week?
In the Quad-Cities?
Check out our Fun10!
Fun10 — ten ways for you to have fun in the Quad-Cities, this week and every week, only on your site for fun, free, local entertainment, QuadCities.com!
Every week, we drop a new Fun10, to give you a head start on your week and a heads up on what's going on over the coming seven days. Check out Fun10 every Sunday for the details on ten awesome events happening around town. It's a cool read, and a great way to get started planning your entertainment for the week.
So what's on the Fun10 for this week? Read on…
Moline Township Concert Series Rising Again
Summer Concerts take place in Stephens Square Park outside the East end of the Moline Township Activity Center.  The bands play from 6:30 pm to 8:30 pm and you can get something to eat in the M.A.C. dining room from 5:00 pm until the food is gone. We will be serving brats, hot dogs, sloppy joe's, chips, dessert, and non-alcoholic beverages. Once the music begins, we will be selling popcorn, soda, and bottled water outside in the park. Parking is available across 18th Street in the Moline Township parking lot (next to Amerifile), Bethany's parking lot, the old Dispatch parking lot located at 1720 5th Ave, and any on street parking.
Here's the summer schedule:
June 5th The Tailfins
June 12th The Hotrods
June 26th The Moonlighters
July 3rd Night People
July 10th Crooked Cactus
July 17th Glory Days Garage Band
July 24th Tommy Pickett & Friends
July 31st Gray Wolf
Starlight Review Concert Series In Rock Island
Join us for our 67th Annual Starlight Revue Concert Series at Lincoln Park in
Rock Island
!
June 6 River CIty 6
June 13 Gray Wolf
June 20 Troy Rangel & Friends
June 27 The Hot Rods
July 11 Superfly Samurai
July 18 The Tailfins
July 25 Josh Duffee Orchestra
August 1 The Night People
August 8 RAIN DATE
Bettendorf Summer Concert Series Beginning
Summer is on our doorstep and the Bettendorf Public Library is set to celebrate with the return of its wildly popular Summer Concert Series. The eleven-week series starts on June 1st and takes place each Thursday night at 6:30 PM at Faye's Field located at 2850 Learning Campus Dr. in Bettendorf. Attendees are encouraged to bring along food and drink to this program. In the case of inclement weather, concerts will be
held inside the Bettendorf Public Library which is next to Faye's Field.
The Summer Concert Series band line up Is as follows:
6/1 – Doggin' Out
6/8 – 10 of Soul
6/15 – Douglas & Tucker
6/22 – Troy Rangel & Friends
6/29 – Tailfins
7/6 – Angela Meyer Band
7/13 – Crooked Cactus
7/20 – Knockoffs
7/27 – Big Fun
8/3 – Logan Springer
8/10 – Funktastic 5
The Summer Concert Series is funded by the Bettendorf Public Library Foundation and
supported by Title Sponsors: TBK Bank, Abbey Carpet Gallery, Build to Suit, and Focus Real
Estate Development; Autographed Edition Sponsors: Bettendorf Rotary Club and Duck Creek
Tire & Service; Limited Edition Sponsor: Mel Foster Co.; and First Edition Sponsor: BankORION.
More information about the Summer Concert Series series and other library events can be
found at www.bettendorflibrary.com or by calling 563-344-4175.
ABOUT the Bettendorf Public Library Information Center: Located at 2950 Learning Campus
Drive, Bettendorf, Iowa 52722, the library's mission is "Committed to providing access to
information and ideas for all." For more information, visit www.bettendorflibrary.com or call
563-344-4175.
Bass Street Landing Concerts Every Week In Moline
the 2023 Summer Concert Series at Bass Street Landing Plaza is going on every Thursday in Moline! Live music starts at 6pm.
This is a FREE event. And, with food and beverages available for purchase, all you need to bring is a lawn chair!
Thank you to our sponsors –
No outside alcohol allowed.
Bass Street Landing Plaza is located at 1601 River Drive, Moline, Illinois (between River Station and KONE Centre).
If there is inclement weather, the event will be moved to Pour Bros. Craft Taproom, 1209 4th Avenue, Moline.
The concert schedule includes: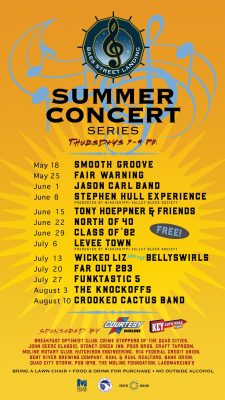 Get Into Thursday Night Groove At Schwiebert Park
Get into the groove at Rock Island's Schwiebert Park!
Come listen to live music along the Rock Island riverfront at Schwiebert Park, 1st Ave. and 18th St.  Sponsored by Rock Island Parks and Recreation and sponsored in part by: Rock Island Happy Joes, Alternating Currents, Friendship Manor, Bent River Brewing Company, and Mississippi Valley Blues Society.
Thursday Night Groove
8/17/2023 Alternating Currents (Artist TBA)
8/24/2023 Kara Grainger Band (Mississippi Valley Blues Society)
8/31/2023 Funktastic 5 (GECU Night)
9/7/2023 Crooked Cactus Band
9/14/2023 Class of '82
9/21/2023 Soul Storm
9/28/2023 For Those About to Yacht
10/5/2023 Far Out 283
10/12/2023 Fair Warning
10/19/2023 RAIN DATE IF NEEDED
6:00pm Concession Open from Bent River Brewing and Rock Island Parks Concession Stand Featuring Rock Island Happy Joes
7:00pm-9:00pm Concert
*No outside alcohol allowed in Park.
**Bring a lawn chair or blanket to enjoy the concert on the Great Lawn!
Tunes In Town Tunes Up In DeWitt
The 2023 Tunes in Town Summer Concert Series is back on June 6-August 29 from 6:00-8:30 pm. Come to Lincoln Park each week in DeWitt, IA, to enjoy live music, food vendors, and fun for the whole family all summer long. Bring your own cooler, seating and check out the local food trucks & stands available for each event.
Check out this year's lineup:
June 6th – 3 On The Tree with a Car Cruise In
June 13th – Jordan Danielsen & Jef Spradley
June 20th – Ron Lubbers Entertainment
June 27th – The Crooked Cactus Band. AKA Los Nopales Chuecos
July 4th – Dance The Night Away Productions Daytime Celebration!
July 11th – 10 of Soul
July 18th – The Hot Rods with a Car Cruise In
July 25th – Gordy and Debbie
August 1st – The Hitman, Tim Durth
August 8th – Montana Sunrise
August 15th – JIMMY WELTY BAND
August 22nd – North of 40
August 29th – The Tailfins Band with a Car Cruise In
You can't download LIVE music, 🎧 so mark your calendars and join us for a great concert series in Lincoln Park this summer!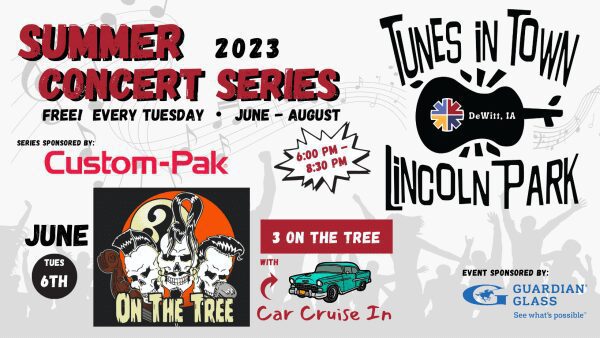 Kewanee Summer Concert Series Revs Up
Kewanee is revving up their 27th Season of Concerts in the Park at Veterans Park, 400 E. 2nd St., Kewanee. Food stand opens at 5:00 p.m. with music starting at 6:30 p.m. No admission. Bring a lawn chair and enjoy live music outdoors! Click the link to see the full 2023 line up.
Here's the schedule:
June 22 Jim Markum Swing Band
June 29 Lyle Beaver & the Brass Notes
July 6 The Aristocrats
July 13 Troy Rangel & Friends
July 20 West MacQueen Street Band
July 27 Kewanee Community Band/Jazz on the Side
August 3 KHS Marching Boilermakers & Guests
August 10 Glory Days Garage Band
August 17 River City 6
August 24 Crooked Cactus Band AKA Los Nopales Chuecos
Bring your lawn chairs or blankets

Geneseo Farmer's Market Kicks Off This Week
The Geneseo Farmer's Market is all about local people getting together to sell their fresh produce, homemade baked goods, home canning, handcrafted health and beauty items, superb sewing, creative crafts, fabulous flowers and pretty plants.
For a small market, they have something for everyone!
The first market kicks off June 2 in Downtown Geneseo!
Learn more: GENESEO FARMER'S MARKET
Live at Five Returns This Week
Live At 5 – Free Summer Concert Series is back with some brand new additions!
Live music will happen every Friday from 5pm – 7pm in the Skybridge Courtyard at Common Chord! Sound is rocking, boots are stomping & tasty cold beverages are poured for a weekend kick-off celebration in Downtown Davenport, IA.
The party does not stop there… with the new "AFTERPARTY" addition at Zeke's Island Cafe, with each week's featured intermission artist performing from 7pm – 8pm!
Series Line Up:
June 2nd: SUMMER KICKOFF BLOCK PARTY! feat. Jason Carl and The Whole Damn Band & CJ Parker, w/ QC Rock Academy bands / Sponsored by: Northwest Bank
June 9th: Funktastic 5 | Sponsored by: Electric Doctor
June 16th: Blues Rock-It | Sponsored by: Zeke's Island Cafe
June 23rd: The Blackstones | Sponsored by: Davenport Printing Co.
June 30th: John Resch & Doggin' Out | Sponsored by: Pierce's Promise
July 7th: Logan Springer & The Wonderfully Wild | Sponsored by: Downtown Davenport Partnership
July 14th: The Textures | Sponsored by: IHMVCU
July 21st: Crooked Cactus | Sponsored by: MidAmerican Energy
July 28th: BYOBrass | Sponsored by: Virdi Dental
Aug. 4th: Fair Warning | Sponsored by: Friends Of Common Chord
Aug. 11th: Far Out 283 | Sponsored by: Friends Of Common Chord
Aug. 18th: Beaker Bros. Band | Sponsored by: QC Foot & Ankle
Aug. 25th: Rude Punch | Sponsored by: IHMVCU
Sept. 1st: Matt Fuller Band | Sponsored by: Friends Of Common Chord
Sept. 8th: The Knockoffs | Sponsored by: Friends Of Common Chord
Sept. 15th: The Velies | Sponsored by: The Planning Center
Sept. 22nd: Wicked Liz & The Bellyswirls | Sponsored by: Grace Technologies
Sept. 29th: Michael Moncada & Whiskey High | Sponsored by: Lobo's Salsa
Learn more: LIVE AT 5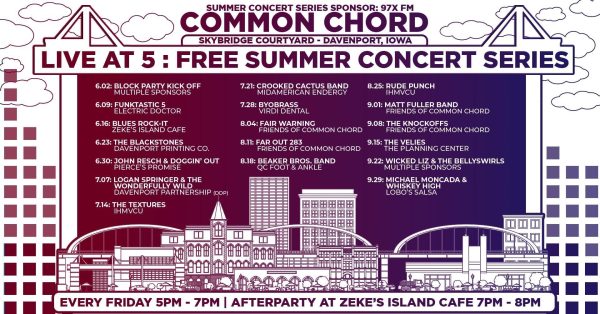 E
Say 'Hello' To 'Hello Dolly'
The Black Box Theatre in downtown Moline opens their production of "Hello Dolly" June 1 and running through the 10th.
Hello, Dolly! is a 1964 musical with lyrics and music by Jerry Herman and a book by Michael Stewart, based on Thornton Wilder's 1938 farce The Merchant of Yonkers, which Wilder revised and retitled The Matchmaker in 1955. The musical follows the story of Dolly Gallagher Levi, a strong-willed matchmaker, as she travels to Yonkers, New York, to find a match for the miserly "well-known unmarried half-a-millionaire" Horace Vandergelder. The show has become one of the most enduring musical theater hits, with four Broadway revivals and international success. It was also made into the 1969 film by 20th Century Fox starring Barbra Streisand.
The cast of the Black Box production include: Shelley Cooper as Dolly Levi, Doug Kutzli as Horace Vandergelder, Tristan Tapscott as Cornelius Hackl, Jacqueline Isaascon as Irene Malloy, Roger, Pavey, Jr. as Barnaby Tucker, Mukupa Lungu as Minnie Fae with Lucy Dlarmini, Robert Gregory, Jennifer Cook Gregory, and Tyler Henning with music direction by C.J. Parker, rehearsal pianist Jonathan Turner, choreography by Madeline Rhodes, and direction and design by Lora Adams.
"Many people have wondered how we would do a big musical on the Black Box Theatre stage. When I started as an actor I did Minnie Fae at Wilson Street East Dinner Playhouse in Madison, Wisconsin, which was a smaller stage than BBT so I knew it could be done," said director Adams
Show times are June 1, 2, 8, 9, 10 at 7:30 pm and June 3 and 4 at 2:00 pm. Tickets are $10 and available at theblackboxtheatre.com On June 3 GIT Improv will have an evening performance at 7:30 pm. Tickets are $10.