Tug Fest Back and Better Than Ever In LeClaire And Port Byron This Weekend!
Two states. One river. The only sporting event that closes the Mighty Mississippi down. It's time for Tug Fest!
The 33rd Annual Tug Fest is happening in Port Byron, Illinois and LeClaire, Iowa this weekend! Today through Saturday each of the two cities will have a plethora of family-friendly activities planned. On Saturday, the nationally famous bi-state Tug-of-War will take place!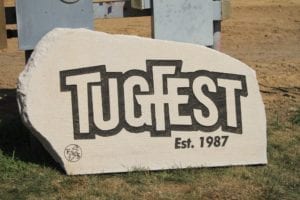 It began in 1987, with ten 20-member tug teams pulling with all of their strength on a 2,700-foot, 680 lb. rope that spans the Mississippi River between LeClaire, Iowa and Port Byron, Illinois. Each year the teams pull to see who will claim the breath-taking alabaster statue of a Bald Eagle in flight. Over 35,000 people view this spectacular and only tug-of-war across the longest river in the United States. Tug Fest has been featured in travel, vacation magazines, television programming across the country and has received international notoriety on Germany's "Inside the USA", "Galileo XXL",The Montel Williams Show, Discovery Channel's "Wreakreation Nation"  and PBS television.
Port Byron will celebrate the 33rd Annual Great River Tug Fest with a carnival, live music, vendors, fireworks and more! For a full schedule of activities, go to http://tugfest.org.
LeClaire, not to be outdone, will also provide a carnival, live music, vendors, parade, fireworks and more! For a full list of activities on the Iowa side, visit http://tugfest.com/.
This is not only a competition of .org versus .com. Saturday is the big day when each town will compete for the bragging rights and alabaster statue. The big tug takes place from 12:30 – 2:30 p.m. The current standings are Port Byron in the lead with 21 (last year's champs) wins and LeClaire 11 wins. Who will become the victor for 2019?
You can also find more information and deals on each town's Facebook pages for Port Byron (https://www.facebook.com/greatrivertugfest/) and LeClaire (https://www.facebook.com/TugFestIowa1/).
Don't miss this  celebration!