Q-C Filmmakers In L.A., Scott Beck and Bryan Woods Celebrate Huge Week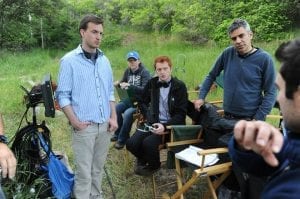 Former Quad-Citians Scott Beck and Bryan Woods have had an eventful week. The longtime filmmakers, their careers exploding in Los Angeles, saw two huge milestones in those journeys.
Last week, Paramount Pictures released the trailer for Beck and Woods' screenplay, "A Quiet Place," which stars Emily Blunt and John Krasinski. To date, the trailer has generated over 4.5 million views and has been featured in theaters around the globe in front of "Justice League."
The duo are also happy to announce that they wrapped principle photography on their new horror film and their major studio directorial debut, "Haunt,"  this last Tuesday in Northern Kentucky. "Haunt" is produced by Eli Roth, Sierra/Affinity, Nickel City Pictures, Broken Road Productions and stars Katie Stevens, Will Brittain, Lauryn Alisa McClain, Andrew Caldwell, Shazi Raja, and Schuyler Helford.
Follow them on Twitter (@beckandwoods) and Instagram (@beckandwoods) for the latest news.