Go Retro at the Hilltop Campus Village's Retrofest This Weekend!
Grab your bell-bottoms and tie-dyed shirts! We're going retro!
This year's Hilltop Campus Village Retrofest is celebrating the 1970's! Retrofest is happening this Saturday Sep 15 from 12-9:30 p.m. in the Hilltop Plaza (15th and Harrison St. Davenport).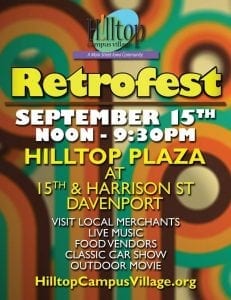 Visit local merchants and enjoy live music, food vendors, a classic car show, outdoor movie and so much more! Admission is FREE!
A 70's-themed car show will begin at 1:30 p.m. Come check some amazing retro cars and trucks!
Live music kicks off at 3 p.m. with Dwayne Hodges. Then continues with Angela Meyer at 4 p.m., Been There Done That at 5 p.m. and V2-VanderVeer at 6 p.m.
An outdoor movie will be presented at dusk. To make this a little more fun for the kiddos, this movie will be a 'drive-in' movie for them! Kids will be making their own cars out of cardboard boxes throughout the day. Some supplies will be on-site, but bringing your own homemade car is welcome, too! The movie being shown has not been announced, however a fun clue has been given on Facebook. The quote reads, "If you want to view paradise, simply look around and view it. Anything you want to, do it; want to change the world… there's nothing to it." Hm… what could it be?
For more information on this year's Retrofest, visit https://hilltopcampusvillage.org/2018/08/31/hilltop-campus-village-70s-retrofest/ or visit them on Facebook at https://www.facebook.com/HilltopCampusVillage/.