REVIEW: Circa '21's 'Winter Wonderland' Is A Sweet Holiday Treat
Circa '21's "Winter Wonderland" gave me everything I would want in a holiday special — it was lighthearted, cute, funny and full of snowflake fluffy holiday cheer. It's what you want in a Christmas special, and I wholeheartedly recommend it as a perfect family gift for the holiday season.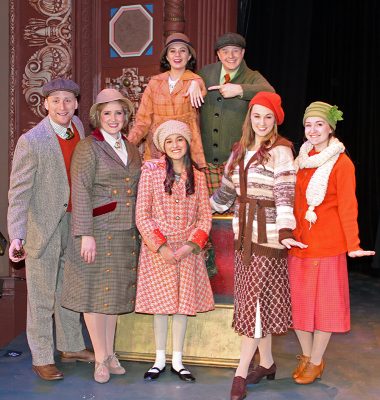 Expertly produced, director/choreographer Sean McCall, musical director Ron May, scenic designer Susan Holgersson, costume designer Greg Hiatt and lighting designer Heather Hauskins have created a winter wonderland of their own on the stage, a beautiful and cozy setting for a goofy show with a simple message having the requisite amount of heart and schmaltz for the season. It's a show you can take both grandpa and grandkids to without any qualms, and as such, it's pretty much the perfect performance for this time of year.
The plotline, as it is for most of these shows, is pretty thin, and it's the personalities of the performers that pull it off and make it really shine. A Santa Claus proxy named Cap (Mark McGinn) is running a holiday resort with a bit of magic and three elven workers, the sparky and upbeat Gusty (Derrick Bertram), the cute and perky Breeze (Erica Lee Bigelow) and the buoyant and wide-eyed Gail (Krianna Walljasper). They're being visited by a family seeking holiday cheer, and possibly "Elf" tickets, Greg (Bobby Becher), Jan (Ashley Becher) and Lucy (Cameryn Bergthold/Wrigley Mancha), as well as a pair of persistent yet unsuccessful podcasters, Ben (Tristan Layne Tapscott) and Jeri (Savannah Bay Strandin), who are in search of various permutations of the Christmas spirit, etc.
Suddenly, through the use of a magic pine cone, the characters are all transported from the resort in 2021, to the resort in 1921, where each of them enjoys a trip back in time to rediscover the magic of Christmas in the time of Gatsby, as opposed to the magic of Christmas in the time of Chappelle vs. Gadsby. It's a cute plot twist that allows for some fun costuming, jokes and scenarios, and brings forth the differences between the eras and the throughline of Christmas being a time for love, for family, and for creating memories over crass commercialism.
Each of the characters is pert and funny in a Peter Scolari way — that kind of nice, amiable person that has a gentle humor that you just enjoy being around. Now, that's not going to work in a production of "12 Angry Men," but it's the exact right fit here, and all of the actors involved are so inherently likeable and funny (even the infamous Tapscott) that you're pleased to go along with them for this breezy sleigh ride through the snow, and through a bagful of holiday favorite tunes, from "Jingle All The Way" to "I Hear The Bells on Christmas Day" to the title track.
There's really nothing I can say that's negative about the show. It knows exactly what it is, and it doesn't try to be any more or any less, and with a holiday show, that's exactly what you want. Especially coming out of the turmoil of the last two years, the last thing any of us needs is some moralizing crapola under our Christmas stocking. It's nice to just sit back and be treated to some fun fluff for a change, enjoy some colorful costumes, some goofy jokes, some clean-cut characters, and a bunch of upbeat tunes to get us into the mood of the season. "Winter Wonderland" is quite charming, and I think that's the best gift we could all get right now.
"Winter Wonderland" runs through Dec. 29 at Circa '21 Dinner Playhouse, 1818 3rd Ave., Rock Island. Check out www.Circa21.com for tickets and more info on showtimes or call (309) 786-7733, ext. 2.