Circa '21 Provides A Nice 'Escape' For Jimmy Buffett Fans
I've always had kind of a mixed relationship with the music of Jimmy Buffett. I've seen him in concert a couple of times because I have friends who are Parrotheads and absolutely love him, and after seeing him once, I found his show really entertaining so I've gone along with them subsequent times to gigs even though my feelings on his music are, again, pretty mixed.
One of my favorite songs of all time is actually a Jimmy Buffett song. "Come Monday." It's a beautiful ballad that hits just right when you're missing someone, and it's a wonderful song.
One of my most-hated songs of all time is also a Jimmy Buffett song. "Cheeseburger in Paradise" is like fingernails on a chalkboard to me. I just find it to be completely insipid and pandering.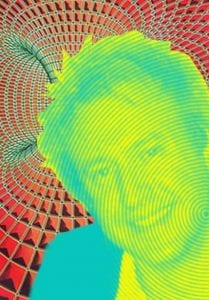 So, I wasn't sure how much I was or wasn't going to like Circa '21's new show, "Escape To Margaritaville," based on the music of Buffett. (The show runs through Sept. 9 at the Rock Island theater, call (309) 786-7733, ext. 2 for tickets and showtimes.) As it turns out, it's just as free-wheeling and oddly diverse as the Buffett catalog, and I felt just the same watching it. From the reaction of Buffett fans on opening night, who gave it a standing ovation, if you're a Buffett fan you're going to love it. Me? I really loved parts of it, and other parts of it left me kinda meh.
"Escape" has an interesting book, and I give it credit for taking some completely bizarre turns, much like Buffett's catalog. It comes out of the gate seeming like a fairly predictable love story, but then it zigs and it zags, drunk off ideas and tequila, until finally finding a sweet spot that feels right. Along the way are some really terrific moments.
In "Escape," we meet a lothario musician, Tully (Cameron Nies), who's been milking a residency on an island resort, breaking hearts along the way. He meets his match in globetrotting researcher Rachel (Melissa Campbell), who comes looking for fun there with her soon-to-be-married friend Tammy (Madison Stepnowski). Tammy is about to wed a doltish meathead, Chadd (Liam A. Fisher) but finds herself falling for a down-to-earth sweetheart in the dim but lovable Brick (Bobby Becher), dragging along her buddy Rachel to double-date. The two couples pair off during Rachel and Tammy's vacation and… that's it. They go back to their lives. Much to the chagrin of Brick and Tully. That begins a pair of dual narratives showing how all of them move on, move around, and — c'mon now, did you expect anything different? — move back into orbit with each other.  It's actually a refreshing little switchup, even if some of the things that happen in between are a little strange and some beggar belief, but then again, that kind of follows the strange and beyond belief range and odd humor of Buffett's catalog, which is why I think fans of Jimmy will find the show charming. Along the way, they meet colorful characters like the rakish older roustabout J.D. (Brad Hauskins), the spicy silver fox Marley (K. Bernice), Wanda (Abigail Graham), Jamal (Joshua James Crawford) and the goons (Taylor Lynn, Matthew J. Brightbill), among others.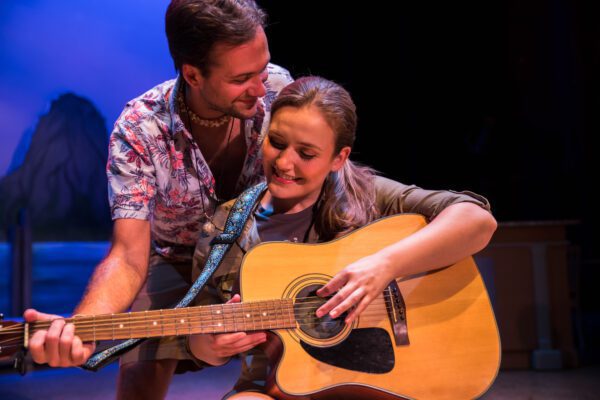 In the midst of the goofier moments though, much like Buffett's catalog, there are some really heartfelt and poignant moments that are almost surprising in how affecting they are, juxtaposed with the wackier elements. One of these is my favorite moment of the show, "He Went To Paris," led by Hauskins, Nies, and Becher. It's surprisingly touching and very well done, and it really hits nicely, especially as you're coming off the ridiculousness of "Volcano."
But that's Buffett for you — moments of genuine, touching emotion, alongside moments of complete dorky ridiculousness — which is why I think in a way this show is perfect for his fans. They seem to dig that mix, and they'll dig "Escape From Margaritaville." Grab yourself a cervesa and some tequila and head on down to Circa to check it out.