BREAKING: Illinois Reopens Friday, What Does It Mean For You?
BREAKING NEWS: Illinois will reopen tomorrow after over a year in various stages of covid lockdown!
Governor JB Pritzker announced earlier this week that the metrics had been met to put Illinois into Phase 5, which is the least restrictive of all the mitigation phases for the pandemic.
So what does that mean for you?
How will your life change, for the better, with fewer restrictions?
And what restrictions, if any, still remain?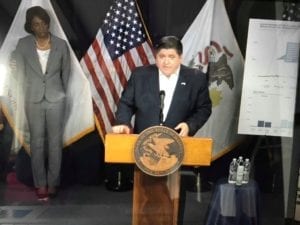 According to the Illinois Department of Health, under Phase 5 (the new phase), fully vaccinated people can resume activities without wearing a mask except where required by federal, state, local, tribal, or territorial laws, rules and regulations, including local business and workplace guidance.
Outdoor festivals and large gatherings like concerts can also take place, as the new phase means the return of traditional conventions, festivals, and large events without capacity restrictions. Large gatherings of all sizes can resume across all industry settings, and Phase 5 removes requirements that businesses institute mandatory social distancing in seated venues as well as daily health screenings of employees and visitors.
However, according to the IDH, not everything is going back to 100 percent normal.
The state is recommending masks for unvaccinated persons, as well as all individuals on planes, buses, trains, and other forms of public transportation; in transportation hubs, such as airports and train and bus stations; in congregate facilities such as correctional facilities, veterans' homes, and long-term care facilities, group homes, and residential facilities; and in healthcare settings.
In addition, businesses and venues are being asked to allow for social distancing to the extent possible, especially indoors. Businesses and
venues may also continue to put in place additional public health mitigations as they deem appropriate, including requiring face coverings.
"After a tremendously challenging year, Illinois has now reached a defining moment in our efforts to defeat COVID-19," Illinois Governor JB Pritzker said. "Thanks to the hard work of residents across the state, Illinois will soon resume life as we knew it before – returning to events, gatherings, and a fully reopened economy, with some of the safety guidelines we've adopted still in place."
"This pandemic has robbed us of many of our freedoms such as going to ball games and concerts, celebrating graduations, weddings, and birthdays, going to dinner with friends, and even sharing a hug with loved ones we don't live with," Illinois Department of Public Director Dr. Ngozi Ezike said. "The vaccine is giving us our freedoms back and allowing us to move to Phase 5. Let's keep the vaccination momentum going so we can put this pandemic in the rearview mirror and not look back."
However, the IDH did warn that, well, we could end up looking back, and going back, if things reverse and go back to being problematic.
Should the following metrics go in a negative direction, the state could backslide:
If hospital admissions for COVID-19 illnesses increase to more than 150 hospitalizations per day over a 10-day monitoring period.
If the number of COVID patients in hospitals climbs above 750 and stays there for more than 10 days.
If the state's mortality rate increases and goes above a 0.1 daily average.
If ICU bed availability statewide drops below 20% over a 10-day monitoring period.
So, be safe out there, and let's finally put this all behind us!
As always, stay tuned to QuadCities.com for timely fact-based news on covid-19 and pandemic information.