Black Box's '39 Steps' Opens Tonight In Moline
The Black Box Theatre once again presents a 1940's style radio play with "The 39 Steps: A Live Radio Play" by Joe Landry. The show is scheduled for August 20 to 30. Tickets on Thursdays are $13 and $16 all other performances.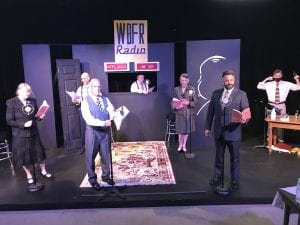 According to Playscripts the piece is "Inspired by Hitchcock's classic tale and performed as a live period radio play, this romantic thriller is a fast-paced ride through the signature world of the Master of Suspense. Richard Hannay is visiting 1930s London when he meets Annabella Smith, who is on the run from foreign agents, after a disturbance at a music hall. Later that night, Annabella is murdered and Hannay must then try to break the spy ring and prove his innocence. From an epic train chase to a feisty love interest, Hannay has his work cut out for him as he searches for the truth about The 39 Steps."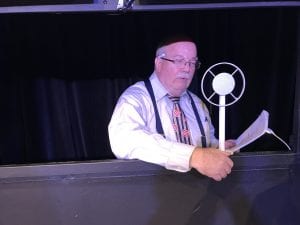 The cast includes James Driscoll at Richard Hannay, with Patti Flaherty , Susan Perrin-Sallak, Scott Tunnicliff, Phillip Dunbridge and Matt Walsh filling out the cast with Tom Vaccaro as the foley operator (sound effects). Lora Adams will be directing and designing the play with lighting by David Miller.
Tickets are available online at theblackboxtheatre.com. Because of COVID -19 only 26 seats are available. Doors for the play open 15 minutes before curtain. Temperatures will be taken at the door, hand sanitizer is used, and masks must be worn.
The Black Box Theatre is located in downtown Moline at 1623 5th Avenue.